carloscastilla - Fotolia
Salesforce releases Wave Analytics Apps and Sales Wave Analytics
Wave Analytics Apps, the latest offering from Salesforce, makes crunching the numbers easier through tighter integration with Salesforce 1.
Today, Salesforce.com unveiled its Wave Analytics Apps, which enable business users to derive insights from their data, now directly within the app. When Salesforce launched Salesforce Wave, the analytics platform, at Dreamforce in October 2014, the company promised to democratize analytics with the idea that Wave is "analytics for everyone."
The first Wave app, Sales Wave Analytics, allows sales teams to manage forecasts, pipelines, team performance and more, in order to accelerate business growth. The app is also designed to promote greater productivity by making the Salesforce app even more tightly integrated with everyday sales tasks, such as using Salesforce 1 to manage customer contacts. The Wave app works natively in Salesforce 1, a customer relationship management CRM app in which salespeople are already working, so they don't have to click between multiple applications to analyze data and then take action.
"As a sales manager, I can take action on what I see right there in Analytics without having to go anywhere else," Rebecca Wettemann, VP of research at Nucleus Research. "So I don't have to look at a dashboard then click through to Salesforce to create a task or create an event, or complete a note or task. I can do it right within that app and without expending a lot of additional mouseclicks. That's going to be a real productivity boon for salespeople." Figure 1 depicts a Wave Apps dashboard.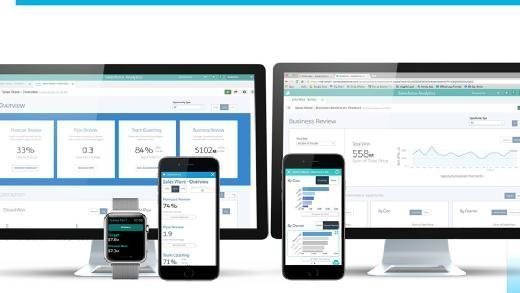 The ability to convert insights derived from large amounts of data into action at Kayak, for example, allows consumers to search and filter nearly 40 million annual commercial flights in just a few seconds and book their preferred one instantly. In addition to providing driving directions and optimal routes for a destination based on real-time data, Google Maps also delivers turn-by-turn navigation while a person is driving.
Features of Wave Analytics Apps:
Accelerator Templates. Wave Analytics Apps are natively integrated with the Salesforce1 Platform and pre-defined data flows will instantly populate CRM data into templates. These templates track the most common best practices, key performance indicators and metrics that every department needs to track.
Historical Analysis: Wave Analytics Apps can access historical and macro year-over-year insights, providing behavioral trends and assessing risk. Gaining historical perspectives no longer requires business users to wait for an analyst or cross-reference static spreadsheets.
Wave Actions: Business users can now act on data instantly within the app, whether it is creating a task, initiating a conversation or adding a contact. Pre-defined data flows between Wave Analytics Apps and the Salesforce1 Platform not only enable changes made in the app to be reflected automatically within Salesforce, but also update all corresponding metrics in Salesforce related to that change.
Salesforce has begun its foray into apps with its core expertise -- analytics for the sales team -- but executives said the company will likely expand into apps for other business units.
"We're starting with sales, but it's not unforeseeable that we're going to bear-hug our customers in customer service or marketing," said Anna Rosenman, senior director of product marketing for the Salesforce Analytics Cloud.
Pricing and availability.
Sales Wave Analytics is currently in pilot with some customers and is expected to be generally available (GA) in English later this year. Additional language support is forthcoming.
Sales Wave Analytics will be available via a per-user, per-month subscription model; pricing will be announced at the time of GA.
Sales Wave Analytics will be also available on Apple iOS for iPhone, iPad and Apple Watch, with additional device support forthcoming.
A Wave Platform license is not required for Sales Wave Analytics.
Next Steps
New Marketing Cloud sports Journey Builder integration
Salesforce launches new Sales and Service Clouds
Salesforce analytics makes a splash