A data pipeline is a network system that allows data to be moved from a source location to a target location.
Organizations can have thousands of intelligent data pipelines that perform data movements from specialized source systems to equally specialized target systems and applications. With so many pipelines, it is important to simplify them as much as possible. As more and more organizations seek to integrate data and analytics into their business operations, the role and importance of intelligent data pipelines will equally grow.
To support data pipelines, organizations require:
A graphical-based specification and development environment. These environments are used for defining, developing, quality testing, deploying and version controlling the library of specialized data pipelines.
A data pipeline monitoring application that monitors, manages and troubleshoots all data pipelines.
Organizations also need data pipeline development, maintenance and management processes that treat data pipelines as specialized software assets.
Additionally, logic and algorithms can be built into a data pipeline to convert it into an intelligent pipeline. Intelligent pipelines can then be specialized for source systems, pulling data, data transformations occurring in the pipeline and any unique data and analytic requirements for the target system or application.
As machine learning and AutoML become more prevalent, data pipelines will increasingly become more intelligent. With these processes, data pipelines could continuously learn and adapt based upon the source systems, required data transformations and enrichments, the evolving business and operational requirements of the target systems and applications.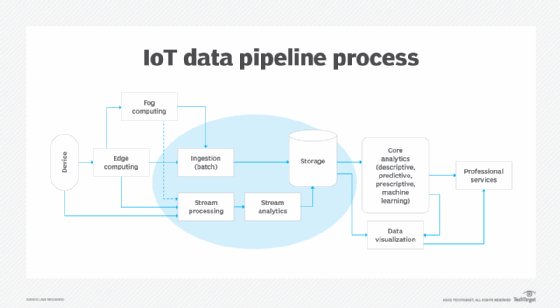 This was last updated in
April 2021
Continue Reading About data pipeline