Getty Images/iStockphoto
How different industries apply generative AI
Large language models such as ChatGPT, Bard and Llama have changed how enterprises think about technology. While some can use new AI tools now, others face challenges.
Listen to this article. This audio was generated by AI.
BOSTON -- Nearly a year after generative AI exploded into the mainstream with the release of tools such as ChatGPT and Dall-E 2, application of the technology has yet to become widespread.
While vendors such as Microsoft, Google, OpenAI and Meta have released a slew of large language models -- from GPT-4 to Llama 2 to Bard -- the proliferation of generative AI tools does not translate to all organizations having the ability to use them.
And though certain industries, such as healthcare, have found ways to use generative AI technology despite some of the data and security risks associated with it, others are still grappling with ways to use it.
Ensemble Health Partners
Ensemble Health Partners is an example of a company already using the technology, according to Pieter Schouten, chief innovation officer.
The revenue cycle management software vendor, which serves hospitals, health systems and physician practices, started a separate group within the organization to experiment with new ideas to figure out ways they could apply generative AI.
Our goal is to mine all our data extensively and use AI and GenAI and automation to make a difference for our clients.

Pieter SchoutenChief innovation officer, Ensemble Health Partners
"Our goal is to mine all our data extensively and use AI and GenAI and automation to make a difference for our clients," Schouten said during a presentation on Tuesday at the Generative AI World conference in Boston.
With that goal in mind, Ensemble began applying generative AI. One way is with DRG, or diagnosis-related group, validation, which involves confirming both principal and secondary medical diagnoses to ensure they were billed correctly.
"These are systems that basically help us make decisions," Schouten said.
Marketing and Nicest.ai
Among other industries in which generative AI is being applied is marketing.
Nicest.ai, a generative AI marketing startup with its own proprietary LLM, is using the technology to help companies in different fields target their leads better.
Nicest.ai technology interfaces with OpenAI's GPT to gather information about public companies to create a personalized program that boosts productivity for its clients. It then uses that information to create a personalized lead generation module for the company and plugs it into the parameters that the company gives Nicest.ai to improve its business.
"It's a major supplement and complement because what it's doing is it's taking the drone work, the drab work from people's positions and doing it for them," said Lauren Beck, co-founder of Nicest.ai, in an interview. "It's allowing them to do more interesting work -- it's freeing up their time to do more important work."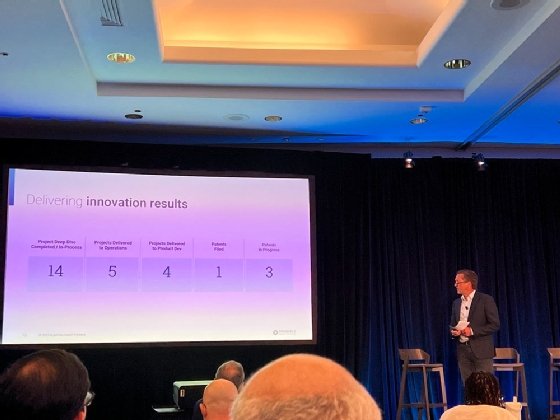 Hesitancy and resources
However, while employees in the healthcare and marketing industries appear receptive to the change represented by generative AI, not all industries or organizations are plunging into the technology.
For example, many CFOs are still hesitant about how to implement and use the relatively new and fast-evolving technology, said Janice Stucke, CFO at Achieving the Dream, an education administration company.
"Change management is never-ending right now," Stucke said in an interview, adding that many employees are burned out with changes stemming from the COVID-19 pandemic, let alone the rapid technology advances that have followed it.
"I think a lot of people are going to struggle with garnering the energy -- mental and emotional -- to implement an additional level of transformation. Even though it might alleviate stress long term, it's going to take a lot of work to get it going and to implement it."
Another challenge with implementing generative AI might be the size of a particular organization, Stucke said.
"I'm in a midsize company, and a nonprofit at that," she said. "We don't have unlimited budgets. Where do we even go to begin to understand how to implement this technology as a midsize institution?"
Meanwhile, a larger organization might have the resources to build a proprietary model. But smaller companies will have more difficulty doing that, even though they are attracted by the promise of generative AI's simplicity and efficiency.
"Where do I come as a smaller company to be able to get access to this technology, but also have the information to be able to save some time?" Stucke said.
Esther Ajao is a TechTarget Editorial news writer covering artificial intelligence software and systems.