metamorworks - stock.adobe.com
The fear surrounding generative AI
The language surrounding generative technology can lead to anxiety and a bad reception among employees to LLMs and tools such as ChatGPT, Dall-E and Bard.
Listen to this article. This audio was generated by AI.
BOSTON -- Generative AI may be the buzzword of 2023, but the excitement about the technology may also have some fearing that their jobs are in jeopardy.
Tools such as ChatGPT, Copilot, and Dalle-E 2 can write code, take exams, write essays and create dramatic images. Their existence seems to some like a science fiction movie portraying a future that is doomed for employees in certain industries, especially creatives.
AI anxiety
This form of dread is problematic for some enterprises that find it challenging to convince their employees to use generative AI tools and large language models.
Some AI users raised this question on Wednesday at the Generative AI World conference here.
During a presentation about a new generative AI tool called Writable -- based on OpenAI's GPT-3.5 generative AI system -- that helps teachers grade essays, Houghton Mifflin Harcourt executive Steven Chambers said that while the tool helps teachers save time, there's still a lot of anxiety about it.
Some teachers may worry that the tool will reduce the need for their input and eliminate some parts of their jobs.
"There's a very specific AI anxiety," said Chambers, who is the strategic advisor to the publishing company's CEO. "It's a real state of confusion. We have encountered a lot of fear."
The fear teachers encounter is akin to the anxiety some in customer service and marketing may also experience. They may feel the technology could push them out of their jobs.
"People are a little paralyzed in terms of how to educate themselves around it," said Katrina Klier, senior strategy manager at Sage Strategy Group, a business consultancy, in an interview.
Stories in the media about workforce disruptions due to generative AI also contribute to employees' wariness about the technology, she added.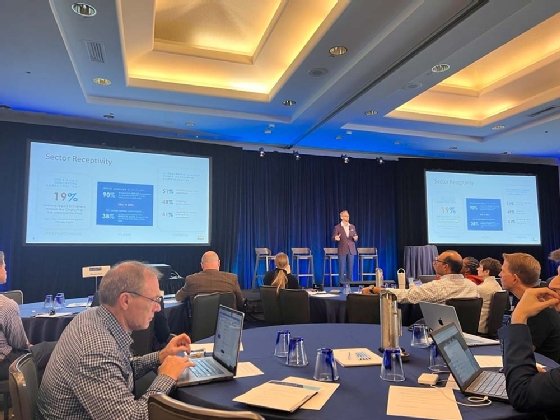 Calming the fear
Therefore, it is up to senior managers and others in charge to combat the fears.
"Managers have a responsibility to give their employees kind of some space and grace," Klier said, adding that managers might have to coach or guide their employees so they want to use the tools.
Managers have a responsibility to give their employees kind of some space and grace.

Katrina KlierSenior managing partner, Sage Strategy Group
For Chambers' team, fear about generative AI tools such as Writable led to professional development training for teachers.
"That's not new to teachers -- getting professional development on how to work with a new pedagogy, a new set of curricular resources," Chambers said in an interview.
"You lead with the specific relevance of the product," he continued. "It all boils down to making it relevant to solve a problem they have and demystify AI as a result."
Sometimes, the key to countering skepticism is for members of senior management to immerse themselves in the technology.
"It starts with leadership," said Paul Baier, CEO of AI analyst and advisory firm GAI Insights, in an interview with TechTarget Editorial. "This is not a side project. It's got to come from top down. "
Also, employees must be given a clear policy on how to use the technology. Finally, he added that organizations should listen to employees' ideas.
For Klier, employees skeptical about generative AI tools should know the technology is aimed at being successful, not eliminating jobs.
"Success will favor the curious, success favors the open-minded and success favor the prudent risk takers," she said.
Esther Ajao is a TechTarget Editorial news writer covering artificial intelligence software and systems.