d1revolver - Fotolia
Celonis' process mining software helps manufacturer improve efficiency
Chart Industries uses process mining software from Celonis to make accounts payable and receivable processes more efficient by identifying problems like delays and bottlenecks.
Most organizations want to improve business processes, but they often have little insight into how those processes...
Continue Reading This Article
Enjoy this article as well as all of our content, including E-Guides, news, tips and more.
actually work. This is especially true for organizations that have complex ERP landscapes that encompass several systems.
Chart Industries Inc., a global manufacturer of highly engineered packaging equipment for the biomedical and energy industries, found that process mining software may hold the answer to improving process visualization. The company has also discovered, while implementing robotic process automation (RPA), that process mining may be the key to driving digital transformation.
Acquisitions lead to complexity
ERP system complexity is one of the main reasons to implement process mining. Chart Industries, based in Canton, Ga., is currently in a mergers-and-acquisitions period and has made several acquisitions in the last few years. This effort has led to issues integrating all the systems that now encompass the company's IT landscape, according to Bryan Turner, vice president of IT.
To improve process efficiencies, Chart Industries needed to fully understand how those processes worked. To take that step, the manufacturer implemented process mining software from Celonis, a vendor based in Munich. Chart Industries runs an Oracle JD Edwards ERP system, but it has acquired several companies that run other systems, including SAP, and the company is determining how to integrate these systems into Oracle JD Edwards, Turner said.
Celonis process mining software takes business processes like order-to-cash and shows where there are inefficiencies, such as bottlenecks in the process. It can do this over multiple systems, which made it attractive to Chart Industries.
"One of the advantages of Celonis is that it can go over any database that's transactional with a time stamp. You can put it over multiple business processes within your organization," Turner said. "[Celonis] is licensed by business processes -- and we signed up for three business processes -- and we implemented it to generate the KPIs around accounts payable and accounts receivable initially."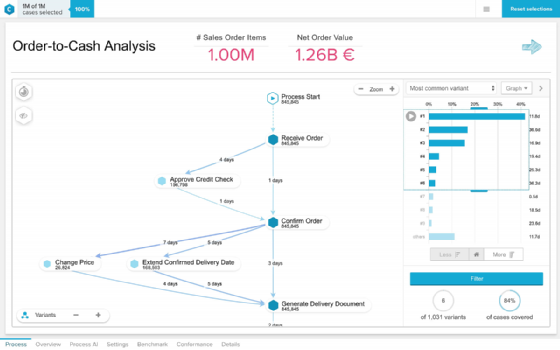 Understanding the process drives digital transformation
The Celonis process mining software connects to the back-end system, such as Oracle or SAP; gathers data about the transactions in the process; and then presents this process information visually. For example, it can show all the possible paths an order can take in an order-to-cash process, said Alexander Rinke, Celonis founder and CEO.
Understanding how processes really work can help drive digital transformation efforts, Rinke said.
"Companies have built up massive infrastructures around various operational systems, and processes flow across these various systems in these hugely complex organizations operating around the world in different countries," he said. "If they want to drive transformation, how do they know what's the most impactful initiative? How do they know which issues to focus on in order to improve on-time delivery or productivity? This is what process discovery enables them to do because it shows everything that's going on and prioritizes the variations of the process based on the impact."
Diving deep into processes
Chart Industries needed to better understand processes because it was consolidating operations into a shared services center.
[Process mining is] not going to tell us the full story, but at least you see where they are right away, and then you can start looking at the whys to find the solution.

Nikki Spillersdirector of North American business shared services, Chart Industries
"[We wanted] to build those KPIs, and then from there determine all the different cost-out opportunities ... Celonis calls it value realization workshops," Turner explained. "That's where you dive into your business processes and start to ask why, for example, you're not going straight through processing on accounts payable, what's the perfect PO or the perfect SO and, ultimately, to streamline the amount of people that you need to run your shared service center."
The Celonis process mining software has enabled Chart Industries to understand its process data and show the company's leadership disparities in the ways different business groups or shared service centers complete transactions, according to Nikki Spillers, Chart Industries' director of North American business shared services.
"That's enabled us to do some internal projects to scrub our data and standardize processes," Spillers said."
Identifying issues leads to cost savings
However, Spillers said that while process mining has been able to show Chart Industries process inefficiency and disparities in data, the company is not yet at the point where it can make the processes more standard and efficient. However, understanding the processes is a valuable first step.
"When you're looking at process efficiencies, we don't have to step back and do a Lean Six Sigma process and sit with each individual person to try to figure where our bottlenecks are; we'll see our bottlenecks just from looking at the data," Spillers said. "It's not going to tell us the full story, but at least you see where they are right away, and then you can start looking at the whys to find the solution."
The Celonis process mining software has identified issues in master data resulting in savings of about $250,000 in recurring costs, Turner said.
However, this savings is only the beginning of the expected benefits, as the tool will be instrumental in Chart Industries' ultimate digital transformation goals. The company is implementing an RPA system sold by UiPath, and Celonis process mining will help find the processes that are best suited for RPA.
"[Celonis and UiPath] go hand-in-hand in regards to that overarching digital transformation company strategy," Turner said. "We want to make sure that we are empowering our people to identify areas where they say, 'This is something I do 10 times a day, and ... I could kick off an assisted robot to help with that part of my business, or permanently do that so I don't have to do that function.' This is a huge product to be able to do that."