Getty Images/iStockphoto
Digitization sparks growth for EAM systems
The EAM software market is growing with more options for asset management. Experts argue that companies may benefit from tighter integration between EAM and ERP systems.
Enterprise asset management systems have traditionally played in the same spaces as ERP, but the two have generally operated in their own silos.
However as market dynamics change and manufacturers look for new ways to use technology to improve efficiencies, the experts believe that a closer relationship between EAM systems and ERP may be fruitful. But experts also warn that integrations between EAM and ERP are not always a necessary fit and customers need to vet the use case before breaking down the silos between the two.
EAM systems are used to manage the lifecycle of physical objects to ensure they are properly maintained. EAM is mostly used in industries with large, complex and expensive assets, such as manufacturing machines, vehicles and heavy industrial equipment. However, EAM can also be used for smaller devices, such as company-issued computers or office equipment.
Specific EAM functionality is included some ERP systems, but there are many specialized standalone EAM software vendors.
The market for EAM has represented a smaller segment of enterprise systems in the past, particularly compared with ERP. But it appears to be poised for growth. Pegged at $4 billion in 2022, the EAM market is expected to grow by 9% in the next 10 years, according to the research firm Global Market Insights.
The growth of the EAM systems market is being driven by a number of factors, the report said. That includes the increase in digital manufacturing, of IoT in enterprise assets, and of mobile devices by frontline workers as well as the migration of legacy systems to the cloud and SaaS platforms.
The benefits of these modern EAM systems include improving asset life cycles, optimizing equipment effectiveness, reducing errors, performing better predictive maintenance, improving asset performance tracking and implementing better security, according to the report.
Move from specialized to integrated
One interesting characteristic of the manufacturing IT industry is that many specialized manufacturing software systems, like manufacturing execution systems (MES) and EAM don't talk to each other and don't easily integrate with ERP systems, according to Jon Reed, co-founder of Diginomica, an enterprise software analysis firm.
"That needs to change because one of the guiding themes of the way people want to do business now is they don't want to have data silos," Reed said. "Especially if you want to get into things like predictive maintenance and get more visibility into how your equipment and shop floor operate. Now you want to layer some AI tools on top of that and optimize production runs or custom manufacturing projects."
These kinds of outcomes can't happen if manufacturing equipment and software are siloed, so more vendors are moving to integrated systems, he said. For example, manufacturing focused ERP vendor Plex Systems, which was acquired by industrial automation giant Rockwell Automation in 2021, offers several integrated manufacturing systems, including ERP, EAM, MES and quality management.
"But a lot of expensive pieces of manufacturing equipment don't have sensors that allow them to connect with the outside world and still have proprietary software that doesn't connect to anything else," Reed said. "There's a lot of interesting work that hasn't happened yet. People talk about connecting manufacturing, but the reality on the ground is that's a big work in progress."
Manufacturing systems have been laggards in moving to the cloud. But this is changing, and it will spur integration, he said.
"Cloud manufacturing is still nowhere near cloud HR or cloud CX, but that's starting to change," Reed said. "The more that cloud manufacturing takes off, the more this will change. Once you start to have systems that reside in cloud architectures, it's much easier to take the next steps into connected manufacturing."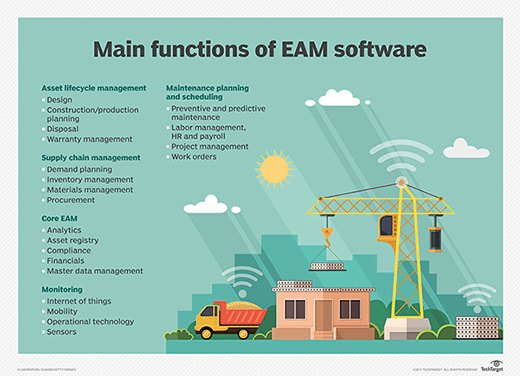 AI and ML enable better maintenance
EAM is becoming more important for companies, especially in capital intensive industries like automotive manufacturing, said Alan Salton, managing director at Panorama Consulting, an enterprise software industry research and advisory firm in Denver.
Companies have lots of data at their disposal now, he said. EAM is an area where there will be increasing applications of AI and machine learning that enable more preventative, predictive and prescriptive measures on assets.
"You want to be able to take that data and use AI to determine that if you start to do this, you can reduce the number of changes that you make and reduce the number of failures that you have, thereby reducing the amount of downtime," Salton said.
There's a lot of interesting work that hasn't happened yet. People talk about connecting manufacturing, but the reality on the ground is that's a big work in progress.

Jon ReedCo-founder, Diginomica
Having all the data associated with EAM and ERP functionality on one platform is important, said Jon Mortensen, global CTO for EAM at IFS, an ERP vendor that began as an EAM vendor for nuclear power plant maintenance in 1983.
"It's having all the modules that you would have had to integrate together on that same platform where the information is shared," Mortensen said. "That's incredibly important particularly in asset-intensive industries but also in manufacturing because it brings together all the manufacturing data with all the maintenance and machinery data associated with the production side of things."
If the data repositories are shared, organizations don't have to spend time and resources making them talk to each other, he said.
Having the systems on one platform also means companies can operate in real-time. They don't have to worry about time lags and can eliminate conflicts around decisions, like determining when the optimal time to shut down a machine or production line for maintenance, Mortensen said.
"[When EAM and ERP] is in one platform, if a machine goes down, the production schedule automatically knows the machine went down and can start recalibrating the schedule to take that into account," he said. "That decision can be made for you. And you can slot when you're going to do the maintenance into the manufacturing schedule."
EAM systems should be tightly integrated with ERP because it has a direct impact on quality, finance, shop floor and overall operations, said Predrag Jakovljevic, an analyst at Technology Evaluation Centers.
EAM and ERP integration depends on needs
Manufacturers should ask if they can get what they need from EAM functionality already part of an ERP system -- which may not be as full-featured -- or if they need a standalone system that will then need to be integrated, Jakovljevic said.
The answer will vary by organization based on in-house integration skills and how essential EAM is to the company, he said.
"There are no stock answers. And you could put together a 10-question list and draw an arrow based on the results that leads toward an ERP vendor or best-of-breed EAM," Jakovljevic said.
For example, a manufacturing-focused ERP system that has EAM functionality may work well for manufacturing assets and preventative maintenance on machines. But it might not be suited for asset management in other organizations, he explained.
"If you are a school district, hospital, railway or municipality with roads and bridges, you don't need ERP with manufacturing. You just need it for financials and perhaps some purchasing," Jakovljevic said. "But you do need a specialist EAM like IBM Maximo or HxGN EAM [formerly Infor EAM]. And you need to integrate the two because EAM focuses on assets and work orders but not really on accounts payable and general ledger."
EAM is about more than just manufacturing and large systems maintenance, said Syed Ali, CEO of EZO, an EAM vendor based in Carson City, Nev.
Asset management is a diverse field and can be essential to all industries, Ali said. EZO focuses on providing asset management for devices that organizations issue to be used in the field, such as school systems or companies with more remote workers.
This helps organizations keep track of where their machines are, the condition they are in and if the software is up to date, Ali said.
"With remote work, now there's a significant concern on the ability to manage a team as well as equipment that's all remote," he said. "You can understand who has what, when was it assigned, if it's in good condition and [if it] has any tickets."
EZO can be used as a standalone SaaS application but can also integrate with ERP systems through APIs, Ali said. The main value is that it provides easier access to data that can help improve decision making around equipment.
"Data has always existed. But what's changing now is access to the data and the better use of data in decision making is the future," he said.
Jim O'Donnell is a TechTarget senior news writer who covers ERP and other enterprise applications for TechTarget Editorial.
Dig Deeper on ERP administration and management