Armin Sestic - Fotolia
Manufacturing outlook hopeful despite recession fears
A new survey of midmarket manufacturing CFOs shows that most anticipate increases in revenue and profitability in 2020, in the face of an expected economic slowdown.
The manufacturing outlook is optimistic for middle market manufacturers, despite concerns about a looming recession.
This is one of the findings of the BDO 2020 Manufacturing CFO Outlook Survey, which surveyed CFOs from global midmarket manufacturing companies about their market expectations, investment strategies and technology initiatives for the year ahead. The CFOs represent companies with revenues of $250 million to $3 billion, in a variety of industries.
The survey was conducted by BDO, a global tax and financial services advisory firm in Chicago with practices for several industries including manufacturing and distribution, before the coronavirus outbreak that has disrupted a wide swath of businesses and increased economic uncertainty for the year ahead.
According to the survey, more than three-fourths of respondents (77%) expect an increase in revenue for 2020, and of these, a little more than half (54%) expect revenue to grow by more than 10%. Further, three-fourths of the respondents (75%) anticipate an increase in profitability, with just under half (48%) expecting profitability to rise by 10% or more.
The optimism comes at a time of economic uncertainty and fears of an upcoming recession -- even before the new coronavirus hit. According to the survey, 20% of manufacturing CFOs predict a recession will begin by the end of 2020, while 38% time it to 2021 and 47% believe it will happen after 2021. The current coronavirus epidemic likely throws a wrench in some of the survey findings, but to what degree is still an unknown.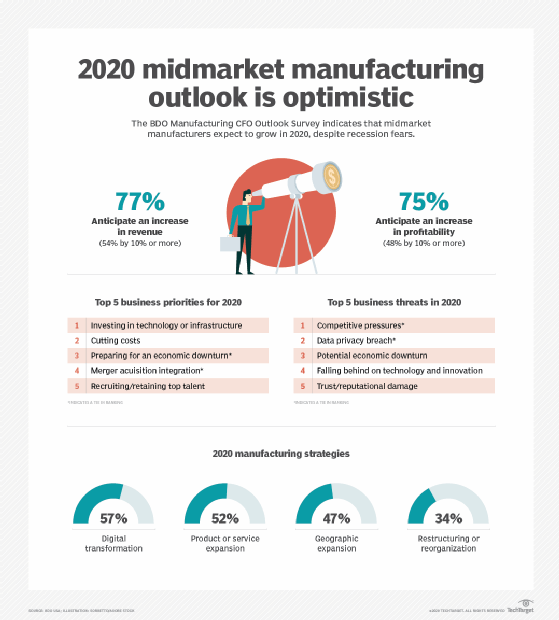 Recession is coming
The survey shows that variability in manufacturing market trends, said Eskander Yavar, manufacturing practice national leader at BDO USA.
Market research of a year ago would have predicted a recession to begin in 2019, but this has been pushed up at least a year, Yavar said. Trade wars and tariff policies continue to be issues that affect manufacturers' cost lines, but their bigger concern is an impending recession.
"This industry is worried about having trade and tariff policies that are more protectionist and isolationist, because that's just not good for manufacturers. They'd rather have a free-flowing economy," he said. "But if you have a very robust protectionist trade tariff policy and recession hitting at the same time, that's a big red flag for this industry so they're trying to avoid that altogether."
The survey was conducted before the coronavirus outbreak, so the results don't reflect if the CFO respondents fear the epidemic has increased the likelihood of a recession.
The coronavirus is affecting all industries and the impact on manufacturing will be significant, but the fallout is too difficult to calculate right now, Yavar said. Companies are in a reactive mode and taking measures like developing business continuity plans or changing suppliers will not happen overnight.
If you have a very robust protectionist trade tariff policy and recession hitting at the same time, that's a big red flag for this industry.

Eskander YavarManufacturing practice national leader, BDO USA
"A lot of companies are thinking more and more just in terms of the impacts in China of trade tariffs and coronavirus on the supply chain, but it takes time and I haven't seen many examples of the best practices to deal with the situation," he said. "We just don't know how big those numbers are going to get in terms of impact either, and [the process of] finding alternate suppliers can take months, not days or weeks. Companies are still evaluating whether to take that step to shift resources or develop new supplier relationships."
Trade tensions between the U.S. and China, characterized by reciprocal tariffs, were already causing manufacturers problems before the coronavirus outbreak. The survey indicated that 21% of manufacturers experienced disruptions to supply chains due to government restrictions in 2019.
Manufacturers investing in Industry 4.0
However, one reason for an optimistic manufacturing outlook in the face of economic slowdown concerns may be the increasing investment in advanced Industry 4.0 technologies.
"After a relatively sluggish period of growth in productivity over the last few decades, the convergence of multiple technologies, from cloud computing to the Internet of Things to artificial intelligence and extended reality, is ushering in a new era of productivity and reinvention -- the fourth Industrial revolution, or Industry 4.0," the report stated. "This still nascent paradigm shift is unfolding in real time and will continue to take root regardless of where we are in the economic cycle."
The report found investing in technology or infrastructure was the top business priority for 2020. More than half of the CFOs listed digital transformation, or implementing digital technologies to modernize manufacturing and business processes and introduce new business models, as the most important manufacturing strategy for 2020 (57%). That was followed by product or service expansion (52%), geographic expansion (47%) and restructuring or reorganization (34%).
"Ten years ago, CFOs just wanted to know more, and they're just getting themselves educated in this Industry 4.0 marketplace -- IoT, all the cloud technologies, and advanced analytics," Yavar said. "What we're seeing in this report is that more and more are actually taking initiative and driving some type of use case to see the return on investment value."
This is not likely to be large-scale reinvention, however, but more manageable projects that have tangible value, he said.
"They are starting to tackle specific KPIs [key performance indicators], whether it's trying to enrich their customer experience, whether it's improving their operations," Yavar said. "They are starting to make this a board-level conversation and they are getting some executive initiative, so the nice thing about that is it's inevitable."