Getty Images/iStockphoto
Rootstock adds analytics to Salesforce-based SaaS ERP
Rootstock has added analytics and new financial tools to its Manufacturing Cloud ERP. Built on the Salesforce platform, the SaaS is now pushing beyond that ecosystem, experts say.
Rootstock Software is adding analytics to its Manufacturing Cloud ERP with the new Enterprise Insights application.
Enterprise Insights, which is available now as part of the vendor's spring release, provides manufacturers with five business and operational analytics modules for sales, spend, inventory, manufacturing and finance. The data is served up in a configurable dashboard.
Rootstock Manufacturing Cloud ERP is built on the Salesforce platform and provides SaaS ERP primarily for SMB manufacturers.
Enterprise Insights uses Rootstock's data structure and connects with Salesforce products such as Commerce Cloud, Manufacturing Cloud and Service Cloud, enabling customers to join ERP and CRM data together, according to the company. The application also builds in Salesforce AI and machine learning (ML) capabilities.
The update embeds analytics into the SaaS ERP offering so that customers don't have to use outside vendors to acquire that functionality, which helps cut down on costs, said Vijay Hotanahalli, head of product at Rootstock Software, based in San Ramon, Calif.
"Everybody needs analytics, but not everybody can afford it, or they're not sure whether they're going to get the ROI when they do something like that," Hotanahalli said.
Enterprise Insights employs a drag-and-drop dashboard that lets users visualize and filter data so that a CEO can get a top-level view of operations, managers can get insights on manufacturing units or product lines, and shop floor employees can look at specific machines, he said.
"This is democratizing analytics, giving it to all the users versus saying that you need to be specifically trained or you need to reach out to somebody to do something," Hotanahalli said.
The Manufacturing Cloud ERP update also adds new financial capabilities, including the ability to establish and process credit card payments.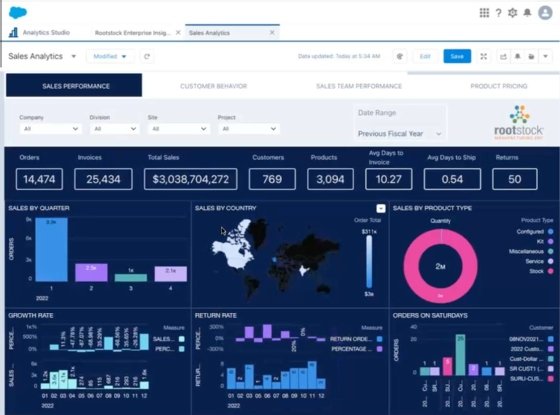 Embedded analytics helps smaller manufacturers
Rootstock is investing in ways that tie manufacturing and supply chain together, which can improve areas such as demand planning and inventory management, said Ray Wang, founder and analyst at Constellation Research.
Just using transactional data from the ERP system is not enough to provide these insights, Wang said. Rootstock is trying to give customers a more comprehensive perspective through Enterprise Insights.
"That's what they've spent a lot of time on, and they're taking advantage of what Salesforce is putting into the platform to be able to pull those analytics and AI or ML capabilities out of the systems," he said.
It will make it much more cost-effective to use the analytics in Rootstock than to use a separate product from outside of the Salesforce ecosystem.

Ray WangFounder and analyst, Constellation Research
Having analytics embedded in the SaaS ERP should help smaller manufacturers avoid needing to use another business analytics platform, Wang said.
"It will make it much more cost-effective to use the analytics in Rootstock than to use a separate product from outside of the Salesforce ecosystem," he said. "But what's also important is that they have beefed up the financials module, so now you can do things like taking payments by credit card, which you couldn't do before."
Rootstock's use of Salesforce CRM Analytics is important because it's easy to learn, use and configure, said Predrag Jakovljevic, principal industry analyst at Technology Evaluation Centers.
"Ease of use is a great benefit to the SMB segment because it essentially helps democratize analytics," Jakovljevic said. "Any business user can be trained to use these tools, so if they want to modify out-of-the-box Enterprise Insights capabilities or launch their own dashboards within it, that task is easy to do."
Appeal beyond Salesforce
Although most Rootstock customers fall within the Salesforce ecosystem, the additions to Manufacturing Cloud ERP might help it appeal to non-Salesforce customers as well, Wang said.
"Rootstock is now going after the complete addressable market for cloud manufacturing ERP," he said. "That includes building out areas that aren't just in finance or supply chain, but also expanding beyond the Salesforce ecosystem."
Rootstock is already stepping beyond the Salesforce ecosystem. In its partnership with Workday, for example, it provides manufacturing ERP that Workday lacks, Jakovljevic said. Other customers are running Rootstock in two-tier ERP configurations with large ERP systems such as SAP and Oracle.
But there's plenty of business within the Salesforce sphere, he said.
"Surely, they think that they have a vast opportunity within the Salesforce installed base anyway," Jakovljevic said.
Jim O'Donnell is a senior news writer who covers ERP and other enterprise applications for TechTarget Editorial.