Definition
Apple Authorized Service Provider (Apple AASP)
An Apple Authorized Service Provider (AASP) is a business that provides repair services for Apple products. AASPs provide services to consumers, businesses and public sector organizations.
Types of Apple Authorized Service Providers
Apple's service provider program includes full AASP status, which authorizes the provider to perform repair services for any customer, and a lesser status, Limited Service Provider, which imposes restrictions in terms of products that the holder may service and customers for which the service may be provided.
In addition, AASPs may obtain Premium Service Provider status if they excel with respect to Apple's customer satisfaction and repair support standards such as turnaround time.
How to become an AASP
Businesses that are eligible to become AASPs include IT channel partners such as resellers and service providers as well as educational institutions located in a geographical area where Apple also has a direct service presence. Individuals are not eligible to apply.
Service providers must be able to produce audited financial records and must have a line of credit in accordance with Apple's local financial representatives.
The provider must also promote Apple's brand along with AppleCare protection offerings. Other business stipulations include maintenance of a walk-in service center in an accessible location and a secure workshop area. All servicing of Apple products must be performed by Apple-certified technicians.
Apple may review AASPs to ensure compliance with its standards.
What an Apple Authorized Service Provider does
Service companies with Apple Authorized Service Provider status may obtain genuine Apple parts directly from Apple when making repairs -- one of the benefits of becoming an AASP.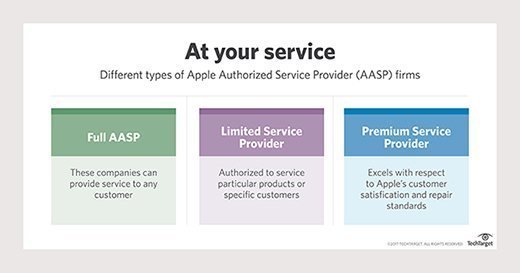 The range of Apple products an AASP covers varies from company to company. Some service providers focus on Mac OS products such as the MacBook, MacBook Pro and Mac mini product lines. Other AASPs extend repair services to include iPads and iPhones. In 2017, Apple began equipping some AASPs with the company's proprietary machine for fixing broken iPhone screens.
AASPs also vary with regard to size. Some service providers are local or regional IT channel companies offering services within limited geographies. At the other end of the spectrum are national retailers such as Best Buy, which employs Apple-certified technicians in some stores to repair products such as Macs, iPads and iPhones.
How to find an AASP
Consumers and businesses can locate an Apple Authorized Service Provider through the Apple support website. That site lets users in need of an Apple repair find a local AASP as an alternative to making a reservation at the Genius Bar of an Apple Store. Similarly, an Apple support mobile application lets users schedule a repair at an Apple Authorized Service Provider or an Apple Store.
This was last updated in
December 2017
Continue Reading About Apple Authorized Service Provider (Apple AASP)