Colocation services provider firms tap partners
Cyxtera, Equinix and Interxion are among the colocation firms forging relationships with partners that can bundle their data center services into digital transformation projects.
Colocation services provider companies are expanding their reach into the channel, looking to tap partners' strength in digital transformation, managed services know-how and the ability to influence customers' purchasing decisions.
Customers house their servers and networking gear in a colocation provider's data center, which offers space, power and cooling. Colocation vendors also offer interconnection services, which link customers to a range of telecommunications carriers and internet service providers to boost redundancy and performance. Increasingly, interconnection is used as an onramp to public cloud platforms such as AWS, Google Cloud Platform and Microsoft Azure. A direct connection service, for example, provides a private link to cloud platforms, bypassing the public internet.
Partners offering such colocation services will find themselves in a growing market. Omdia, a market research firm based in London, projects global colocation revenue to grow 6.2% in 2020. That rate is down from the 9.2% Omdia originally forecast prior to the COVID-19 outbreak. The company expects the market to reach $40.3 billion in 2024, compared with $28.6 billion in 2019.
A wider scope
Traditional colocation vendor partners include carriers and their downstream broker and agent partners. Brokers play a role similar to IT distributors, while agents, resembling VARs, work directly with carriers or through a larger agent company.
Although those relationships remain in force, colocation vendors have been forging ties with a wider range of channel partners.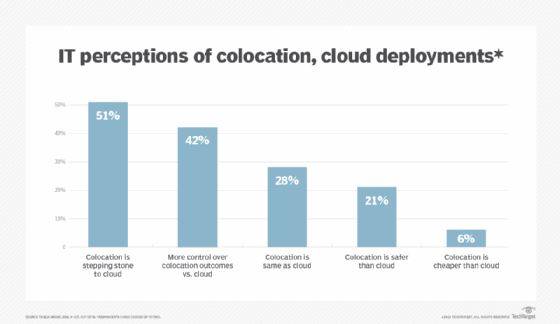 Nicholas Voth, vice president of global channel strategy and sales at colocation vendor Cyxtera, based in Miami, said the company's traditional channel, up until a couple of months ago, consisted of brokers and agents. Cyxtera's top executives, however, wanted to explore the idea of expanding its go-to-market approach. Voth, who joined Cyxtera in June from data protection vendor Commvault, said the company's partner focus now includes resellers, distributors, MSPs, global systems integrators and hardware vendors. The latter group includes Hewlett Packard Enterprise, Nutanix and Nvidia.
"This is a natural progression," Voth said. "We are opening these other routes to market."
Voth said Cyxtera will continue to work with agents and brokers as it grows its channel.
Interxion, a European colocation provider that is now part of Digital Realty, also works with the classic agent community -- companies such as Avant Communications and Intelisys. But the company also partners with integrators, which "are powerful in terms of helping customers with the digital transformation journey," noted Doug Loewe, vice president of international at Interxion.
Greg Adgate, vice president of global partnerships and alliances at colocation provider Equinix, said his company aligns with partners around specific use cases: networking, hybrid and multi-cloud computing, security, and data and analytics. Partners address customers' skills gaps, assisting with a cloud migration or helping clients adopt software-defined WAN, for example. And, in many cases, partners also contribute operational expertise. Adgate said more customers are asking for "managed solutions" that include network modernization; infrastructure assets, such as compute and storage; and cloud services.
"Partners not only have the skills to transform, but the systems, tools and platforms to run services on behalf of end-user clients," Adgate said.
Ways to interact with a colocation services provider
Channel partners have a couple of ways of interacting with colocation providers. One is to refer customers to a colocation vendor's services.
Partners not only have the skills to transform, but the systems, tools and platforms to run services on behalf of end-user clients.

Greg AdgateVice president of global partnerships and alliances, Equinix
Cyxtera last month established its Influencer Referral Partner Program as part of the relaunch of its channel initiative. The program offers partners the ability to earn commissions, which the company said are paid upfront. Interxion also offers referral fees to partners such as cloud consultants, agents and brokers that recommend the company's colocation services to customers.
Equinix operates referral-motion programs for the real estate broker, agent and referral segments. The real estate broker program supports brokers that advise customers on data center selections during an office move. The agent program covers larger agents that offer training, business systems and payment platforms to smaller agents, which refer deals through the larger agents to Equinix. Referral partners, typically consulting firms, bring one or two deals annually to Equinix, registering leads directly with the company.
Partners such as MSPs and integrators tend to play a different role with colocation vendors. For example, they might package a colocation provider's services as part of a broader offering to customers, Adgate noted. He said Equinix's core elements -- data centers, networking and interconnection -- "fit into an overall solution stack" that channel partners provide.
Voth said partners have an opportunity to build managed services around colocation and provide the bundle as a "holistic managed services play."
In one use case, partners can tap Cyxtera's Enterprise Bare Metal on-demand infrastructure to offer clients options for managed private cloud services. Voth said MSPs find that customers aren't fully ready to move all their applications to the public cloud, based on the type of application or criticality of the application to the business. On-demand private cloud infrastructure enables channel partners to offer an interim step that provides the benefits of on-demand computing, while offering more control to the end customer. Cyxtera's ability to provide onramps to the public cloud, meanwhile, gives customers the option to move workloads to the cloud when they are ready to do so.
At Interxion, Loewe described a similar scenario, noting enterprises don't need to move all workloads to the cloud on day one. Instead, MSPs can help clients maintain their data centers and burst individual workloads to a public cloud platform over time. An enterprise hub, a cabinet with routing, storage and security that is housed in an Interxion data center, can shift workloads among public clouds, private clouds and on-premises data centers, Loewe said.
The switching fabric of the enterprise hub lets MSPs offload the task of providing physical connections, Loewe said. Instead, service providers can concentrate on implementation services and ongoing support.
Supporting the work-from-home trend
Channel partners can also work with colocation providers to support their clients' work-from-home initiatives. Adgate said employees' ability to connect to IT resources and consume applications in a centralized data center model has become much more difficult amid COVID-19. Remote employees in New York, for example, might have to use their local internet provider to access applications hosted halfway across the country. Adgate said MSPs can tap Equinix's Network Edge to spin up a virtual network service that more efficiently routes remote employees to their company's centralized resources and cloud-based applications.
Partners, Adgate said, can help clients "shorten the distance between the people and the applications and assets they need."