Colocation, managed services meet legacy needs, point to cloud
Colocation lacks the high profile of cloud computing, but it continues to meet customer needs. Some MSPs and cloud specialists incorporate colocation in their offerings.
When it comes to colocation, MSPs and cloud solution providers express differing views on that time-tested data center offering.
Quite a few companies that now emphasize managed cloud services got their start offering rack space, power and cooling for customers. Colocation remains part of the mix for such service providers, but its strategic importance varies from one company to another. The role of colocation can take different forms. In some cases, colocation gives customers an off-site location to house applications and legacy hardware that they are not ready to modernize or replace.
Colocation can also serve as a steppingstone to the cloud, providing a transitional point between in-house data centers and public clouds. Colocation, as a nod to the past and a bridge to the future, provides one component of an increasingly multi-cloud customer world.
Colocation roots, cloud destiny
At one point, colocation was the world for some service providers.
"Fifteen years ago [colocation] was what we did," said Marc Padovani, senior director of managed cloud services product management at Ntirety, an MSP based in Austin, Texas. "It was our primary business."
Ntirety launched in a 2019 rebranding that followed the merger of Hostway Services Inc. and Hosting, companies with roots in colocation. Ntirety has steadily shifted from colocation toward managed services, which now generates more than half of the company's business.
"Today, colocation is a small and shrinking part of the business," Padovani noted.
Ntirety's managed services offerings include managed public, private and hybrid cloud services; managed security; compliance as a service; managed databases; and virtual desktop infrastructure.
Like Ntirety, Otava, a hybrid cloud solutions provider based in Ann Arbor, Mich., grew through acquisitions. One of those purchases was Online Tech, a company with origins in colocation. Colocation plays a role in broader business and technology initiatives and now coexists with other Otava lines of business, including private cloud, public cloud, data protection, security and professional services.
"We actually look at colocation as part of the IT transformation journey," said Jeremy Bigler, director of product management at Otava.
While some customers move directly to the cloud from on-premises data centers, others pursue colocation as an intermediate step. Bigler said nearly 30% of Otava's clients use colocation as part of their transformation programs. This approach resembles what he called a traditional hybrid model -- on premises-based services coupled with the cloud. But in a twist, Otava's colocation environment mimics the use case based on premises.
US Signal, a data center services provider and MSP based in Grand Rapids, Mich., also places colocation in a broader context. Amanda Regnerus, executive vice president of business development at the company, estimated 80% of US Signal's customers purchase colocation in conjunction with other services. It's a rare company that just buys a rack, she said.
The cloud journey metaphor is also active at US Signal. Customers that don't want to operate or manage their own data centers colocate them in US Signal facilities, Regnerus noted. To further advance their move to the cloud, such customers can start to virtualize resources in a US Signal virtual cloud environment and, if needed, access hyperscale resources and applications. US Signal offers its Virtual Cloud Connect service to link colocation customers to hyperscale cloud providers.
"We tend to see a progression," Regnerus said.
Likely customers
The most likely customers for colocation services tend to share a few characteristics.
At Ntirety, real estate investment trusts, along with companies in the manufacturing and energy exploration industries, still buy colocation services, Padovani said. Such customers prefer the Capex model to the cloud's Opex, pay-as-you-go orientation. That's because they want the ability to depreciate IT assets according to generally accepted accounting principles.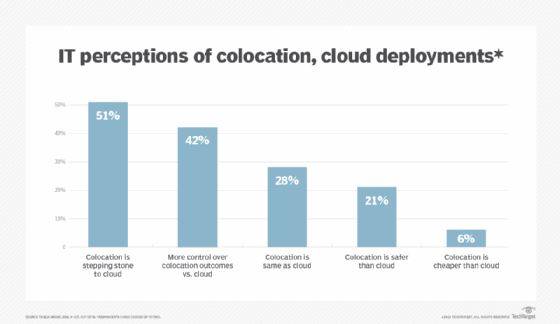 Laurel Burton, vice president of product and marketing at Otava, said customers interested in colocation range from healthcare providers with HIPAA sensitivity to organizations with legacy equipment such as IBM mainframes. The regulatory angle stems from Otava's position as a secure and compliant cloud and data center provider.
"We see a higher percentage of compliant-sensitive verticals across our product portfolio," Burton said. "Healthcare, finance, technology services, retail and manufacturing are our most predominant verticals in our colocation base."
Other customers simply want to own their core application systems, noted Dave Wisz, executive vice president of operations at US Signal. "Colocation is not just a thing of the past," he said.
The need for colocation amid the growth of cloud services means US Signal must accommodate both as it expands its Tier 3 data centers. "We build out our physical data center capacity modestly, and as our customers' physical assets virtualize, we use the square footage to build out our cloud and data protection assets," Wisz said.
Colocation's consolidation phase
Large telcos and data center operators are shedding billions of dollars in IT assets.
Deals in 2020 include Equinix's acquisition of 13 data centers from Canada's BCE Inc., formerly Bell Canada Enterprises, and Digital Realty's $8.4 billion purchase of European colocation provider Interxion.
But those moves don't signal a decline in the colocation business, according to Otava's Bigler. Instead, the divestitures indicate an aggregation and consolidation phase, in which wholesale providers purchase assets to expand floor space and geographic reach.
The current trend started in mid-2017 and appears set to continue, he added.
Regnerus said that in one of the biggest current data protection trends, customers run data-sensitive, latency-sensitive tier 1 applications in colocation sites and replicating those to an off-site US Signal facility. US Signal uses Zerto's continuous data protection technology for replication, offering disaster recovery as a service.
Colocation managed services
Service providers, meanwhile, are finding opportunities to layer managed services on top of colocation, blending the new world with the old.
Ntirety offers managed colocation services, which it views as a series of layers, akin to Maslow's hierarchy of needs. Physical security and a data center's power and cooling management cover the essentials -- the food and shelter of IT. Ntirety, however, focuses on the layers toward the top of the hierarchy -- managed services, AIOps that use tools such as ScienceLogic, and business continuity.
Partnering for colocation
Some MSPs and cloud solution providers offer their own colocation services, but you don't have to take the DIY approach to provide this offering.
Colocation requires an ample investment in facilities, hardware and software, which could provide well beyond the means of many service providers. A number of colocation vendors, however, offer channel programs that let partners resell or refer their services.
Colocation vendors also benefit from channel outreach. Partners offer digital transformation skills and value-added services. They also influence customers' purchasing decisions.
Similarly, service providers aim to provide higher levels of security. Ntirety's offerings include managed VPN, managed intrusion detection and prevention systems, incident response and security operations center (SOC) services.
US Signal is expanding its security portfolio and plans to add vulnerability management and scanning to a roster that includes managed firewall, SOC analysis and threat management services.
"[Vulnerability and scanning] will be another layer of security for our customers," Regnerus said.
Otava's security offerings, in addition to data protection, include two-factor authentication, patch management, vulnerability scanning and log review.
But as service providers extend their offerings in security, AIOps and cloud, customer needs keep them grounded in the basics. Clients might hold onto legacy hardware or balk at modernizing core applications. An outside party willing to take on the care and feeding of existing systems could be all the help they need.
"If there is no reason to change the status quo, colocation fills that gap," Bigler said.