Nomad_Soul - Fotolia
HPE GreenLake partners to help Kern County take control of IT
Kern County, Calif., faced a daunting challenge of reigning in costs and a sprawling technology ecosystem. HPE GreenLake and MSP Nth Generation were brought in to help.
When Mac Avancena Jr. became chief information technology officer for Kern County, Calif., in June 2018, he performed a financial and vendor analysis of the county's IT spending dollars. Nonplussed, he discovered the county used about 35 different technology suppliers for its more than 40 departments.
"I come from the school of thought of, how do you know where you want to go if you can't measure where you've been?" Avancena said. "I know as a county organization, whether you're a public or private sector, if you have that much variability, you're not leveraging the partnership opportunities you have because you're leaving long-term strategic relationships on the table."
The third-largest county in California by square mileage, and with nearly 1 million residents, Kern County wanted to solve its departmental-specific IT challenges. At the top of the list was navigating its current IT setup, where each department had its own agreement with an OEM. The system was complex, expensive and inefficient, according to Avancena.
He knew there was opportunity to improve Kern County's IT capabilities, but first he had a fundamental business problem to solve: "How [do we] put guardrails on what is spent, and what are the partners and what are the platforms that are out there that I could use that would get me into a next-generation elastic-type model?"
The solution: A centralized IT system
According to HPE, Kern County aimed to establish a central IT platform managed by Avancena, which would act as a service provider and broker of IT resources for all county departments. To get started, Avancena launched a digital transformation initiative that connected dozens of departments into one unified framework. By modernizing the county's IT and technology operations and delivering a cloud experience on premises, dozens of departments could rely on a centralized IT system. This would simplify processes, enable more efficient information sharing between departments and drive down operational costs.
To drive these efforts forward, Kern County chose to implement HPE's consumption-based offering, GreenLake. HPE GreenLake could provide a unified framework, enabling all county departments to benefit from the same platform, a predictable user experience and economies of scale, Avancena said.
"What I wanted to do is introduce a flat-rate price for storage and computers that was locked [in] for the term of the agreement … create some build processes for my business and … make sure they [county departments] had financial transparency so they were just paying for what they were consuming," Avancena said. "That's a huge 'get' behind the flexibility of this system."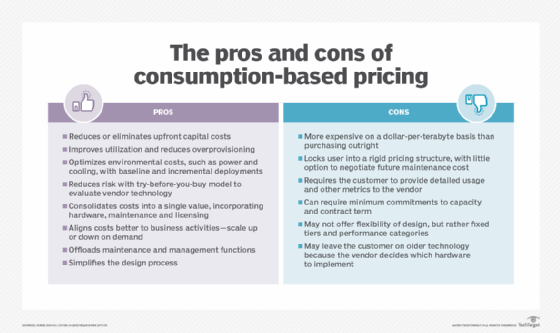 According to Keith White, HPE GreenLake senior vice president and general manager, "[Avancena] was looking for that consistent experience -- in essence, having a self-serve, automated scenario." White noted that Avancena also asked for cost-control capabilities that would let the county pay for only what it used. Using HPE GreenLake's cost analytics and capacity management, White said, HPE would be able to expand capacity when Kern County needed it.
Another appealing feature of HPE's offering was HPE GreenLake Central, a software platform for managing and optimizing GreenLake systems and hybrid IT environments. Using GreenLake Central, Kern County could access cloud services and have real-time visibility into its usage data, HPE said. This would help set budgets, create reports and build rules-based policies. Additionally, Kern County would use HPE Pointnext Services, the vendor's IT services organization, to manage back-end issues.
Implementing HPE GreenLake with Nth Generation
For the Kern County project, HPE partnered with Nth Generation, a San Diego-based managed service provider. The MSP helped Kern County drive its digital transformation and modernization initiatives, improve overall performance and save costs through support and implementation design services, HPE said.
The way I look at my relationship with Nth [Generation is] they're part of my strategic round table; they're part of my leadership team.

Mac AvancenaChief information technology officer, Kern County, Calif.
"The way I look at my relationship with Nth [Generation is] they're part of my strategic round table; they're part of my leadership team," Avancena said. "They allow me to be focused on the voice of my customers because they help frame and design solutions based on my business problems, first and foremost."
Nth Generation had worked with Kern County when the county needed a significant storage upgrade in late 2017 and early 2018. The upgrade project cost the county over a million dollars, according to Rich Baldwin, who co-founded Nth Generation with his wife Jan in 1991. As Nth Generation was completing the rollout of that upgrade, conversations with HPE about GreenLake took off to create the centralized system that Avancena had envisioned.
When it came time to implement the centralized GreenLake system, the project was quite easy, Avancena said. This was partly due to the fact that HPE was already a strategic partner, with Kern County having adopted its products.
"When we started looking at this next-generation model of cost elasticity for compute storage demand, [HPE] already had the inside beat there," Avancena said. "When we started looking at the actual solution itself, it wasn't so much a matter of how we pivot and react to co-local architecture, because it was already there. So, what they were able to do was just add all of the additional capabilities of the service."
HPE repackaged Kern County's million-dollar storage upgrade using the equipment recently purchased and rolled it into the GreenLake program. "Rather than having to basically push that investment aside, it actually became part of this new infrastructure, which … made it a lot easier for [Kern County] management to say, 'OK, this makes sense,'" Baldwin said. "That was a huge, huge win."
As Nth Generation and HPE embarked on the GreenLake project, the companies knew that Avancena prioritized cost and cost-savings. Avancena also wanted the ability to predict costs and understand spending. "Central IT sometimes didn't have visibility into the spending of other departments, and so they had no idea how to manage that, how to provide resources for that and allocate resources for that," said Walter Martinez, Nth Generation's account manager for Kern County. "That's when the predicted cost conversation became about scalability, being able to add quickly without the procurement process … so with the scalability of GreenLake, they are able to add workloads immediately."
Kern County signed contracts with HPE GreenLake in the fourth quarter of 2019. By February 2020, Kern County was live with GreenLake and the consumption IT model.
"The deal itself was done in just a matter of months," Avancena said. "I think the fit was just so clearly articulated on both sides of the house. I needed something that was going to be able to provide some controls for my business, but I also wanted next-generation technology, knowing that I didn't have capital dollars available, being in the public sector."
Adapting to the pandemic with VDI
As the COVID-19 crisis unfolded, Kern County used HPE GreenLake's elasticity to rapidly expand its virtual desktop infrastructure (VDI). This helped the county adapt to the pandemic and enable employees to work remotely.
In the previous model, HPE said, the county would have had to use a process for procurement and provisioning that took weeks or even months. With HPE GreenLake, Kern County already had enough bandwidth available to build out capacity immediately, without disruption to service, HPE said.
"We already have additional storage that's available to us," Avancena said. "So, any type of growth, whether it's an immediate spike or a long-term plan type of growth, is already accounted for in this model."
VDI was a game changer for Kern County, which employs approximately 300 people. Being able to stand up the virtual desktop environment rapidly meant Avancena didn't have to worry about getting in front of the board and get sourcing to sign contracts to get new hardware on the floor, as it was already there.
The road ahead
Today, more than 75% of Kern County's departments are supported by HPE GreenLake. Kern County aims to have its departments 100% supported by GreenLake by the end of 2021.
"We continue to improve our cost analytics so that, ideally, what we can do is say, 'Hey, [Avancena], this is where you can save money. Here are some ideas …'" White said. "And so we're doing a lot on the back end from a cost analytics and a compliance standpoint to make sure that he's compliant with all of the different federal regulations and those types [of] scenarios."
Nth Generation, which was recognized by HPE with the North America As-a-Service Partner of the Year Award in 2020, will continue to work alongside HPE to help Kern County navigate security and data management matters with GreenLake as it moves forward.
"That's what [Avancena] says: It is all about the data," Martinez said. "Whoever has the data has the power, so we're able to help them manage the data and gain resources and solutions to meet his goals."
For Avancena, moving forward is all about continuing to simplify across the board. "The overall strategy is … simplification," he said. "Multiple points of entry is multiple points of failure. I have no problem talking to the board of supervisors to say, 'Hey, we're introducing additional risks because of our inability to standardize our core service offerings.'"
"We're not reinventing the wheel here," Avancena elaborated. "The way I gauge our success as an organization is: Do we align our business strategy to technology outcomes? That's No. 1. No. 2: Are we using data-driven decision-making to solve our business problems? And No. 3: Leadership matters. And in this case with HPE and … Nth [Generation], partnership matters."