Fotolia
Mobile management services offer SI, reseller opportunities
Mobile lifecycle management services offer opportunities for a range of companies, including resellers, systems integrators, outsourcers and communications service providers.
As businesses develop strategies to build and sustain fleets of mobile devices, many IT executives are increasingly finding value in outsourcing the job to IT service providers that offer mobile management services.
Doing so, customers say, will help them create operational efficiencies, which will enable them to manage a part of their business that has become too complex to handle. Organizations are looking to procure the right devices with the right operating systems along with applications that fit the right use cases. But that is only part of the mobility management task: IT executives also have to think about how they will keep track of the devices, replace broken ones and dispose of them in an environmentally friendly way.
Whether you call it mobile management services, mobility as a service (MaaS), managed mobility services (MMS) or something else, the market spans many of the features that are described in IDC's definition of mobile lifecycle management services: providing mobile device, connectivity, application, and security solutions that are offered by vendors to manage the efficiency and effectiveness of mobility in the business.
Mobile lifecycle management services include a variety of elements that are hosted either on or off customers' premises. IDC adds that many of the managed elements take advantage of enterprise mobility management software, which serves as the foundation for the customer's mobile lifecycle management services. The core enterprise mobility management software may be licensed by a third-party service provider and/or resold to the enterprise customer.
A range of companies are targeting the MaaS or MMS space. Those include communications service providers (CSPs) such as Orange; systems integrators such as Digital Management Inc. (DMI) and Insight Enterprises Inc.; specialized vendors such as Mobi Wireless Management LLC; and traditional channel partners such as resellers.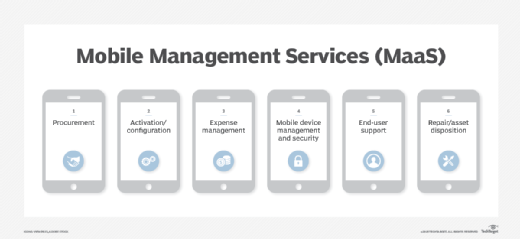 Resellers: Partnering for MaaS
"Most resellers and IT solution providers in the mobile management services market segment are trying to find ways to build recurring revenue, increase their margin and deepen their relationships with clients as they find a way to add a very distinctive value proposition to the client that differentiates them from anybody else," said Tom Koch, director of channels at Mobi Wireless Management LLC, a company that provides managed mobility services and software.
To do this, channel companies are engaging vendors in the MaaS space so they can keep up with the organization, administration and control of mobile devices.
In a March 2018 report, "Critical Capabilities for Managed Mobile Services, Global," IT research firm Gartner Inc., predicted that enterprise spending on mobile device outsourcing will increase from $4.8 billion in 2017 to $8.2 billion in 2021, which is an 88% increase.
Mobi and its channel partners are benefiting from this trend. The Indianapolis company's cloud-based mobility management platform aims to help enterprise customers centralize, control and build mobility solutions around smartphones and tablets. Koch joined Mobi in January 2017 to build and scale the company's channel partner program, which is a key part of Mobi's strategy to drive corporate adoption of its mobile management services software. Since then the company has increased its channel partner base by more than 100% and channel revenue by more than 50%, which speaks to the opportunities that IT service providers can tap into in the MaaS market.
According to Koch, most large enterprise customers, especially those that have operations in regions such as Europe, Latin America and Asia, allow their workers to use a variety of laptops, smartphones and tablets that run on different operating systems. Added to this, companies that manage approximately 750 devices will usually decide to hire a mobility manager with an annual salary of $80,000. Koch said his company charges half that amount per year.
He added that Mobi's software can provide a variety of services such as tracking carrier charges during trips to foreign countries so that companies are not saddled with roaming charges. The Mobi platform also provides transparency into the supply chain that manages disposing and replacing broken devices, as well as creating visibility into the device ecosystem to track new carrier deals that help companies renegotiating better terms on mobile devices.
"We have a new client that is buying a three-year subscription to our platform for $160,000, and in year one we are going to save them $600,000 by making sure that their data plans are accurate, that they have the right data packages, that their carriers are billing them properly, and that they are buying roaming charges or buying packages that help them manage overages," Koch said. "We are also helping them identify devices that they are paying bills for and the devices don't exist anymore. You would be amazed at how many customers experience a 10% or 15% reduction in their expenses in the first three months just by getting rid of zero-use lines."
Opportunities for SIs in mobile management services
In another Gartner report, "Magic Quadrant for Managed Mobility Services, Worldwide," also published in March, the research firm found creating internal and operational efficiencies, improving business process agility and managing issues that have become too complex to handle in-house are all key drivers of the MMS market.
For the report, Gartner interviewed the 12 service providers that qualified for inclusion in the Magic Quadrant, and then surveyed the 56 client references provided by Magic Quadrant vendors to gain their input for this research.
Out of the reference customer base Gartner polled, the research firm found that 32% (versus 27% last year) believe that national and global providers of system integration and IT outsourcing will provide the highest MMS customer satisfaction over the next two years.
"This compares with the 29% (previously 21%) that believe CSPs will be the most successful. A further 10% goes to both the device manufacturers and the third-party maintenance and distributors, with the remainder either favoring regional resellers or undecided. Consequently, the opportunity still exists for any provider (or type of provider) to win and retain customers," the report stated.
DMI: Enterprises, SMBs call for managed mobility
Partnering with a MMS vendor isn't the only way to go. Systems integrators such as DMI offer their own MaaS or MMS services.
From his perspective, DJ Oreb, executive vice president of managed mobility services at DMI, said cost and the inability to implement processes that can help companies efficiently manage their mobile estate are two of the main drivers that compel companies to outsource the management of their mobile devices. DMI, based in Bethesda, Md., provides mobile enterprise, business intelligence and cybersecurity services.
"Basically, enterprise companies struggle with a holistic process of how to get devices back from a reverse logistics standpoint," Oreb said. "They find it hard to identify the cost differences and potential savings between actually repairing a device and procuring a new one. There sometimes is a disconnection internally with IT as mobile device management (MDM) has not been a primary focus of internal IT organizations."
He added that large corporate companies' primary focus has always been on technology that they deem to be most impactful to their business, and mobile devices was an area of IT that decision-makers never thought of as important when compared to security, cloud computing or business intelligence. More recently IT executives have started to make mobile management a primary focus; however, they have no real idea where to start as they try to build a comprehensive MaaS program.
"Mobility didn't receive any serious attention, but I think the industry is shifting and enterprise customers are now looking at how much money they are spending on mobile, how can we spend less and how can we get a better overarching process to manage these devices," Oreb said.
We believe the MMS market as a whole is really set for some exponential growth.

Evan Tomlindirector of mobility and end-user compute, Insight Enterprises
DMI is starting to see the demand for mobile management services grow among small and medium-sized businesses (SMBs), even though companies in that sector mainly have 20 to 75 devices. SMBs find their relatively small device populations difficult to manage, and they are also hindered by tight budgets and the inability to hire an IT person dedicated to managing a MaaS program internally.
"We've created programs that are designed around the SMB market, which includes basic help desk and basic MDM services," Oreb said. "By building SMB programs customers are able to get support at a competitive rate."
As a reseller and a systems integrator, DMI is focused on partnering with companies and developing strategies that help it create a holistic approach to MaaS, he said.
"Previously in the market, there used to be a bunch of different competitors walking around, and if you went to a managed services provider for mobility they provided help desk and provisioning and kitting and procurement of mobile devices," Oreb said. "However, these mobile service providers had to do repairs somewhere else and they had to find recyclers somewhere else."
Oreb added that customers would be better off finding a provider that can offer a holistic MaaS program that offers multiple services, but there aren't that many companies that can offer a variety of services to create a full, one-vendor outsourced program.
"Companies are starting to see that shift," Oreb said. "Right now, companies are having to process multiple different invoices to manage their mobility, and they want to reduce that to processing two invoices -- their carrier's invoice and their mobile service provider. That's the benefit I see in the market," he noted.
Insight: Complex use cases call for sophisticated services
Insight Enterprises Inc., an IT solutions provider based in Tempe, Ariz., recently launched a MaaS solution for its customers, Insight Managed Mobility. Evan Tomlin, the company's director of mobility and end-user compute, said while the MaaS market has grown, it has not kept up with the macro trends of mobile device consumption.
"As companies start to do more interesting things with mobile devices they'll have more complex use cases, their compute will become heavier and more complicated at the mobile endpoint and the need for these services really are going to expand exponentially," Tomlin said.
Tomlin added that the MaaS market in the last five to seven years has provided basic features like connecting users to their network resources, supporting email services and adding basic security measures. Today, customers such as those in retail or healthcare are demanding more. Companies and organizations in these market verticals will need an efficient, cost-effective MaaS program because their core use case is a shared device at a given location using proprietary applications on a device that serves a revenue-impacting need.
"We see several strains of evidence that suggests that sophistication is going to be growing; for example, endpoints are logically converging in the way you provision and deploy them and the way you manage them," Tomlin said. "If you want to succeed in the MMS market, you have to understand the convergence of the legacy endpoints and the complexity of customer use cases. When you understand these trends the value of deploying an MMS strategy becomes more intriguing in the mobile ecosystem. We believe the MMS market as a whole is really set for some exponential growth."
Dig Deeper on MSP technology services