Maksim Kabakou - Fotolia
ServiceNow implementation upgrades reinsurer's finance unit
In 2017, Accenture embarked on an unconventional ServiceNow deployment on behalf of global reinsurer Scor. Learn how the implementation helped modernize Scor's finance department.
Professional services firm Accenture and service management software vendor ServiceNow have expanded their partnership into uncharted territory: customers' finance departments.
The two companies embarked on the expansion in 2017, when Scor, a large Paris-based reinsurerthat generated €15.3 billion ($16.5 billion) in premiums in 2018, contacted Accenture for help with an ambitious corporate initiative. Scor's finance department wanted to deploy ServiceNow's platform to eliminate the use of Microsoft Excel spreadsheets from all its end-of-month accounting. The request was unusual for a couple reasons. Typically, ServiceNow implementations focus on IT departments. The ServiceNow platform had previously not been used to streamline financial services business processes.
"Scor knew that we had extensive experience in deploying ServiceNow solutions," said Ciaran Cosgrove, global ServiceNow practice lead at Accenture.
Accenture was one of ServiceNow's earliest partners and has built one of the largest ServiceNow practices globally, with about 5,000 professionals working with the platform, according to Cosgrove. Accenture works closely with corporations to understand their business processes, recommend changes, write code, train employees and update the customer's applications. Through its ServiceNow partnership, ServiceNow personnel provide technical support should questions or problems arise with its platforms.
So long, Excel
The insurer's vision to move off Excel spreadsheets was a monumental undertaking. Cosgrove said Scor personnel worked in 100 different business entities stationed across six continents to collect, consolidate and coordinate monthly financial information. Some work was done by spreadsheets; other items were transmitted by email; and employees sometimes input data by phone. The process was time-consuming, inefficient and not transparent, he said.
We are seeing as much as 50% of our new work coming from individuals at business units instead of IT departments.

Ciaran CosgroveGlobal ServiceNow practice lead, Accenture
Scor wanted an integrated method -- one that was available online and easily accessible. Accenture and ServiceNow worked with Scor to create such a system; they started by laying out an application development roadmap stretching from 2017 through 2019.
ServiceNow's Service Portal and Now Platform became the foundation for the Scor project. The solution relies on AI to support end-to-end, digital workflows.
The reinsurer opted for an Agile methodology so the app development process could respond faster to business demands, Cosgrove said. Accenture provided workshops and exercises to identify processes that offered the biggest potential payback with the least amount of effort. The process started with building a dashboard so everyone could see the status of the steps in the closing process and finding a way to look at historical as well as current data.
Scor established a pilot group. Once the new software met the company's expectations, it was rolled out to several hundred users. Then the team set up business processes for prioritizing new requirements and releasing updates every 12 weeks.
The first version of the application arrived in the first quarter of 2018, and enhancements have been coming out every quarter since.
Managing the changes
Many hurdles arose during the ServiceNow implementation.
"We were working with finance professionals and not IT employees, so we had to make sure that they were comfortable with the technology," Cosgrove said. The change in processes forced employees out of their comfort zone. As finance professionals, they lived in Excel.
What worked? "We made sure that the transition was not about technology, but instead the flexibility and extensibility that the new system delivered," Cosgrove stated.
Accenture helped to ensure that there was a tight relationship between Scor employees and the ServiceNow implementation team. As new requirements emerged, they delivered them in short order, so the new application was regularly adding value to the business.
The benefits of automation
The insurance industry has many routine processes that revolve around various forms being filled out in a consistent manner. Robotic process automation (RPA) can automate many of these processes. Rather than employees entering or rekeying data -- and sometimes making mistakes -- an RPA system automatically takes the next step in the process. Because of these benefits, RPA software revenue grew 63.1% in 2018 to $846 million, making it the fastest-growing segment of the global enterprise software market, according to Gartner.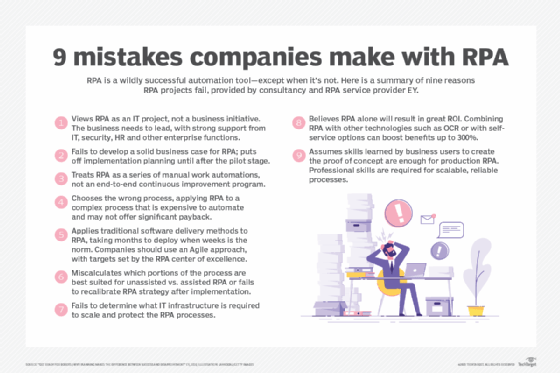 The project greatly benefited Scor. According to Accenture, automated tasks included the following:
Entity sign-off for quarterly reporting, including the operating entities, the entities' CFOs and auditors, among others.
Financial adjustments at the quarter-end closing process, including audit trails.
Biweekly intra-group transactions, enabling the company to collect sign-offs and better facilitate audit trails of transactions.
In addition to supporting real-time reporting, the system introduced more consistency and controls than had previously been in place. This supported Scor's compliance with industry and government regulations, while also creating a better end-user experience.
The end-of-month closing process became much more efficient. "Scor reduced workflows and cut as many as 40 days in the compliance process," Cosgrove explained.
What is next?
The ServiceNow implementation project proved challenging, but the results have been so pronounced that Scor plans to extend the ServiceNow platform to other departments, Cosgrove said. ServiceNow's platform includes offerings for human resources, customer service management, and governance, risk management and compliance.
Ironically, those emerging capabilities are moving Accenture in a new direction. "We are seeing as much as 50% of our new work coming from individuals at business units instead of IT departments," he said.
Ultimately, this ServiceNow implementation project altered Accenture's business model as well as its client's.