Tata Consultancy Services launches center for retail transformation
Retail digital transformation is a key focus of a newly launched innovation and research center that Tata Consultancy Services unveiled in New York; more news from the week.
Tata Consultancy Services Ltd., an IT services and consulting firm based in Mumbai, India, this week opened a co-innovation and research center in New York, making retail transformation a key focus.
The center, TCS Pace Port, is the second such facility TCS has launched and the $20.9 billion company's first in North America. TCS Pace Port Tokyo debuted in 2018. The centers pull together research capabilities, access to startups and TCS's proprietary offerings in one physical location where customers can work with TCS and its ecosystem partners.
"We can bring all of that together and brainstorm and solve the problem for the client at the physical location, and take it forward into a more long-term engagement," said Rajashree R., global head of retail strategic initiatives, products and innovation at Tata Consultancy Services.
TCS Pace Port New York will emphasize retail digital transformation in a top market for that industry. Cushman & Wakefield Inc., a commercial real estate broker, described New York as "the most important city for retailers in the United States," noting its role in commerce, culture and tourism. In the New York retail sector, leasing deal volume increased 10% year over year, with food and beverage leading the way, followed by apparel, Cushman & Wakefield noted. In addition, e-commerce brands are setting up shop as brick-and-mortar establishments, the company said.
[Retailers] are literally trying to reimagine their entire business and their entire value chain.

Rajashree R.Global head of retail strategic initiatives, products and innovation, Tata Consultancy Services
The retail market, overall, continues to feature the rise of online retailers and the decline of big-box stores. Rajashree said she anticipates the center and its ecosystem will attract traditional retailers -- from grocers to department stores and specialty retailers.
"They are literally trying to reimagine their entire business and their entire value chain," she said.
Newer, upstart retailers may become the center's customers as well. "They are also in a very competitive landscape," she noted.
Retail transformation resources
Resources available to customers through the new center include Tata Consultancy Services' AlgoRetail, a framework that the company said uses AI, machine learning and IoT to extract "actionable insights from heterogeneous data."
Retailers, Rajashree said, have a lot of data and face the task of using that data to differentiate themselves and create new capabilities. AI and IoT, she added, are "technologies that retailers want to adopt very quickly."
The center operates within the Tata Innovation Center at Cornell Tech, a technology and business campus located on Manhattan's Roosevelt Island. Tata Consultancy Services in April 2018 made a $50 million investment in Cornell Tech to create the Tata Innovation Center. That investment paved the way for TCS Pace Port New York.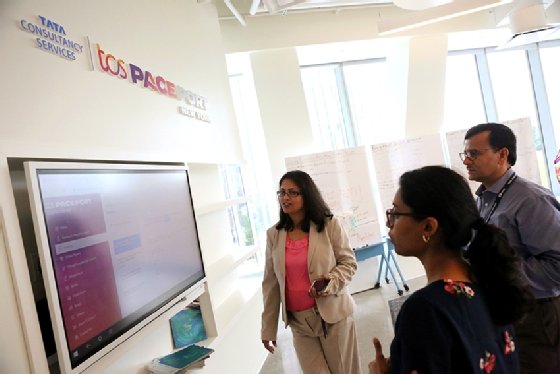 The New York facility also includes an accelerator in which clients, TCS personnel and startups can work together to address business and technology problems. Rajashree said TCS is curating a network of more than 3,000 startups to help address the particular needs of fashion retailers, grocery stores and other industry segments.
"We are extremely bullish about the investment we are making and hopeful we will be able to partner with leading retailers in the U.S.," Rajashree said.
TCS Pace Port New York currently has 15 TCS employees, including business strategists, data scientists, design-thinking specialists and engineers. The plan is to fill all 25 dedicated workstations in the coming months, a company spokeswoman said.
VMware launches CloudHealth Partner Platform
VMware has extended its CloudHealth multi-cloud management platform to managed service provider (MSP) partners.
CloudHealth, acquired by VMware last year, provides a centralized console for managing cloud cost, usage, performance and governance in multi-cloud environments. VMware said the newly available CloudHealth Partner Platform enables MSPs to deliver a number of different managed cloud offerings, including cost management services. MSPs can access the CloudHealth Partner Platform through the VMware Cloud Provider Program.
"What we are doing is we are allowing [VMware MSPs] to create differentiated, highly profitable services -- or if they are already delivering those types of services, allowing them to be more efficient," said Bob Kilbride, senior director of global channel sales at CloudHealth by VMware.
About 170 VMware partners are already using the CloudHealth platform, including SHI International Corp. and Presidio, he noted. "We have done a great job at enabling partners who you wouldn't think of as traditional public cloud service providers … to provide services for public cloud infrastructure that are driven by CloudHealth. … SHI is a traditional IT reseller, but they have a large public cloud service practice and leverage CloudHealth to deliver those services," he said.
He added that he expects the CloudHealth Partner Platform to attract new partners into the VMware Cloud Provider Program.
SADA named Google Cloud MSP Partner
SADA Systems Inc., a business and technology consulting firm based in Los Angeles, has been designated a Google Cloud MSP Partner through the Google Cloud Partner Program.
Tony Safoian, CEO at SADA, said the MSP partner initiative reflects Google's interest in elevating the role of partners in the customers' cloud journey. "As more customers start to adopt Google Cloud Platform, they are going to need a high level of support, both technical and other types of support, from partners for the lifetime of those customers," Safoian said.
He said organizations that launch one project and one workload in the cloud are just scratching the surface of the cloud's potential. Certifying Google's top managed service partners helps assure customers that they won't get stuck in some aspect of Google Cloud Platform for want of trained partner support, he added.
Other news
Cloud backup and disaster recovery vendor Druva has unveiled a new partner program on the heels of a $130 million funding boost. The Druva Compass program provides expanded enablement resources for partners, a new training and accreditation program, and streamlined sales processes. Druva noted that more than 90% of its sales are derived from partners.
CyberGRX rolled out a channel program for its third-party cyber-risk management offering. The four-tiered program provides channel partners a "guaranteed margin floor" as well as incentives based on a partner's level of commitment and its program tier, according to the company. Walter Specht Jr., director of channel development, will lead the CyberGRX Global Partner Program. Channel partners include resellers, systems integrators, MSPs and managed security services providers.
Unravel Data, an application performance management vendor in Palo Alto, Calif., took the wraps off a partner program, which includes technology and platform partners as well as solution partners. Mark Wolfram, the company's vice president of business development and partnerships, will direct the program's strategy and expansion.
Mill Point Capital, a private equity firm, has acquired Anexinet Corp., a digital business solutions provider based in the Philadelphia area. In other news, Anexinet said Canopy Health has selected the company to create and launch a mobile application and web-based member portal.
MSP software vendor Continuum launched a new offering for backing up data in popular SaaS environments. Continuum Recover for SaaS provides backup capabilities for Microsoft Office 365, Google G Suite and Salesforce.
Cloud communications vendor 8x8 Inc. introduced the Elev8 Partner Program for master agents and sub agents. Elev8 features three tiers -- X Partner, X Plus Partner and Infinity Partner -- with incremental benefits such as dedicated funds for lead generation. The company said all current and future contracted partners will be immediately enrolled in the new program.
PCI Pal, a secure payment provider for contact centers, rolled out a global partner program for selling its PCI compliance products. Partners can access the program in three engagement models: Referral Partner, Solution Provider Partner and Integrated Partner. Partner resources include sales and product training, marketing tools and technical support, PCI Pal said.
Remote monitoring and management vendor Pulseway has added a file-sharing capability to its remote desktop application. The new File Transfer feature lets users send and receive files from source and destination endpoints, according to Pulseway.
Furniture manufacturer Steelcase signed distribution deals with Ingram Micro, Synnex and Tech Data. Under the agreement, the distributors will offer Steelcase Roam, a mobile cart and wall mounting product designed for Microsoft's Surface Hub 2S digital whiteboard.
Talend, a cloud data integration and data integrity vendor in Redwood City, Calif., launched a technology partner program. The company said the program will accelerate the development of partner-built integrations for the Talend Data Fabric integration suite. The partner-built integrations, in turn, will help Talend's VAR and integrator ecosystem build custom solutions for customers, according to the vendor.
Netsurion, a Fort Lauderdale, Fla., company that premiered an SD-WAN offering in 2018, said it has deployed more than 2,500 SD-WAN edge devices since then. The company noted that half of those devices are operated by MSPs.
Unitas Global, a hybrid cloud solutions provider in Los Angeles, said its cloud access connectivity platform is available to link enterprise and service provider customers to Iron Mountain data centers in Amsterdam and London.
Market Share is a news roundup published every Friday.