TCS, Microsoft aim for intelligent cloud, edge
Tata Consultancy Services' Microsoft Business Unit is one of a handful of such IT services entities focused on the software giant; more news from the week.
Tata Consultancy Services, a $20.9 billion global IT services firm based in India, has launched a Microsoft Business Unit that aims to combine Azure's cloud and edge capabilities with TCS' agile and "machine-first" service delivery models.
The TCS Microsoft Business Unit will focus on harnessing Azure "from the intelligent edge to the intelligent cloud," according to Siva Ganesan, TCS' global head of new Microsoft operations. "This will span the spectrum of AI, automation and the cloud," he noted.
Microsoft has used the intelligent cloud/intelligent edge language in recent years to describe its vision of ubiquitous, AI-infused computing -- with the Azure platform providing the foundation.
Bridging tech, service delivery
The TCS Microsoft Business Unit will "accelerate the adoption of new Azure services like Azure Arc and Azure Synapse" within TCS' offerings, a Microsoft spokesperson said. Microsoft unveiled those Azure services at Microsoft Ignite 2019.
This will span the spectrum of AI, automation and the cloud.

Siva GanesanGlobal head of TCS Microsoft Business Unit
TCS plans to unite such technologies with TCS' service-delivery-of-the-future approach, Ganesan said. That approach is built around TCS' location-independent agile methodology, which draws upon agile teams distributed around the world. Another component is TCS' machine-first delivery model, which gives automation the right of first refusal when handling transactions. Workers get involved to handle exceptions that machines are unable to process.
Creating a Microsoft-focused business unit isn't exclusive to TCS. Accenture/Avenade and Infosys have built similar global business units around Microsoft, according to Microsoft. The TCS business unit marks an expansion of an earlier TCS-Microsoft partnership.
Providing services
The TCS Microsoft Business Unit will tap several distribution channels to provide its offerings to customers. One such channel will consist of the business unit's labs and TCS' Pace Ports. The latter have been established as co-innovation and research centers in which TCS and its customers can work together to address business problems. TCS opened its first North American Pace Port earlier this year in New York. That facility will focus on retail transformation.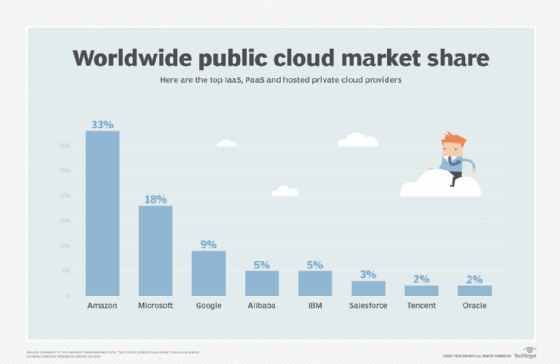 The labs and Pace Ports will also serve as centers for building minimum viable products and prototypes, Ganesan said.
TCS centers of excellence "focused on specialized technologies across Microsoft's clouds" will provide another channel as will TCS' network of agile delivery centers, Ganesan noted. Those centers can draw upon some 50,000 TCS engineers with competencies in Microsoft technologies.
MSPs could help address multi-cloud skills gap
Enterprises pursuing multi-cloud strategies can seize digital transformation opportunities, but also face management and security challenges -- a prospect that may open a door for managed service providers and cloud consultancies.
A survey from Business Performance Innovation (BPI) Network, an IT executive networking group, found that nearly two-thirds of the companies it polled have deployed enterprise applications across two or more public clouds. But few adopters are declaring victory. Eleven percent of the survey's respondents believe they have been "extremely successful" in garnering multi-cloud benefits. BPI Network conducted the survey of 127 companies in conjunction with A10 Networks.
Respondents cited the tasks of securing multiple clouds and acquiring the necessary skill sets to run them as the top challenges.
Dave Murray, head of thought leadership and research for the BPI Network, suggested MSPs may be able to fill the cloud skills gap.
"One of the top challenges that companies are facing is the lack of internal skills and expertise to manage multi-cloud environments," Murray said. "So clearly there is going to be a need and a role for consulting and managed services providers."
He said service providers could play a role in building the infrastructure to help customers manage and secure multi-cloud deployments.
Paul Nicholson, senior director of product marketing at A10 Networks, called multi-cloud challenges the "perfect scenario" for consulting firms and MSPs.
"Whenever there is complexity, people need solutions and turn to someone who has done it before," he said.
A10 Networks, which sells exclusively through channel partners, this week unveiled its Polynimbus application services blueprint, which the company said provides an approach for addressing application management and security requirements across multiple clouds.
Other news
IBM has expanded its Cloud Pak product line with Cloud Pak for Security. The new product offers open-source technology to support threat detection and response, according to IBM. Like other Cloud Pak products, Cloud Pak for Security is containerized on Red Hat OpenShift.
AWS technology partner nOps has released a channel partner version of its AWS cloud management platform. Additionally, the company rolled out the nOps Partner Network to support channel firms. NOps said the partner version of platform features automation to support AWS Well-Architected Framework Partners can license the nOps platform to use in their cloud service delivery and qualify to resell the product.
Cloud security firm Menlo Security introduced the Boost! Channel Program to support value-added resellers (VARs), managed security service providers (MSSPs) and systems integrators in North America. Program benefits include incumbency protection for renewals. Menlo Security recently appointed Danielle Wilson as its director of North America channels.
Enterprise data cloud company Cloudera revamped its Connect partner program. The program now provides business models for cloud reselling and enablement to support multi-cloud and hybrid cloud deployments, Cloudera said. Other Connect enhancements include market development funds for qualifying partners, new solution competencies and expanded sales and pre-sales resources.
Threat Stack, a cloud security and compliance vendor, unveiled a partner program. The program offers resources for different partner models, including VARs, MSSPs and MSPs, according to Threat Stack.
Security vendor CrowdStrike signed up IT service provider Wipro to its Elevate Partner Program. Under the partnership, Wipro will offer customers the CrowdStrike Falcon platform for endpoint protection, CrowdStrike said.
DataBank, a data center and manage services provider based in Dallas, completed reassessments and maintenance of existing authorizations under the General Services Administration's Federal Risk and Authorization Management Program (FedRAMP). DataBank also added data centers in Dallas and Minneapolis to its FedRAMP portfolio.
Open Systems, a secure access service edge platform provider based in Redwood City, Calif., added distributor Telarus to its partner network. Telarus' 4,500 agents and advisors will be able to offer Open Systems' Secure SD-WAN and Security Operations Center As-a-Service offerings.
Curvature, a third-party maintenance and multi-vendor IT lifecycle service provider based in Charlotte, N.C., expanded its professional services offerings to include discovery-as-a-service, IT asset management tools and services, cloud advisory services and optimization services.
Market Share is a news roundup published every Friday.
Dig Deeper on MSP technology services