EY consulting bets on Nexus platform for rapid transformation
The Nexus platform seeks to help clients modernize IT and could fit into EY consulting's emergence as a separate entity; other service firms move to update customers' tech stacks.
EY's newly launched cloud-based business transformation offering aims to help customers quickly roll out new products and brands. But the platform, called Nexus, also has implications for the company's own reinvention, which could see EY consulting become a separate operation.
EY Nexus, which the London-based professional services firm unveiled Oct. 12, uses Microsoft Azure as its primary development platform, offers pre-built technology components and taps a partner ecosystem attuned to vertical markets. The objective is to get customers from concept to a minimum viable product within half a year.
"We never want to be more than six months from the first release," said David Connolly, EY global insurance technology leader.
Speed is particularly important in markets experiencing digital disruption, such as financial services. Connolly pointed to the example of embedded insurance, in which insurtech companies provide products that nontraditional insurers can include within their sales transactions. Examples include an automotive company offering property and casualty insurance products to car buyers or a real estate business providing commercial property insurance.
About a third of all insurance transactions will happen on an embedded basis within 10 years, Connolly noted. He said EY Nexus will help embedded insurance firms get to market and also work with traditional insurance companies to create embedded insurance platforms.
EY's transformation offers a curated partner ecosystem to assist clients who "can't get there on their current technology stack," Connolly said. In the case of insurance, EY vetted more than 1,200 insurance technology providers and selected 129 for transformation projects, he added. The scope of EY Nexus, however, includes other verticals such as automotive and healthcare.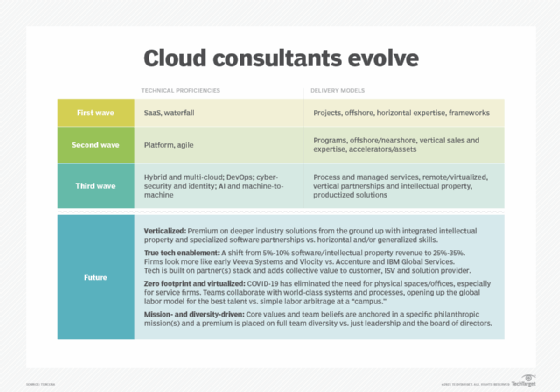 Positioning for a potential split
EY Nexus' arrival closely follows the parent organization's decision to vote on a potential split. The company in September said partners would vote on whether to "separate into two distinct, multidisciplinary organizations." The vote is expected to conclude in early 2023.
Published reports suggest that split would involve the creation of consulting and audit organizations, with the advisory services side being sold or becoming a public company.
EY Nexus, as a productized offering, departs from a professional services firm's historical approach of selling services on a billable-hours basis. The EY Nexus model offers to operate, as well as orchestrate, the elements of a modernized tech stack. The upshot is recurring revenue.
In the event of a split and subsequent IPO, the ability to weave together such offerings will provide for a much higher multiple than a conventional services firm, Connolly said.
EY's exploration of a split harks back to the 2000 breakup of accounting firm Arthur Andersen and its consulting unit, Andersen Consulting. The following year, Andersen Consulting went public as Accenture.
Moving quickly to modernize
Accelerating digital transformation and IT modernization has become a key driver for IT services providers in the COVID-19 era.
EY's take on high-tempo transformation involves microservices as well as ready-made technical assets and a partner ecosystem. A microservices architecture encapsulates each technology component, so it can be revised or replaced independently of other components. Connolly said EY Nexus' microservices can incorporate "new technology at speed," swapping out an existing AI element for an updated one, for example.
Clouds are also interchangeable. The platform, while primarily using Azure, will also support other public clouds if customers request them, Connolly added.
The demand for such modern architectures stems from unwieldy legacy systems that have put a damper on progress, according to EY.
Other IT services providers are also responding to this customer need, pursuing acquisitions and technology alliances.
Companies are still facing an uphill battle in transforming from legacy platforms.

Saveen MundarathChief data analytics officer, NTT Data
Taking the acquisition route, NTT Data, a digital business and IT services provider with headquarters in Plano, Texas, last week agreed to purchase Aspirent, a data, analytics and advisory firm in Atlanta. The deal will add more than 230 data advisers and technologists to NTT Data's digital transformation services roster.
"The data and analytics market is continuing to grow," said Saveen Mundarath, chief data analytics officer at NTT Data. As a result, the company sees an increased need to help customers modernize their IT stacks, he noted.
"Companies are still facing an uphill battle in transforming from legacy platforms ... and dealing with data proliferation in hybrid infrastructure models," Mundarath said.
The call for technology refreshment is also driving demand at Asperitas Consulting, a cloud services company based in Chicago.
"We're getting a lot more calls for application modernization," said Derek Ashmore, application transformation principal at Asperitas. Customers seek to speed up the delivery of new features to end users. "There has been a realization that their applications natively don't do that," he said.
Asperitas last week unveiled a partnership with Cast, a New York City software company that offers a source code analysis product. Cast lets Asperitas identify the areas of an application's source code that must change to support cloud capabilities such as dynamic scaling, Ashmore said. Dynamic scaling lets customers quickly spin up new environments for end users.
Cast, which also points out an application's security vulnerabilities, performs an initial source code analysis in a couple of days, versus weeks or months using manual methods, Ashmore said. The actual time it takes to run an analysis on a particular application depends on its size.