Sergey Nivens - Fotolia
How to implement an SDN training strategy
Each organization approaches SDN training with its own strategy depending on its motivation and requirements. Here are some pointers to consider.
Software-defined networking is a complicated subject with topics that span multiple disciplines within the field...
Continue Reading This Article
Enjoy this article as well as all of our content, including E-Guides, news, tips and more.
of data networking. With such a wide range of concepts, it's no wonder companies are struggling with how to approach SDN training for their network staff.
Let's take a look at how to best approach SDN training to find the right education strategy for your organization.
SDN's complete transformation of networking
Before you start creating an SDN training roadmap, it's important that your network team fully understands that SDN is going to revolutionize the way networks operate. As a result, the role of the network admin will also change dramatically.
What once was a role that consisted of working on hop-by-hop configurations of physical appliances is rapidly moving toward a job role that manages virtualized networks and APIs. The legacy networks most organizations currently work with will soon be replaced with SDN, which places the focus more on what is being transported rather than where it's going.
The big takeaway here is that the future of networking lies in its programmability. Software now rules the world -- and network staff members are on a crash course in the world of software development.
The primary difference is that SDN focuses solely on optimizing and securing data on an application-by-application basis, while intelligent automation handles the optimization of data flows. The sooner this software-centric shift in enterprise networking is instilled in the minds of network technicians, the easier SDN training and comprehension will be.
Taking SDN on in chunks vs. the 30,000 foot view
In terms of SDN training, you can approach it one of two ways. One method is to break SDN into chunks and learn to specialize in them one at a time. Many network pros have found learning software-defined basics that are focused on the WAN -- like SD-WAN, for example -- provides a great framework to learn more complicated topics, like software-defined data centers, SDN in the campus LAN or even SDN in the cloud.
Other network pros prefer to first focus on SDN concepts from a broader, more conceptual perspective. Doing so enables the student to understand the true capabilities of end-to-end visibility and control. When fully understood, these concepts provide a solid foundation for what future networks will look like once they become completely software-centric.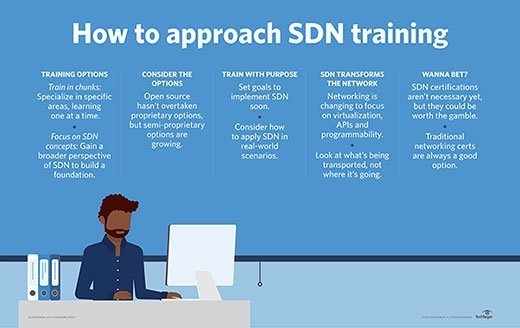 Proprietary vs. open source
With SDN, we again must answer the age-old IT question of open source vs. proprietary options. When SDN first became relevant to enterprise networking several years ago, there was speculation that proprietary hardware and software were finally going to take a back seat to open source software and white box hardware. That prediction hasn't come to fruition yet, and it likely never will.
There are plenty of open source SDN controllers out there to play around with, however, including OpenDaylight, OpenContrail and Floodlight, among others.
It's one thing to simply train for knowledge and expertise. It's another to do so with the goal of implementing the technology in the not-too-distant future.
Yet, over the past year, networking vendors including Cisco and Extreme Networks have fine-tuned their SDN roadmaps, and they are gaining enterprise interest with their semi-proprietary offerings.
The term semi-proprietary is used in this case because, while much of the underlying SDN software and management tools are proprietary in nature, they still utilize open APIs, and, in some cases, are partially based on open source controller code. This approach offers a happy medium for customers that want the individual support of a particular vendor without locking themselves into a proprietary black hole.
Train with a purpose
It's one thing to simply train for knowledge and expertise. It's another to do so with the goal of implementing the technology in the not-too-distant future.
It's clear that SDN is a difficult concept to grasp. That's why it's important to discuss potential SDN business uses to get network staff thinking about how to apply it in real-world scenarios. Doing so not only forces employees to learn and understand SDN concepts, it also encourages them to ask questions like, "How would I implement this into our current network infrastructure?"
A note on certifications
Are SDN certifications worth studying for in 2017? Probably not. For now, you're better off spending time and money certifying for one of the more traditional networking certifications. Few employers are looking specifically for network administrators with SDN certs. Instead, your SDN education should focus strictly on truly learning concepts and skills, while skipping the certification process.
If you are without doubt about specializing specifically in the field of software-defined technologies, however, there's a chance an SDN-focused certification could set you apart from other candidates in the job market. Additionally, the number of employers looking for SDN-specific skills is likely to grow at a brisk pace in the coming years. So, if you want to get in on the ground floor, achieving an SDN certification now could be worth the gamble.
Next Steps
Four steps to prepare for SDN deployment
How enterprises can train for SDN
The programming languages you should know
This was last published in
August 2017
Dig Deeper on Networking careers and certifications