Definition
cloud data management
What is cloud data management?
Cloud data management is a way to manage data across cloud platforms, either with or instead of on-premises storage. The cloud is useful as a data storage tier for disaster recovery, backup and long-term archiving.
With cloud data management, resources can be purchased as needed. Data can also be shared across private and public clouds, as well as in on-premises storage. A cloud-based data management system takes on the function of a traditional data management system modified for the needs of the cloud.
Although some platforms can manage and use data across cloud and on-premises environments, cloud data management considers that the data stored on premises and the data stored in the cloud can be subject to completely different policies.
Data stored in the cloud has its own rules for data integrity and security. Traditional data management methods might not apply to the cloud, so having management in place designed for the cloud's unique requirements is vital.
As with cloud storage, the function of a cloud data management system will vary between vendors and the conditions outlined in the service-level agreement (SLA) between the vendor and user.
What are the challenges of cloud data management?
Most cloud data management challenges are the same drawbacks cited for cloud technologies. Some of these challenges include:
Costs. Even though the cloud is often marketed as being an inexpensive data storage option, storing large amounts of data in cloud data lakes or cloud databases can be expensive.
Data egress fees. Most cloud providers charge a data egress fee if customers decide to move data out of the cloud. These fees apply whether the data is being moved back on premises or to another cloud. Data egress fees are designed to discourage organizations from removing their data from the cloud where it currently resides, and therefore tend to be substantially expensive.
Data integrity. Like on-premises copy data management platforms, cloud-based systems need a way of ensuring integrity. This often means avoiding duplication and resolving conflicts between contradictory records and taking other steps to ensure data accuracy.
Security. Although cloud security has improved dramatically over the last several years, it's ultimately up to each organization to establish data access policies that ensure that only authorized users are able to access the data.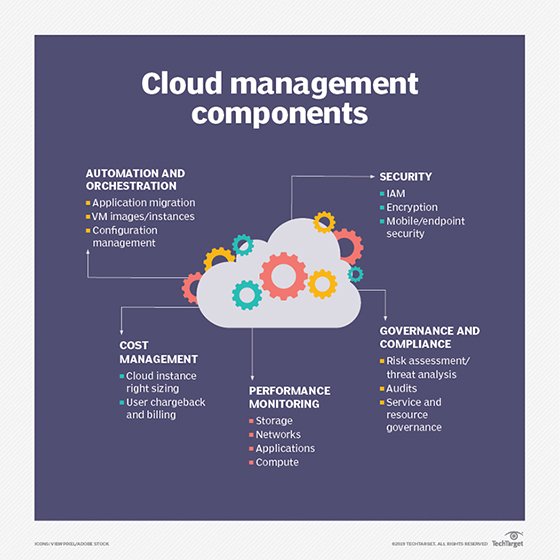 What are the benefits of cloud data management?
There are numerous benefits to cloud data management that often mimic those of cloud services in general. Some of the benefits commonly associated with cloud data management include:
Pay as you go pricing. Cloud service providers generally bill subscribers on a per gigabyte, per month basis. This means that organizations don't have to endure the costs of purchasing storage hardware. Instead, organizations pay only for the storage they consume.
Scalability. One of the challenges associated with on-premises storage is that storage consumption must be closely monitored to avoid running out of space. When the available storage is depleted, the organization must purchase additional storage hardware that meets its anticipated future needs. In contrast, cloud storage providers have a nearly unlimited amount of storage that is readily available at any time. Organizations never have to worry about running out of storage or engaging in complex capacity planning tasks.
Anywhere access. The very nature of the cloud means that data is accessible from anywhere.
Zero maintenance. Public clouds providers handle all required maintenance, meaning that organizations never have to worry about replacing failed hard disks, performing hardware refreshes or installing firmware updates.
Cloud storage might be more secure. Cloud providers invest tremendous financial resources in data security and keeping their platforms secure. The result is that cloud storage is likely to be more secure than an organization's on-premises storage. Keep in mind that the security of data that is stored in the cloud comes down to the security policies the organization puts in place.
Automated backups. Some -- but not all -- cloud providers automatically back up data stored in the cloud. Some cloud backup services even provide immutable point-in-time data backup capabilities, which can help keep data protected against ransomware
A single source of the truth. Many cloud data management platforms are designed centralize data, thereby enabling a single data set to be used throughout the organization. This approach helps eliminate duplicate data, driving down storage costs while also eliminating the inconsistencies that so often exist across data sets.
Cloud data management use cases
There are countless use cases for cloud data management. For one, cloud data management can simplify the process of deploying test/dev environments, because test environments can easily be spawned from production data sets.
Cloud data management also makes it easy to share data among multiple cloud applications. Because a single data set is shared, that data can act as a single source of the truth rather than each application using its own siloed data set.
Best practices for managing data in the cloud
Cloud data management is different from cloud storage, although cloud storage is an underlying requirement for cloud data management. Cloud data management is more about managing data integrity, data access and data growth. As such, there are several best practices to consider:
Define the goals of the project. The first step in any cloud data management project is to define what the organization hopes to accomplish. Without clear goals, it's impossible to implement a cloud data management strategy that's well suited to the organization's unique needs.
Decide what data sets will benefit from being moved to the cloud. Although a case can be made for migrating all data to the cloud, there might be benefits to leaving certain data sets in on-premises data centers. For example, an application that is sensitive to latency will likely need the data to remain near the application, which might rule out the use of cloud services.
Automate data protection. Many cloud providers automatically back up data, but if the provider's data protection practices don't comply with your organization's SLAs, then you must implement your own automated data protection strategy.
Cloud data management companies and products
Rubrik is considered a major data management player in the cloud computing space. The vendor's Cloud Data Management scale-out platform uses a single interface to manage data across public and private clouds. In addition to offering ransomware recovery, Rubrik's platform was the first one to support hybrid cloud environments.
Actifio, which was acquired by Google in 2020, was a pioneer in copy data management. The platform enables copy data management in multi-cloud environments. It also enables native application integration, which means that data that previously resided on premises can be immediately reused in the cloud. Additionally, the Actifio automation platform is accessible through the REST API, meaning that it's easy to integrate.
Cohesity offers Data Management as a Service (DMaaS). Although the company has historically focused on backup and recovery, backups are only a small part of what Cohesity offers. Cohesity's DMaaS is designed to eliminate mass data fragmentation by eliminating data siloes and bringing all an organization's data together in a single platform. This platform can be used for disaster recovery, long-term retention and archival, and ransomware recovery.
What is the future of cloud data management?
All signs point to companies storing more of their data in the cloud. Having most or all an organization's data in one place helps organizations tap into hidden business insights by making it easier to use machine learning-based big data analytics.
Additionally, because cloud data management can be used to create a single source of the truth, it enables organizations to act on data in near real time. For example, a well-crafted cloud data management strategy might enable an organization to better respond to disruptions in its supply chain before those disruptions can cause a significant problem.
This was last updated in
June 2021
Continue Reading About cloud data management