kras99 - Fotolia
Use automated vSphere Update Manager for more controlled patching
The most recent version of vSphere Update Manager helps reduce the stress of patching hosts, VMs, virtual appliances and more. Set it up in just a few simple steps.
VMware vSphere Update Manager is patching software included in vSphere that simplifies the patching process for...
Continue Reading This Article
Enjoy this article as well as all of our content, including E-Guides, news, tips and more.
ESX and ESXi hosts, VMs, virtual appliances and VMware Tools. The latest version of vSphere Update Manager improves flexibility by allowing administrators to control every step of the patching process -- with no downtime.
With vSphere Update Manager (VUM), you can define the level to which you want to patch your clusters and the level to which the patching, updating and upgrading of your hosts can be automated. Before starting the patching process, you must evacuate all VMs to another host within a vSphere cluster; this host will then enter maintenance mode. You can use vMotion to move VMs back to the host you intend to patch once you have rebooted it and removed it from maintenance mode. This process can be quite lengthy if you perform it manually, but VUM can save you time and stress by automating the process using its user interface rather than scripting.
VUM is traditionally installed on a separate VM in a separate database. However, VUM is built into the latest version of vSphere -- specifically into vCenter Server Appliance (vCSA) 6.5, which runs on Photon OS -- and VUM shares the schema of the vCenter PostgreSQL database but uses its own PostgreSQL database instance. This is a first, and gives the administrator the option of installing an All-in-One vCenter.
The VUM remediation wizard allows you to save any customizations you may have made during the walkthrough as default cluster remediation options, shown in Figure A.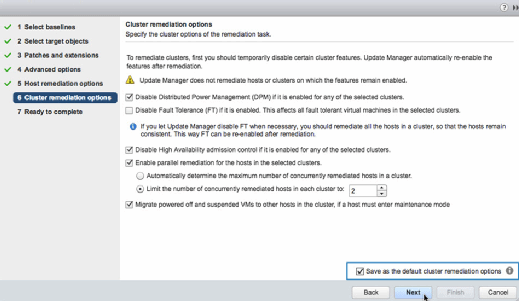 You can also use VUM to selectively patch components within hosts. Let's say you have a cluster of servers that have the exact same storage controller, which needs an update. The process of updating that controller would look something like this: First, update the driver through the VUM to the patch repository. Next, create the host extension by selecting "Host Extension" under Baseline type, shown in Figure B.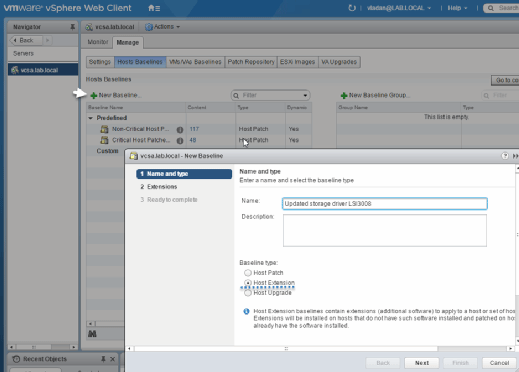 Finally, attach this baseline to the host as seen in Figure C.

That's it -- your cluster is ready to be patched with the updated driver. You can do that by clicking the Remediate button.
Thanks to the simplification of vCSA, vSphere Update Manager is now more efficient than ever.
VSphere 6.5 also brings graphical utility, allowing users to create personalized images. This process lets you slip-stream the latest drivers from your hardware manufacturer. These personalized images can then be deployed to certain hosts or clusters during the upgrade process via VUM. You can also export those images as ISO files, which can be used by stateless hosts -- hosts configured with the Autodeploy function -- to boot from images through local network.
Dig Deeper on VMware updates, certifications and training