Definition
chief sustainability officer (CSO)
What is a chief sustainability officer (CSO)?
A chief sustainability officer (CSO) is an executive tasked with improving sustainability within the company. The role focuses on crafting a sustainability strategy to ensure business practices are sustainable. Aspects of sustainability include community engagement, diversity and corporate social responsibility. However, in practice, CSOs tend to focus on environmental sustainability.
Environmental sustainability has many dimensions, including reducing energy use, cutting pollution, enabling material reuse through a more circular economy, improving biodiversity and reducing other types of environmental impact.
Companies and government organizations increasingly hire CSOs or related roles to keep pace with new regulations, shareholder pressures and consumer perceptions. Companies might hire a CSO directly into the C-suite or as a related role, such as a sustainability vice president.
Each company's human resources team must also consider how to structure these efforts and the right talent to look for. A recent Deloitte survey found that fewer than 15% of surveyed companies had a CSO in place, while nearly half had a head of sustainability, and 12% had a head of environmental, social and governance (ESG). Fewer than 25% had no equivalent role.
A CSO typically has at least a master's degree, but might also hold a doctorate or law degree. In 2023, CSO salaries range from $62,780 and $208,000, according to Recruiter.com.
Different CSO goals across companies
Each company needs to chart its own sustainable development strategy, which varies based on industry and the countries it operates in. For example, in the U.S., the focus might be on reducing carbon emissions or pursuing strategic change to take advantage of Inflation Reduction Act incentives or tax breaks for sustainable behaviors.
In Europe, companies might also need to eliminate trade with those responsible for cutting down rainforests on the other side of the globe. European Union companies must also eliminate the use of conflict minerals that fund wars or are mined by forced labor.
A CSO needs a well-rounded set of skills for determining how sustainability goals affect the company, assessing viable alternatives and working across different departments to carry them out. It is important to understand the technical aspects of sustainability to prioritize opportunities for improvement. It's also critical that a CSO can motivate others across the company to effect the required change.
The growing role of CSOs
The number of CSOs has grown significantly over the years. The Weinreb Group, a sustainability executive recruiting agency, reported that the number of CSOs appointed at publicly traded companies increased from 29 in 2011 to 183 in 2023.
In addition, the number of companies hiring their first CSO is also growing quickly. According to the report, a total of 108 companies hired their first CSO in the 15 years between 2004 and 2019. Then, 122 companies hired their first CSO in the three years between 2020 and 2023. Also, women make up 58% of the total amount of CSOs appointed in 2023. The U.S. government has also appointed 50 CSOs across various agencies.
CSOs must steward a team of sustainability professionals, which is also a growing demographic. Weinreb found that the size of core teams increased from four in 2011 to eight in 2023. In addition, this core team also works with an average of 26 people across the company who spend more than half their time on sustainability work.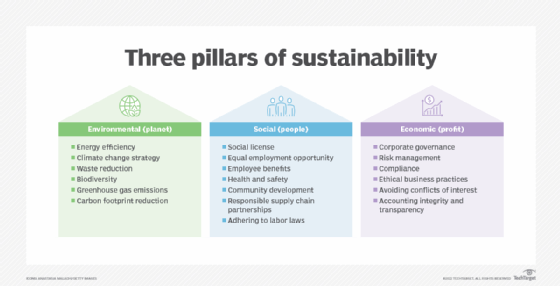 Responsibilities of a chief sustainability officer
The responsibilities of a CSO can vary by company or organization. They broadly work to identify sustainability issues facing an organization, develop a framework for assessing relevant metrics, craft a strategy for improving these and then work with stakeholders to make the required changes.
Essential responsibilities of a CSO include the following:
Strategy development. CSOs should start by identifying relevant sustainability goals, and then develop and implement an appropriate corporate sustainability strategy. This could involve creating goals for reducing the company's carbon footprint, improving resource efficiency or sourcing sustainable materials.
Materiality assessment. Each company will have its own sustainability issues to consider, depending on how its business runs and where it operates. A mining company might need to prioritize sustainable water management, while a logistics company might want to electrify its fleet. Agricultural and food processing companies might look for ways to reduce water usage and nutrient runoff.
Risk management. Identifying and managing risk related to sustainability is also important. This could include risks associated with climate change or resource scarcity, or reputational risks related to sustainability issues. Assessing the potential impact of sustainability risks on the company's operations is also important. A CSO might investigate climate change risks that could affect company operations, such as droughts, floods, weather changes and fires.
Developing performance metrics. CSOs need to set up and track the appropriate key performance indicators that align with their organization's sustainability goals.
Policy and procedure oversight. Once they have identified top issues, a CSO might identify policies and procedures that could help ensure compliance with environmental regulations, investor concerns or local issues.
Communication. A CSO also needs to find ways to communicate the successes and failures of sustainability efforts to stakeholders, including employees, customers, investors and the public. This can involve producing sustainability reports and other forms of communication.
Stakeholder engagement. CSOs need to engage with various stakeholders, including employees, customers, investors, local communities and government regulators, on sustainability issues.
Recommended skills for a chief sustainability officer
Some key skills a CSO should develop include the following:
Leadership skills to inspire, motivate and guide teams toward a shared sustainability vision.
Strategic thinking abilities to formulate and execute a robust sustainability strategy aligned with the organization's broader goals.
Stakeholder engagement abilities to effectively engage with diverse stakeholders, including employees, customers, investors, community members and government regulators.
Verbal and written communication skills for expressing sustainability goals and achievements to different audiences.
Technical understanding of environmental and sustainability issues, legislation and industry trends.
Analytical skills for assessing sustainability performance.
Problem-solving skills to help navigate complex sustainability challenges, devise solutions and manage tradeoffs.
Risk management skills to identify and mitigate environmental and sustainability risks.
Change management skills to help enable the required shifts in processes and culture.
Collaboration skills to work effectively across departments, building partnerships to drive sustainability efforts.
Challenges for a chief sustainability officer
CSOs face numerous challenges in their role. Navigating these challenges requires a combination of technical knowledge, strategic thinking, leadership and communication skills. Challenges that a CSO faces can include the following:
Strategic alignment. It can be difficult to align sustainability goals with overall business strategy. Meaningful change might cost time, money, attention or other resources.
Stakeholder buy-in. People will naturally resist if they must do something different. Furthermore, stakeholders might push back if they perceive that efforts to reduce carbon emissions will eat into the bottom line.
Resource allocation. A CSO needs to budget change efforts. This can be challenging if a big change ends up costing one department more money while the benefits accrue in another part of the company.
Keeping pace with regulatory change. Governments and trade groups around the world are rapidly evolving new environmental regulations and standards. A CSO needs to stay on top of both local regulations and regulations that might affect their suppliers or target markets.
Measuring progress. A CSO must determine what to measure and how to measure it. Finding a way to surface the most appropriate metrics for different roles is also important. Meaningful progress might require separating the most important few across different areas of concern.
Measurement and reporting. Establishing clear metrics for sustainability and accurately reporting on progress is complex, especially given the wide range of ESG factors to consider.
Balancing short- and long-term goals. Some of the most effective measures might adversely affect the bottom line in the short term. A CSO needs to find a way to show how short-term investments in sustainability could lead to long-term value for shareholders, employees and the planet.
This was last updated in
June 2023
Continue Reading About chief sustainability officer (CSO)
Dig Deeper on Sustainability and ESG strategy and leadership