Getty Images
Data center, devices scrutinized for sustainability goals
Companies are taking measures in their data centers and with their device lifecycle policies to reduce waste and improve their overall carbon footprint, according to IDC.
The IT data center and device lifecycle management are critical areas in driving sustainability initiatives as organizations adopt goals to reduce waste and lower carbon emissions.
Organizations are pursuing these goals by adopting circular economy methods in data centers and in managing device lifecycles, said IDC analyst Susan Middleton during a presentation at the recent IDC Directions conference in Boston.
"It's about improving operational efficiency and cost," Middleton said.
The goal is to reduce the overall carbon footprint, which includes measures like reducing water and power usage as well as consolidating the number of servers in a data center.
IDC research indicates that companies purchasing IT data center equipment prefer to work with vendors that demonstrate a commitment to sustainability. They also consider recycled, reused and low carbon materials as among the most important considerations when purchasing IT equipment and want products made from recyclable materials that are also recyclable at end-of-life.
Companies want to work with vendors they trust that will help them deliver on sustainability goals, Middleton said.
"They also want recyclable materials used, because they're looking at the circular economy ecosystem where there's less waste to dispose of at the end," she said.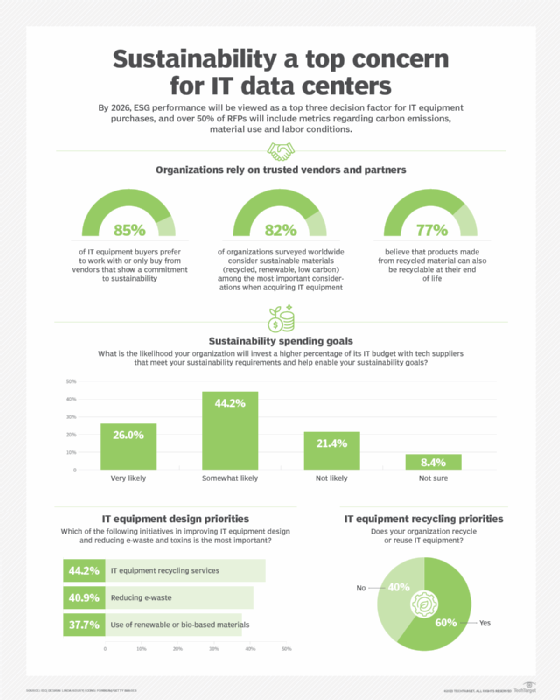 Lengthening the lifecycle
Organizations are lengthening the lifecycles of devices as way to be more sustainable because this reduces waste, Middleton said. Device usage is often now being assigned by an employee's persona in the organization. For example, one employee may need a device refresh every two years, but the device can then be handed down to another employee in the organization rather than scrapped.
"That cascading piece is starting to become top of mind," she said. "It's always happened in organizations ad-hoc. But now we're starting to see it as a way to improve sustainability measures."
Using recycled equipment has been a way for organizations to offset costs. But they also want to make sure that recycled equipment used in production environments is still in good working condition, Middleton said.
"[Organizations] are never going to take a risk on using something that's not supported and maintained," she said. "But it's a way for them to use a product that their IT already knows and is familiar with at a lower cost."
They also want recyclable materials used, because they're looking at the circular economy ecosystem where there's less waste to dispose of at the end.

Susan MiddletonAnalyst, IDC
Reducing IT data center energy consumption is a target for organizations. They also want to work with vendors and suppliers to meet those sustainability goals.
"We're seeing vendors like Pure Storage [show] that they're doing sustainability guarantees about what they will do to reduce power generation," Middleton said. "That's a metric now that IT leaders can use because it helps them provide the roadmap and align them to those goals that they've set up as a mandate."
IT equipment vendors are also playing a role in the data center circular economy, she said.
About a year ago, Cisco introduced a program named Green Pay that gives customers a 5% discount on their sustainability products if they guarantee that they will be returned to Cisco in five to 10 years. This includes Green Meraki, the Cisco IoT portfolio, smart buildings and service provider infrastructure products.
HPE Financial Services' "Force for Good" Financing Program gives incentive financing rates to SMB customers that achieve an industry-recognized environmental, social and corporate governance score. Eligible equipment includes HP desktops and laptops; select servers; and HPE data center solutions, including storage and Aruba Networks networking gear.
Dell has also come out with programs designed to encourage partners to have better sustainability messaging.
Overall, companies want vendors to provide information that the materials used are renewable but also durable and providing the required quality, Middleton said. The recycling service at the end-of-life is also critical because of security concerns and decommissioning costs.
"PC vendors are reducing packaging. They are using better glues that can break down easier and reduce the number of screws," she said. "They are going on about ways to better perform as well as making everything work easier and reducing waste."
Carrot and stick
Sustainability initiatives have essentially had a carrot phase, where organizations do the right thing and put out positive messaging on their own accord. But a stick phase of regulatory pressure is also starting to ramp up, Middleton said.
This includes regulations from governments around the world, such as a mandate in France that requires public sector entities to use recycled equipment or SEC regulations in the U.S. that impose financial penalties on companies that make false or misleading claims about their sustainability efforts, known as greenwashing.
However, these regulatory regimes for sustainability are still sporadic and difficult to keep track of, Middleton said.
"The regulatory environment is getting to a point where [organizations] need a lot of help keeping up with that," she said. "We're seeing a lot of engagement in terms of sustainability services and software from vendors like IBM and SAP and others that can help you with that data capture, because it's very confusing."
Organizations also need consistent metrics or universal measurements that allow them to compare vendors, partners and suppliers. They also require tools that help stakeholders inform chief sustainability officers and board members about sustainability progress and achievements.
But they shouldn't underestimate the difficulty of the challenge, Middleton said.
"I don't think anyone thought about the true complexity of what this was going to be, and they realize now that it's hard," she said. "But if an organization doesn't have a strategy, it puts them at risk -- from a security perspective but also financially."
Jim O'Donnell is a senior news writer who covers ERP and other enterprise applications for TechTarget Editorial.
Dig Deeper on Sustainability and ESG data and reporting