Customer experience involves people, process and tools equally
Robert Azman breaks down why people, process and tools are all crucial for a successful customer experience strategy.
During the spring, I teach a graduate-level global operations strategy course for the Carlson School of Management at the University of Minnesota. In the course, I ask students the following question: When considering how to ensure an effective customer experience for your organization, which is most important to consider -- people, processes or tools?
Typically, most students respond that it's people, of course, that makes the difference. But often the processes and tools advocates drive home salient points about these two components. Without processes, people can't operate effectively within the established system. People need tools and technologies to be able to deliver the desired customer experience seamlessly and at a high level of quality.
While there's no scientific analysis done in this dilemma, the majority finally settle on people as being most important followed by processes and tools in third place. Is that the correct answer? Are people the most important element in delivering an exceptional customer experience across your global organization? Do consistent processes eliminate errors and therefore contribute to a better end-to-end experience for your clients? Without technology are we destined to cause further frustration and delays in accepting, producing and shipping orders within our supply chains?
The "three-legged stool" for providing better customer experience
Call it a trick question, but the real answer to this question is -- all three are important for a better customer experience. But let's break them down a bit more to understand the interrelationship of these three elements. I call this the "three-legged stool" to ensure customer experience alignment.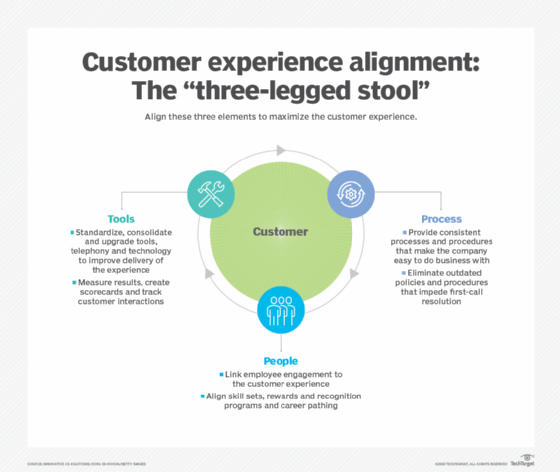 We need all three elements working in concert to satisfy our customers. However, I frequently see situations when one, two or all three of these components are ignored, forgotten or cast aside in favor of some shiny, new initiative that catches everyone's eye. To be successful in designing and executing effective CX strategies, all three need to be considered as to how they are interdependent on the other.
Customer experience example
Let's look at a business situation to illustrate my point. Company A purchases a robust CRM tool for its sales team to ensure that salespeople increase the amount of prospecting they are doing from less than an hour a week to a day a week. Leaders at Company A did extensive due diligence with a variety of CRM partners to validate they were purchasing the right technology to achieve this singular goal of increased prospecting. They took their time, analyzed each proposal, negotiated long-term agreements, and selected the customer experience software that best matched their requirements.
Once purchased, project leaders from all impacted functions were recruited, processes were analyzed, training manuals developed, ancillary systems were identified and integrated. A structured implementation plan was developed that provided timelines and key goal posts to track progress. Customers were told about the new software and how this would positively impact their experience with Company A.
Six months following implementation, which included extensive skills building and coaching sessions, the sales team generally accepted the new software and began using it for customer information, sales orders and tracking product shipments. There was only one problem. Prospecting was still lagging far below the intended target of one day per week. Why? Were salespeople trained properly? Were there enough leads being generated to drive more prospecting? Did the new software have an effective prospecting tool? The answer to each of these questions was yes.
What was the issue? After all, the team had been careful to select the right technology and identify processes that needed to change. Sales teams had been trained and coached on the new software and were using it effectively. Reports were being generated that provided never-before-seen or known, customer information that provided a clear picture of customer expectations.
Following a series of interviews and focus groups with the sales team, we quickly realized that one key element was missing from all the hard work and detailed planning that had been done in support of this new software. While we trained and coached salespeople, we failed to identify what behaviors needed to change for them to be successful at prospecting. For years, salespeople had been "farmers" (account managers) and now we were asking them to be "hunters" (new customer acquisition). Once these new behaviors were identified, we then had to align the skill sets of the salespeople to these new behaviors knowing that some would accept the new normal while others would decide to take different roles.
The learning was clear. We had done a more-than-adequate job at managing the processes and technology associated with the new software. The training of the sales teams was equally as robust and effective. The missing link was the behaviors of the people involved in the three-legged stool. It exemplified the interdependency of these three elements as the only means for providing our customers and employees with a better experience.
All three aspects are important for CX
Always ask yourselves and your colleagues, if I change one, what happens to the other two? What must change with the other two when I decide to realign one? And probably the most important question to ask is, when I change any one of these three elements, what's the impact on your organization's customer experience?
About the author
Robert Azman is founder and CXO of Innovative CX Solutions. Innovative CX is a customer experience consulting firm specializing in CX design and execution, sales and service experience design and talent development. Azman is the 2020 Immediate Past Chairman of the Board of the Customer Experience Professionals Association (CXPA.org). He has a wealth of diverse global operations and leadership experience as an executive at organizations such as CWT, Thomson Reuters, Ceridian and Deluxe. Azman is an adjunct professor in the University of Minnesota Carlson School of Management's Supply Chain and Operations Management department and a senior guest lecturer at the Rutgers University Business School Executive Education programs.