kreizihorse - Fotolia
Are you a customer experience leader or laggard?
Organizations need to invest now in customer experience to ensure they're leaders in their industry. They cannot risk falling behind their competitors with their CX initiatives.
In 2013, Oracle asked businesses three questions: Do you wish to be considered a CX leader in your industry? Are you just getting started with your CX initiative? Do you consider your CX initiative in an advanced stage?
For the first question, 91% of the businesses answered yes. But in an ironic -- some may call it frightening -- answer to the second and third questions, 37% said they were just getting started and only 20% considered their CX program, "advanced." That study is now seven years old -- do you think the percentages have changed much since it was conducted? I would venture to say that the percentage of businesses still wishing to be considered a leader in their industry remains quite high.
Unfortunately, I'm not sure the percentages have changed much for questions two and three. Envisioning better customer experiences within organizations is talked about regularly but where are the concrete actions to achieve that goal? Collectively, many of my CX colleagues concur that the lack of execution lies in the weak justification of the ROI for CX investments.
Investing in customer experience
We all know this is an age-old topic. Some of the most highly attended webinars are about how to convince executive teams that investment in CX is equally as important as investments in enterprise software purchases, IT equipment, facilities, advertising and product development to name a few. Yet, we continue to struggle in making the case of why an investment in improving the customer experience will drive revenues, profitability and loyalty.
I'm not a big fan of rankings -- be they sports-related or otherwise. But in the world of customer experience there is one study that I have found to be profoundly meaningful when attempting to justify investments in customer experience. It is the 2019 Customer Experience ROI Study by Watermark Consulting. Watermark has been conducting this study for 11 years. In their most recent publication, they present the following graph: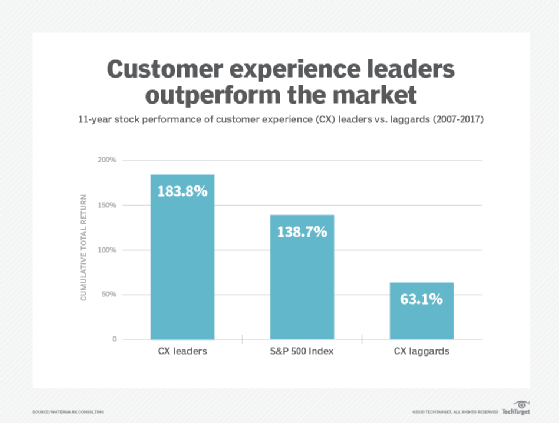 For the 91% of businesses that want to be a CX leader in their industry, the Watermark Consulting study is spot on. Who can argue with the performance of CX leaders against laggards?
"CX Leaders outperformed the broader market, generating a total return that was 45 points higher than the S&P 500 Index."
"CX Laggards trailed far behind, posting a total return that was 76 points lower than that of the broader market."
"CX Leaders generated a total cumulative return that was nearly three times greater than that of the CX Laggards."
Becoming a leader starts with understanding the definition of customer experience: Customer experience is the perception that customers have of an organization -- one that is formed based on interactions across all touchpoints, people and technology over time.
Once you understand CX, then you can commit to its six core competencies as defined by the Customer Experience Professionals Organization (CXPA.org):
Building a customer-centric culture
Customer experience design and innovation
CX metrics, measurements and ROI
Organizational adoption and accountability
Voice of customer insights and understanding
Embedded within each of these competencies is an engaged team of employees committed to their achievement. Moving your organization toward a customer experience leadership position within your market isn't easy or quick. Taking that first step toward leadership is important to the long-term success of your organization.
You must commit to becoming a leader and not laggard
The Oracle study clearly indicates that while the desire to be a CX leader exists, the willingness to commit resources to achieving that goal remains elusive for many. Especially during the current pandemic, with organizations facing significant financial impacts, the tendency is to batten down the hatches, circle the wagons and hold on for dear life! That's not what CX leaders do. Leaders continue to invest in an organization's customer experience so that when this pandemic has passed, customers will remember who stood by them and continued to meet their expectations. I believe those same customers will demonstrate their appreciation of an organization's commitment through increased loyalty, favorable recommendations and increased purchases.
Isn't it time you declared your position regarding customer experience? While it's doubtful any organization would proclaim itself a laggard, the reality is that inaction is tantamount to being a laggard. As a laggard you risk competitive threats, customer attrition and mediocre revenues and profits. Why not declare yourself a leader and seek ways to begin moving your organization in that direction? Take a stand and make a strong and visible commitment to improving the customer experience of your organization. Without a culture of leadership, any initiative, whether it be CX or not, is doomed for failure. Leaders win; laggards lose. Which side do you want to be on?
About the author
Robert Azman is founder and CXO of Innovative CX Solutions. Innovative CX is a customer experience consulting firm specializing in CX design and execution, sales and service experience design and talent development. Azman is the 2020 Immediate Past Chairman of the Board of the Customer Experience Professionals Association (CXPA.org). He has a wealth of diverse global operations and leadership experience as an executive at organizations such as CWT, Thomson Reuters, Ceridian and Deluxe. Azman is an adjunct professor in the University of Minnesota Carlson School of Management's Supply Chain and Operations Management department and a senior guest lecturer at the Rutgers University Business School Executive Education programs.