Rawpixel.com - Fotolia
The importance of personalized experience in CX
Musa Hanhan breaks down the three stages of customer experience and explains why personalized experiences offer companies the best chance at customer retention.
COVID-19 has highlighted the value of personalized and emotional customer experiences, but delivering on these expectations is not easy.
There's managing a customer experience, and then there's delivering a personalized experience at the right time. The difference between the two is astronomical -- the latter requires understanding the intricate dynamics of the relationship with your customers and knowing their expectations practically before they do. Think of a fortune teller with a crystal ball. When you deliver on their expectations of how they perceive their future, that is when you know you've done it right. But how do you accomplish this seemingly daunting task?
What is experience?
Let's start by defining experience. Experience is a collection of events and/or activities from which an individual or group may gather knowledge, opinions and skills. Within an experience is an event, occurrence or interaction that leaves an impression on someone.
The impressions left by an experience can trigger an array of emotions, causing the experience to be even more memorable. Whether this experience meets an individual's expectations will determine the specific emotions that are evoked, and be forever associated with that experience.
What is expectation?
Expectation is intrinsic. Whether consciously or not, we all create beliefs in our minds that something will happen or something should be a certain way. In order to deliver a positive experience, we must adhere to these preset expectations, of which the consumers themselves may not even be aware. Seems impossible -- but luckily, it's not. Understanding the scales and levels of expectations, as well as continuously making improvements based on feedback, will foster better experiences as expectations continue to be met and exceeded.
What is the expectation scale?
The scale of expectation is important to measuring the level of experience that your customer expects from you. The emotions evoked from the customer's experience will be based on maintaining a close tie between what was promised versus what was delivered. As quality of delivery increases and separates from what was promised and what is minimally required, experience quality goes up, eventually exceeding the expectation.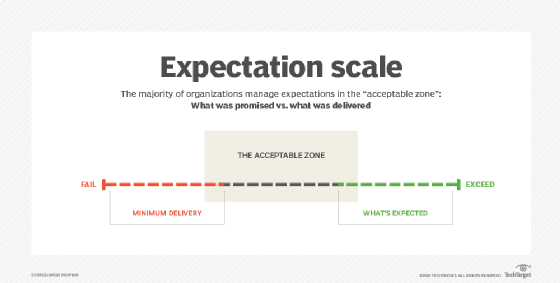 If you deliver less than what you promised or what the customer is expecting, the experience is considered bad or disappointing.
If you provide the minimum of what you promised, the experience will suffice a couple times at best. However, the collection of these experiences will begin to evoke negative emotions, and the customer will search for other products or services that are able to meet or exceed their expectations.
If you deliver within a minimum and meet expectations, the experience is considered good but mediocre. It does not have a "wow" factor. The customer considers this acceptable or tolerable, but remains open to a new experience capable of better delivering on expectations. This is generally the level which organizations strive to reach and consider successful.
If your delivery exceeds expectations, the customer will be elated and associate positive emotions with the experience.
The three stages of experience
1. One size fits all
When customer experience journey mapping went mainstream, many practitioners, myself included, were thrilled to get a customer journey in front of the executive team. However, we found that while this journey mapping could be adopted, the business had too many different models for a one-size-fits-all approach. A single generic journey mapping system cannot be applied to all customers and all situations.
We adopted an "understood" customer journey that covers all segments of the market, all regions, all types of personas and their behaviors and needs at all times. The outcome has been mixed: One segment or group of customers benefits from it, but the rest feel they are not getting what they expected and what was promised from the organization.
2. Repeatable
The majority of organizations want to reach consistent delivery and eliminate negative experiences. In this stage, we have learned how to create multiple journey mapping approaches to enable us to deliver an experience based on a segment or a group of customers and connect the experiences that can be repeatable and reliable. This is the minimum that a customer expects. However, with any deviation or change in the business or market, the experience breaks down because it is not capable of handling too many exceptions and differences in the customer journey with an organization.
This delivery approach meets expectations as customers get what they are promised. However, it does not deliver a "wow" experience or evoke a uniquely and profoundly positive emotional response. Most organizations invest in fine-tuning this approach to keep costs manageable and deliver these repeatable and reliable experiences.
3. Personalized
In this stage, you know each of your customers well enough to design a tailored experience for their needs and habits. Thanks to advancements in technology, we will see more of this type of experience in the next few years.
Within a specific segment, within a particular persona, within a specific behavior -- it will be groundbreaking to know your customer on an individual level and tailor your processes, services and support to this specific person within the system.
However, it won't be possible to deliver differentiated and personalized experiences all the time. That is why knowing which moments are critical for customers become all the more important. For example, customers may prioritize and appreciate easiness when dealing with a business. Apple recognized this when starting its Apple Card, removing all the intricacies of a normal credit card application. The result? According to at least one financial research firm, Apple will manage 10% of global credit card transactions by 2025.
Besides delivering frictionless experiences, customers also look for empathy from their brands. Trader Joe's, for example, makes a conscious effort to deliver great service: Its friendly "crew" is always smiling and ready to help. The entire brand has become known for this standard.
How do you decide where, when and to whom to deliver a personalized, emotional experience? And if it is negative, how do you turn it into a memorable moment? Here are a few examples of common customer emotional states and the opportunities it can present for your business to enhance the relationship:
Feeling vulnerable: turning the loss of a credit card while traveling into a trust-enhancing moment.
Feeling anxious: turning the experiencing of a broken-down car from an anxious moment into one of relief and delight.
Feeling joyful: creating an advocate moment with a thank-you card and exclusive car brand travel mug after a first-time car service at a dealership.
The value of personalized experience
Did I get what I want or need with maximum value in the least amount of time? Am I emotionally satisfied? These simple questions measure the quality of the experience, but there is more to measuring the entire value of a personalized experience.
The customer value metric is becoming one of the top performance indicators for organizations and investors. Bain & Company's Rob Markey, defines customer value as the total lifetime value (LTV) of a company's customer base. While delivering a personalized experience is expensive, there is a case to be made that it is worth the expense and effort.
There are many metrics out there measuring parts of an experience, and organizations are investing in tools, technology, resources and processes to enhance their operation metrics. However, what you measure does not necessarily provide an actual picture of the value you bring to customers and to your shareholders.
Since the judge of the experience is the customer, we want to shift to measuring the customer value. In the article noted above, Markey also shared four strategies to help organizations manage customer value, which include:
Develop robust customer-value management processes and tools. Manage current total lifetime value of your customer base and potential financial value that lies in increasing customer loyalty.
Combine design thinking with loyalty-earning technologies. The power of observation and knowing your customers' needs and constant loop of feedback along with artificial intelligence (AI) that can tailor personalized experiences to drive loyalty.
Organize around customer needs. Bridge the silos and reduce cross-functional friction to allow organizations to focus on customers.
Lead for loyalty. Align employees and the organization around the value of customer loyalty.
While the customer value metric is not part of the Financial Accounting Standards Board -- yet -- organizations can still disclose their customer value as part of their regular earnings reports.
When an organization delivers experiences tailored to their customers' needs and wants, and provides empathy along the way, the results are clear. Empathy fuels trust, trust fuels loyalty, loyalty fuels value and value fuels both monetary and brand recognition. It is an infinite value cycle.
Now is the time to speed up personalized experiences
The COVID-19 pandemic has accelerated the notion of delivering a personalized and emotional experience. In this dark time, we have seen global brands shine by bringing value to their customers and their shareholders alike. We too want to be one of those admired, high-valued businesses. It is now more apparent than ever to understand the types of experiences you are delivering to your customers and measure the value you bring to them.
About the author
Musa Hanhan serves as senior director of Customer Experience at Genesys. Hanhan is a driven experience designer and product strategist with a career spanning more than 20 years in the B2B technology industry. He offers proven leadership in the design and management of go-to-market strategies of highly successful products and is skilled at converting poor performing products into highly innovative and profitable solutions. Hanhan is a member of the Bain Loyalty Forum and holds certifications in service design and as a certified customer experience professional (CCXP).
Dig Deeper on Customer experience management