Fotolia
Email, social media marketing strategies adjust amid COVID-19
Businesses lean on email, social media marketing and softer brand messaging to keep customers engaged while the coronavirus keeps the world quarantined at home.
A daily visit to the mailbox usually turns up a handful of bills and a random of assortment coupons and sales fliers from local businesses. But since the COVID-19 crisis arrived on the doorstep, mailbox traffic has died down.
Businesses have adjusted their marketing strategies as buyers turn their attention to e-commerce in the wake of brick-and-mortar closures. But many businesses need to do more than engage customers via email and social media marketing tactics.
"Prospects and customers now have time to engage with good [digital] marketing tactics," said Kipp Bodnar, chief marketing officer (CMO) of HubSpot, a marketing software company in Boston.
Businesses should consider adjusting their marketing strategies during the COVID-19 pandemic to accommodate customer needs.
Shifting marketing strategies
The Kettlebell Kings, a fitness company in Texas, has been leaning on Google Ads, social media and email marketing to reach clients, but it has also had to change what it sells, said Jay Perkins, co-founder of Kettlebell Kings.
The company's kettlebell inventory completely sold out in mid-March due to gyms closing and people building out their home gyms. At that time, the company shifted its focus from kettlebell sales to video workout plans, Perkins said. While the company does give customers free access to some of these videos, others are available for a fee. The kettlebell video programs have also been included in emails and featured on social media.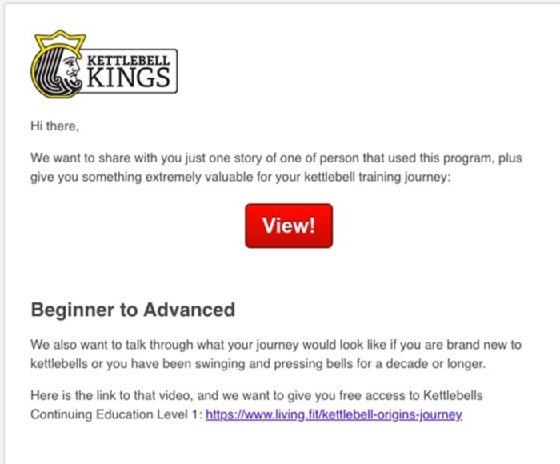 "We think of ourselves as a content and media company right now," Perkins said.
The shift in sales also created the need for the Kettlebell Kings to redesign its homepage to highlight workout videos. Customers were disappointed that everything was out of stock, and the company is now giving them something of value on the page, said Chad Price, co-founder of Kettlebell Kings.
Due to the inventory sellout and digital workout videos, sales have been higher than usual, Perkins said.
Direct-to-consumer e-commerce brand Andie has also shifted marketing strategies due to the COVID-19 pandemic. While it isn't spending more on marketing, it has been using email, social media and text messaging to reach customers, said Karen Zhou, customer experience manager for the New York-based women's swimwear company.
Many CMOs took quick steps to pare down budgets and tighten up spend almost immediately when the coronavirus crisis emerged, said Liz Miller, vice president and principal analyst at Constellation Research.
"These are also CMOs that have been really focused on performance and effectiveness, so they were able to quickly identify what needed to be prioritized to keep the business engines running," she said.
Efforts to humanize businesses
Many businesses shifted to messaging customers with a softer tone, Miller said. But many brands picked the same voice, and nearly two months into the quarantine sound identical, she said. To stand out, businesses need to focus on the customer, asking how they are and what they need instead of just telling buyers what they are doing during this time.
Andie is one such business that has made efforts to humanize itself. Andie team members have encouraged people to reach out and talk about anything. One text message sent by the company read: "Hey, Andie's Fit Experts here! We're checking in to see how you're doing right now. You can text back to ask a Q, get a link to a cute puppy video or just chat with one of us. No robots on the other end, we promise!" And with the launch of its phone support, the company has been getting a lot of calls.
"These are people who have been stuck at home, and even though we're strangers, people like that human connection," Zhou said.
During the early stages of the quarantine, the swimwear company sent out numerous emails to customers, conducting business as usual trying to sell its suits. But it also received many emails asking why they were doing this.
"The volume and type of message we were sending wasn't resonating with people," Zhou said.
Email content now humanizes the business. Items that have resonated with people include notes from the company's founder and information about the brand's anniversary, Zhou said.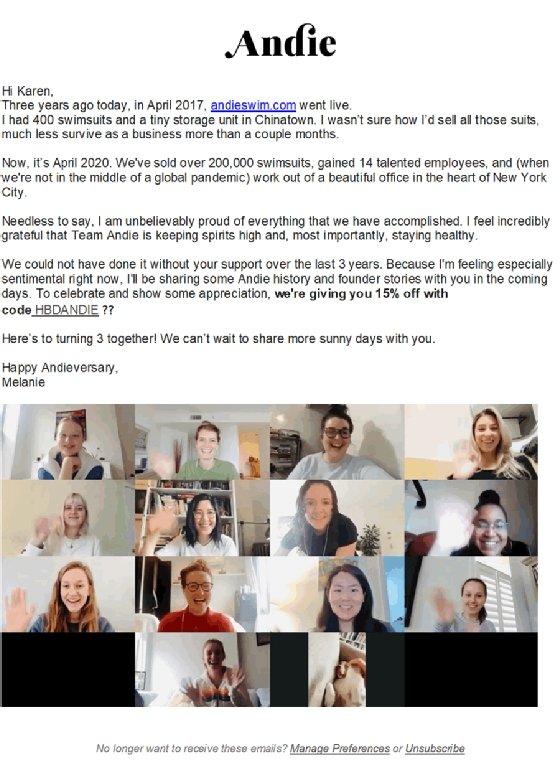 Andie has also been posting softer, more inspirational messaging that doesn't involve sending customers directly to the website to make a purchase, Zhou said. Some posts include a team member in her Andie swimwear teaching yoga from home in 15-minute videos and podcasts with the company's CEO.
Humanizing involves listening and truly understanding the customer, then reflecting those values, needs and language back to the customer.

Liz MillerVice president and principal analyst, Constellation Research
Smart CMOs will stay on a path that brings humanity back into every touch and engagement, Constellation Research's Miller said.
"Humanizing involves listening and truly understanding the customer, then reflecting those values, needs and language back to the customer," Miller said. "It's about knowing your customer almost better than you know your product."
Businesses doing this well have invested heavily in data and technology platforms to get a clear vision of their customers and then market to an audience of one, Miller said. Brands doing this poorly assume humanizing themselves means changing their tones without changing the substance of the conversation. Companies that make the effort to correctly humanize their business during this crisis will hold on to those customers post-pandemic. Businesses that simply "talk at" their customers may end up losing them to their competition.