Jakub Jirsk - Fotolia
How Philanthropy Cloud streamlines workplace giving
Perpetual Energy used Salesforce.org's Philanthropy Cloud to create content, track charitable donations and better engage with employees during its annual United Way campaign.
Each year at Christmas, Perpetual Energy Inc. runs a campaign called the 12 Days of United Way. In previous years, the company used an intranet page to engage employees -- but it wasn't particularly user-friendly, and the company ended up inundating employees with campaign emails.
Perpetual Energy, a natural gas producer in Calgary, Canada, changed its engagement strategy when Salesforce.org launched its Philanthropy Cloud in 2018 -- becoming one of the first companies to use the new platform. The company used Philanthropy Cloud to showcase all of its events and used it as a calendar, as well as a place for interviews and articles that featured different people within the company and their stories.
"Essentially, it was the one-stop shop for all things 2018 United Way campaign," said Claire Rosehill, business and investor relations analyst at Perpetual Energy.
Streamlining workplace giving
Philanthropy Cloud is a collaborative effort between Salesforce.org, Salesforce.com and the United Way. It connects companies and their employees to more than 1.8 million tax-exempt organizations in a GuideStar database, enabling employees to donate time and money to causes they care about and enabling companies to build community engagement, said Nasi Jazayeri, chief technology and product officer at Salesforce.org.
We do get a lot of feedback from people that they were more invested in the United Way campaign this year.

Claire RosehillBusiness and investor relations analyst, Perpetual Energy
Within Philanthropy Cloud, employers can create content to engage employees and set company-wide workplace giving goals. Employees can build profiles where they specify their skills, interests and locations to be paired with relevant charitable giving opportunities.
"It is really as creative as you want to be," Rosehill said.
Perpetual Energy published articles and videos on the Philanthropy Cloud platform about company employees and why philanthropy is important to them, created donation goals, and it advertised events employees could participate in as part of the campaign.
Participation in the annual United Way workplace giving campaign is high at Perpetual Energy, and the move to Philanthropy Cloud increased that engagement, Rosehill said.
"We do get a lot of feedback from people that they were more invested in the United Way campaign this year," she said. "They really liked the personal touch and being able to learn more about people. That part of it really hit home."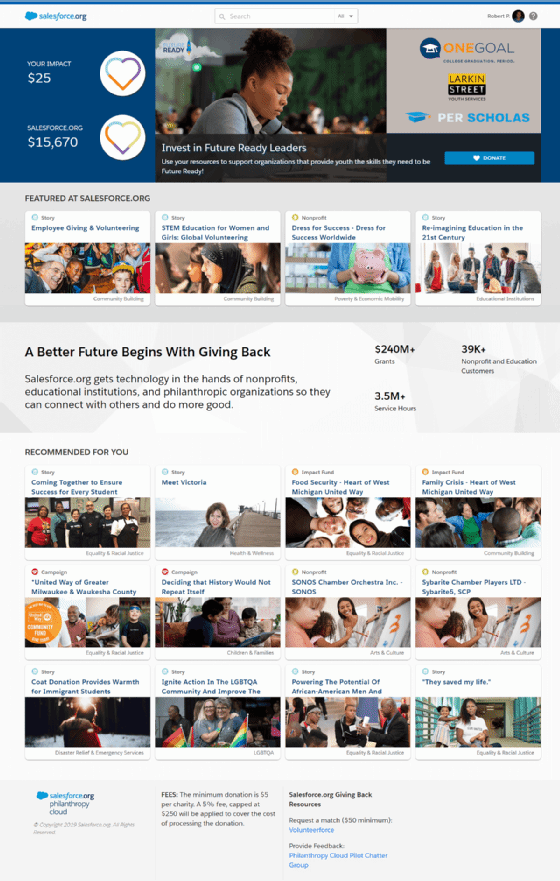 Room for improvement
There is also some room for improvement with the Philanthropy Cloud implementation, Rosehill said. For instance, it needs a little more functionality for admin access levels, she said.
"I am not an HR person, but I needed administrator access," Rosehill said. "The administrators all had the same level of access, so we had to be very careful with the private data that was submitted by individuals."
Rosehill also believes Philanthropy Cloud could better serve small business needs. She likes the ability to customize pages, but she wishes there were more integrated graphic design tools.
"A big company would have a whole team of people specifically dedicated to branding and marketing, but if you're a smaller company, that is something that you normally don't have," Rosehill said.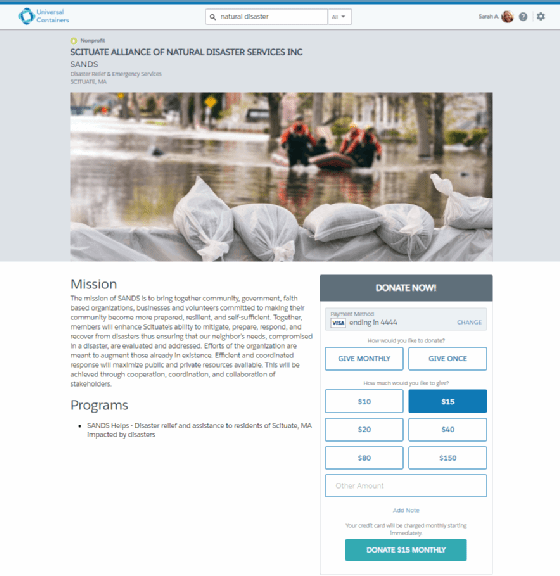 Salesforce.org analysts and product team members thought there would be no interest in Philanthropy Cloud from SMBs when it first launched, but they were wrong, according to Jazayeri.
"[SMBs] are very excited because the only way you can create relationships with your community if you are a small or medium business is through volunteering campaigns and really helping your community," Jazayeri said.
Perpetual Energy was not a Salesforce customer prior to using the Salesforce.org platform. Philanthropy Cloud is a stand-alone product outside the Salesforce.com CRM platform and can be purchased separately through the United Way. It is licensed on a monthly, per-user basis. Salesforce.org gave Perpetual Energy a free subscription to test Philanthropy Cloud for the first year, but Rosehill said that it plans to continue with the subscription if the price is reasonable.
Salesforce.org plans to roll out more volunteering functionality in Philanthropy Cloud, including tracking total company-wide and individual volunteering hours. Eventually, Philanthropy Cloud will be more tightly integrated with Salesforce's AI tool, Einstein. For example, suggested donation amounts can be based on each employee's history of giving. "We want to make sure that it is highly relevant and personalized content based on your previous activities and history," Jazayeri said.
Dig Deeper on Customer data management