Fotolia
Salesforce buys Attic Labs, adding to Quip capabilities
Quip receives back-end capabilities with open source database after Salesforce purchase of Attic Labs.
After an extended hiatus in the acquisition space, Salesforce spent a moderate amount -- in its world -- on Attic Labs, creators of open sourced decentralized database Noms. The technology is expected to remain open source and will be plugged into Salesforce's collaboration tool Quip, according to public reports. Salesforce purchased Quip in 2016 for roughly $750 million.
The latest Salesforce acquisition is expected to provide Quip with back-end capabilities, according to analysts, allowing the tool to pull more data onto the Quip pages. The cost was roughly $11 million, according to public reports.
"Quip is proficient with Salesforce integrations and pulling data from customer records," said Alan Lepofsky, a principal analyst at Constellation Research Inc. "I think this is a play to extract data from a variety of other sources. It's a little bit of speculation, but I think that's where they're going."
Speculation is needed, as both companies have been quiet about the acquisition. A Salesforce spokesperson declined comment and directed us to the Attic Labs website. A message on the site's homepage announced that the company will be joining the Quip team and that the Noms product would remain open source.
The only other information from Attic Labs appeared in a post to the company's mailing list from founders Aaron Boodman and Rafael Weinstein.
"A content-addressed database is a powerful tool for data integration, collaboration and synchronization challenges -- including those we will work to solve with Quip," the duo wrote in the post. "We expect to revisit this project at Salesforce."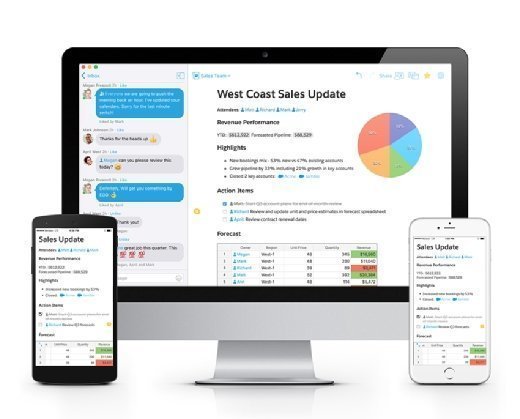 Big year ahead for Quip
Last year was an important one for Quip within the greater Salesforce platform. While little was done after the $750 million Salesforce acquisition in 2016, 2017 saw some advanced capabilities promised for the collaboration tool. Salesforce's partnership with Google brought live apps to Quip, allowing users to directly embed Google calendar and other useful widgets into the collaboration platform.
[Salesforce] has been slowly building up and adding things to Quip since they bought it.

Michael Fauscettechief research officer, G2 Crowd Inc.
"[Salesforce] has been slowly building up and adding things to Quip since they bought it," said Michael Fauscette, chief research officer at G2 Crowd Inc., a peer-to-peer business software review company.
Fauscette added that the capabilities Attic Labs brings -- including being able to cleanly move around structured data -- are useful for a tool like Quip.
"It's always interesting when someone buys the team that is behind an open source database you could have just used," Fauscette said. "There may be some expertise there they don't have. But in a collaborative environment like Quip that could bridge across many areas of a company, having a distributed database that is structured and can spit out data across different data sources -- that can be powerful."
Salesforce is also connecting Quip to its IBM Watson partnership, where enterprise Quip customers will have IBM Cloud and Watson services embedded into Quip.
'Quip still feels kind of stand-alone'
With this extra attention put on Quip with the Google integration and the latest Salesforce acquisition, Lepofsky is hoping that means the San Francisco-based company will tie Quip in with the rest of its products more seamlessly.
"Quip still feels kind of stand-alone," Lepofsky said. "It's not as simple as flipping a switch and turning it on. You still need a registration and ID and passwords from the Quip system. In 2018, I hope it's a high priority to make Quip a more seamless experience and that will help things grow."
Adoption of Quip among Salesforce customers is unknown, as the company will not reveal adoption numbers for specific products, but users can expect more from Quip in 2018 -- especially considering Salesforce's chief product officer is Quip's founder, Bret Taylor.
"Quip won't be a stepchild with Bret in charge of products," Lepofsky said.
Quip costs $10 per user per month for the business edition and $25 per user per month for the enterprise version.