Lance Bellers - Fotolia
Microsoft Government Community Cloud adds Teams, Dynamics 365
U.S. government agencies are undergoing a digital transformation, and Microsoft hopes that upgrades to its Government Cloud lineup will make its platform part of that change.
Microsoft has expanded its Government Community Cloud offerings to meet the needs of more U.S. government agencies that are undergoing mandated digital transformations.
Microsoft Teams, Microsoft Power Platform and Dynamics 365 Customer Engagement are now all available for Government Community Cloud (GCC) customers, with Dynamics 365 Customer Engagement and Teams available for GCC High customers. GCC High includes a more stringent compliance certification.
Teams can help government agencies communicate and collaborate outside of email, while Power Platform uses Power BI, PowerApps and Flow to help agencies create apps regardless of coding ability. Dynamics 365 Customer Engagement will allow agencies to bring together different customer data points to better serve constituents.
Government agencies finally go digital
Microsoft's Government Community Cloud updates follow last year's Modernizing Government Technology Act, which is part of the 2018 National Defense Authorization Act. The act requires federal agencies to increase cloud and collaboration tools, and vendors such as Microsoft are eager to meet those requirements.
"As a natural progression, Microsoft has been providing additional capabilities to its FedRAMP-certified cloud offerings for government," said Adelaide O'Brien, research director at IDC Government Insights. "Microsoft also has a focus on the government market, as agencies are undergoing digital transformation and need to provide government employees with tools and technologies that allow workers to be more productive."
Technology alone isn't the answer to modernizing government processes, however. Supportive leadership and an agile process focused on worker efficiency and providing better service to constituents are required for a successful technological upgrade, O'Brien said.
"The question for many agencies isn't whether to move to the cloud, but what services can be provided more effectively by moving workloads to the cloud, providing the agency with additional capabilities often with less internal cost and resources," she said.
Government agencies are among the slowest industries to adopt new technology, primarily due to security and regulation concerns, as well as years of legacy technology that impedes a digital transformation. But as cloud technology has become more widely adopted and more secure, government agencies are starting to modernize.
"Probably the biggest challenge government agencies face is, 'How do we modernize when we have decades-old legacy systems? Do we rip and replace?'" said Susie Adams, CTO for Government Community Cloud at Microsoft. "What we're seeing is a trend from agencies that want to move to the cloud and looking at scenarios to see if the apps are a good fit and if a hybrid solution is better."
One example of this is bringing Microsoft Teams to government employees. Now available for Government Community Cloud High and Department of Defense environments due to improved security, Teams can provide agencies with a communication tool that supports more types of interactions.
IDC's O'Brien said she believes agencies are more likely to adopt tools like Teams that allow for easier collaboration across multiple locations.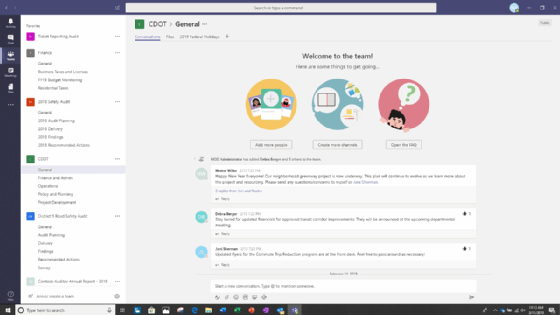 Improved security compliance for Microsoft
The question for many agencies isn't whether to move to the cloud, but what services can be provided more effectively by moving workloads to the cloud.

Adelaide O'Brienresearch director, IDC Government Insights
Security has long been a concern for government agencies, and Microsoft is responding by making Teams and Dynamics 365 Customer Engagement available in Government Community Cloud High, opening the products up to a larger customer base, while increasing security and compliance.
Microsoft will also add more security capabilities for its Office 365 Advanced Threat Protection P2 for Government Community Cloud. The new capabilities are expected to automate the investigation and remediation of email threats and cyberattacks, relieving security teams on response time. The new capabilities are expected to be released in the third quarter of this year. Microsoft government products have received certifications, including FedRAMP High and Moderate; Criminal Justice Information Services; IRS 1075 FTI; Health Insurance Portability and Accountability Act; International Traffic in Arms Regulation; and Department of Defense levels 2, 4 and 5.
By also adding Power Platform capabilities, Microsoft brings custom application design to government agencies, so they can analyze, act on and automate data flow.
"You look across the federal landscape and see how many business processes [are] out there that can be automated," Adams said. "Power Platform acts as a low-code, no-code product that allows non-IT professionals to automate a workflow and attach data analysis."
Similarly, Microsoft Government Community Cloud's addition of Dynamics 365 Customer Engagement will allow agencies to better monitor interactions with its constituents through different channels, bringing those interactions together into one place for the agency.
Pricing for these products was not released by Microsoft.