Fotolia
Rent the Runway CEO discusses IT challenges, CX strategy
Rent the Runway CEO Jennifer Hyman shares the company's CX strategy, describes its customer data collection and use, and addresses recent IT upgrade challenges.
ORLANDO -- Rent the Runway has built a billion-dollar business on the idea that it's better to rent your clothes than buy them, but the company has taken a different tact with its technology.
The company "owns its IT assets" according to Jennifer Hyman, co-founder and CEO of Rent the Runway (RTR). The 10-year-old company's homegrown systems and algorithms are the lifeblood of the "closet in the cloud" platform. Hyman was interviewed by Gartner analyst Helen Huntley during a keynote at the Gartner IT Symposium here this week, where she discussed the startup's unique business model, its valuable data assets and CX strategy and recent IT challenges.
Rent the Runway is part technology company, part reverse logistics company. It ships and receives clothing for the service's 11 million users. The process involves restoring a rented item to perfect condition, dry cleaning it, conducting quality inspections and shipping it out to new customers -- often with a zero-day turnaround time, according to Hyman.
"All of the technology [required] to execute reverse logistics at scale is technology that we've had to build from scratch," she said. "The digital commerce piece of this company is really the easy part."
While RTR has built its own algorithms, customer-facing systems and data science platform, it runs its proprietary tech on public cloud infrastructure, including AWS for its personalized recommendation engine and Snowflake for its data warehouse, according to published interviews with RTR's IT staff.
Technology upgrade caused shipping delays
The company made news last month when a major upgrade to its software led to shipping delays. To grow its inventory and provide more choices, RTR undertook what Hyman described as an "enormous software transformation" in one of its warehouse facilities, which she said has improved its inventory availability by 35%.
But during that process, the company's homegrown software experienced integration issues with a third-party automation software, causing a shipping delay for 5% of orders. For a 10-day period, Rent the Runway stopped accepting new customers, and also pre-emptively cancelled one weekend of event orders, Hyman said during the session.
To the customer, we own the end-to-end experience, and we own all of our relationships with all of our third parties.

Jennifer HymanCo-founder and CEO, Rent the Runway
The bug actually occurred via that third party, but Hyman said she opted to own the disruption rather than blame RTR's partner company. However, publicly asserting that Rent the Runway's internal software was the problem did not go over well with the company's engineering team -- and being a technology-based company, the majority of its employees are engineers, according to Hyman.
"They were upset that people would think it was our technology flub that that got us to this place," she said. "But to the customer, we own the end-to-end experience, and we own all of our relationships with all of our third parties, and this is a relationship that we want to continue to improve."
RTR's CX strategy for angry customers who didn't receive their orders was to provide a refund plus extra cash to buy clothing elsewhere.
"Our pause in service for 10 days was initially met with anger, but when that $200 ended up in people's PayPal accounts, there was a complete turnaround of customer sentiment," she said.
Hyman said the company continues to look for ways to remove friction as part of its CX strategy, and that means continual innovation. This leads to an inevitable push and pull between Hyman and her CTO, who fights for technology, the stability of RTR's infrastructure, systems security and scalability -- sometimes over growth and feature development, she said.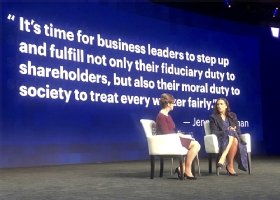 "Where it's my responsibility as the CEO to fight for product innovation, I have an expectation [the CTO] is going to say no, that's the wrong decision to make right now, because we have to shore up this part of our architecture," she said.
"We have to build products in our architecture or logistics or data systems that are flexible and can continue to grow."
Data collection drives personalization, partnerships
Rent the Runway partners with about 700 designers who benefit not only from the exposure to new customers, but also from the data they receive, Hyman said. Users who rent clothing are required to share data about those clothes -- things like how they fit, the quality and other attributes that provide insight into manufacturing and quality, she said.
"Data has historically been available in the fashion industry up to the point of sale. I have data on how people are actually wearing the garment," she said. "The most important part of our relationship with designers has actually become partnering with them and giving them all this data. It's helped them change the way they manufacture the products in the first place, to increase demand and to increase the quality."
The company collects a huge amount of data on each customer -- everything from location to highly personal details such as height, weight, measurements, the formality of her job, her social life and whether users like to cover their arms, Hyman said. All of that gets mapped to RTR's inventory to provide suggestions that are most relevant. It allows the company to deliver a highly personalized storefront to each user, and through machine learning algorithms, the more customers use the service, the more personalized their recommendations become, Hyman said.
"It is entirely based on intelligence; the data is guiding what we buy in the first place and what we show you," Hyman said. "No one is going to use our subscription if they have to spend hours digging through the million and a half options every single time they want to try something new."
That inventory may grow to include clothing not just from designers, but also from other consumers. Hyman said the next phase of Rent the Runway may include peer-to-peer clothing sharing.
"AirBnB has shown that an industry can be disrupted via per-to-peer," Hyman said. "So when I think about what one of the next chapters is going to be, it's not just Rent the Runway offering an unlimited closet, but opening up the closets of millions of people around the world to share with each other in their local communities."
Dig Deeper on Customer experience management