funkyfrogstock - Fotolia
Oracle CX suite adds tools for sales teams, digital commerce
Oracle tackles sales rep and e-commerce experience in the latest update to its CX application stack, retuned for the pandemic's remote-work and digital sales uptick.
Oracle updated both CRM and e-commerce applications as part of a this year's broad update to the Oracle CX applications stack.
For this round, front-line sales reps and digital commerce users will see AI connections, interface upgrades and more hooks into other CX applications and business tools such as ERP systems that track inventory availability. Other vendors have made similar moves recently to provide data that allows front-line workers to personalize customer experiences.
On the digital commerce side, Oracle added more finely tuned AI-assisted product recommendations and search, enhanced by customer intelligence gleaned from with Oracle's customer data platform, which aggregates an individual's customer information into a unified profile. Moreover, new tools enable management of subscription sales and renewals for technology, services and hard goods, as well as content integration tools to automate what customers see when making online purchases.
Oracle is getting its CX ducks in a row after a decade's worth of acquisitions and integrating them on its latest cloud platform, said Predrag Jakovljevic, principal analyst at Technology Evaluation Centers. While some of the features help Oracle catch up to competitors such as Microsoft, Salesforce and SAP, tools such as subscription management propel Oracle ahead.
All of these players have notable capabilities, and they will all have headwinds from each other.

Predrag JakovljevicPrincipal Analyst, Technology Evaluation Centers
CX platform vendors in general are locked in battle for new users, as shown by their attempts to outflank each other with new features.
"All of these players have notable capabilities, and they will all have headwinds from each other," Jakovljevic said. "Oracle [CX] perhaps doesn't have a mindshare there that it deserves, given that it has impressive bells and whistles."
Sales reps will see more granular lead scoring in Oracle's new, mobile-friendly Redwood interface, scored to show a seller how likely a lead will close based on first-party and historic lead data such as past interactions, product purchases and account profile data. Other features such as a Microsoft Teams integration for video calls as well as configure-price-quote features support remote sales teams -- a new model for many who worked closely in offices before the pandemic.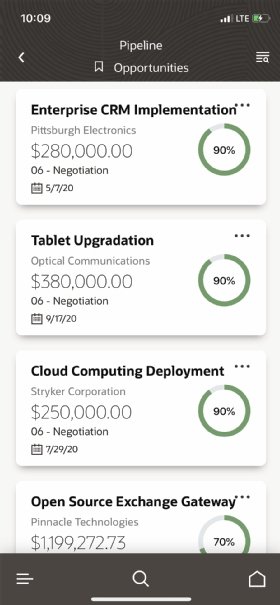 The sales technology features are squarely aimed at improving the front-line seller's experience, said Nate Skinner, SVP of marketing for Oracle CX, who left Salesforce earlier this year. For many years, vendors focused on sales managers by building features that gave insight into their teams' performance. The industry is now focusing on the front-line sales rep's experience. While that trend started before the pandemic, it's accelerated in 2020.
"The whole world has this expectation that this stuff just works online," Skinner said. "The Redwood UI reimagines an experience that powers the seller's life, not the manager's life."
The new features come in conjunction with Monday's Oracle Cloud CX Virtual Summit.