sommai - Fotolia
Salesforce Revenue Cloud bolsters B2B e-commerce workflows
Salesforce, moving deeper into revenue ops, releases Revenue Cloud. It enables B2B digital sales with new pricing, billing and contracting models, as well as revenue forecasting.
Salesforce expanded its B2B e-commerce and revenue management capabilities today with the release of Revenue Cloud.
Salesforce Revenue Cloud comprises a bundle of features to automate contracting, billing and forecasting, as well as B2B e-commerce tools that simplify setting up subscription pricing. It also includes automated workflows to set up consumption pricing services or outcomes-based contracts more efficiently than users building them on their own.
Subscription models have been a key for B2B companies' survival during the pandemic, said Craig Rosenberg, co-founder and chief analyst at Topo, a Gartner analyst firm specializing in revenue operations adoption and the technologies that support it. While the model is more prevalent in the technology sphere, it's catching on for goods and services in other vertical markets, too.
In a period when the top of the marketing funnel might be more sparse because live events are on hold, companies are looking to invest in their existing customer relationships and quickly adapt to new go-to-market strategies and revenue models.
"If we take what we've learned in the last nine months, everyone needs to be built for speed and have flexibility, adaptability and versatility," Rosenberg said. "Spinning up new strategies, offering multiple go-to-market strategies -- these things resonate right now. Nobody can make plans past 90 days, so you want to have a platform you can spin up, scale up and scale down."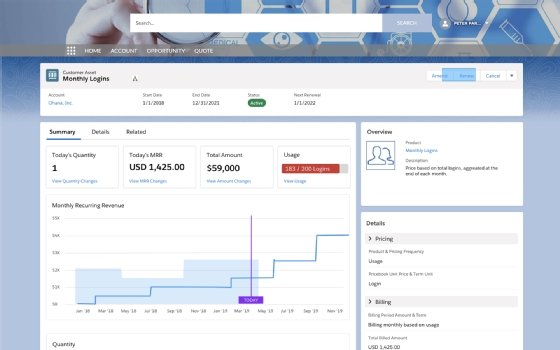 B2B e-commerce borrows from B2C success
For years, the B2B e-commerce technology space was based on the traditional sales rep-customer relationship, with many of the elements of closing deals done in-person or on the phone. In contrast, consumer e-commerce went in the direction of self-service on websites.
The Salesforce B2B e-commerce tools in Revenue Cloud push B2B e-commerce sellers into more of a consumer model. That transformation was happening anyway -- especially in Silicon Valley, where customers can order technologies and service with credit cards, Rosenberg's Topo colleague and analyst Dan Gottlieb said. For the rest of the world, the pandemic put it in high gear in 2020.
"We've been living under these assumptions about how B2B selling is done for decades -- it takes a lot of meetings, there's a lot of people involved," Gottlieb said. "The pandemic is what forced everybody into this crazy situation where we're all inside, we're all online ... but it also completely disrupted the way we were thinking about how we're going to execute these complex B2B buying situations."
Is Revenue Cloud RevOps? Yes and no
Revenue operations -- RevOps, for short -- is an emerging business strategy that puts marketing and sales operations under a chief revenue officer (CRO), who orchestrates their plans. CROs also find and address inefficiencies in marketing -- as well as new potential revenue streams -- and keep close tabs on forecasting with analytics tools in order to adjust tactics on the fly in order to maximize revenue.
If we take what we've learned in the last nine months, everyone needs to be built for speed and have flexibility, adaptability and versatility.

Craig RosenbergCo-founder and chief analyst, Topo
Salesforce Revenue Cloud is and isn't a RevOps tool, the Topo analysts said. While the go-to-market tools and revenue analytics resemble some of the technologies familiar to CROs, it goes beyond the scope of RevOps with the B2B e-commerce features. It probably isn't a threat to current Salesforce partners that have RevOps tools on Salesforce's AppExchange partner marketplace, they concluded.
And even if Revenue Cloud overlaps features with some of those partners, it isn't likely to cannibalize their customer base, Rosenberg said, because the Salesforce customer base is so massive that "a drop in that ocean can equate a billion dollars in sales" for those partners.
"They're still going to get deals, they might get more, because when Salesforce puts its marketing and messaging behind a category [such as RevOps], we're talking about a big ocean," Rosenberg said. "For many of them, they can build a big company just by getting a single-digit percentage of that."
Salesforce B2B users struggle with transparency on some aspects of the selling process, such as with billing and invoicing because they're run by back-office teams that have their own data and process silos, said Pascal Yammine, senior vice president and general manager of Revenue Cloud at Salesforce. Salesforce Revenue Cloud, which has been four years in the making and built from technologies acquired from SteelBrick and other companies -- with vertical deployments to come based on Vlocity integrations -- aspires to address those issues.
"Every touchpoint along the entire customer and revenue lifecycle needs to be quick, immediate and have visibility and accuracy," Yammine said.
Dig Deeper on CRM tools and strategy