Rawpixel.com - Fotolia
E-commerce giant Shopify upgrades Liquid, dev tools
Buoyed by the pandemic e-commerce boom, Shopify rolls out upgrades for no-code, low-code and pro-code offerings for its web platform -- and rewrites APIs to make stores faster.
Shopify grew so much in the past year and a half that its market capitalization now exceeds SAP's. Shopify users will reap benefits from that wild growth, as the Canadian e-commerce cloud platform vendor has revamped its web storefront, created developer tools and invested in infrastructure to make sites work faster and expand their global reach.
The e-commerce platform updated its no-code e-commerce storefront editing tools for its bread-and-butter SMB users, making the stores modular and flexible for web and mobile app display. It also released new low-code and custom-code tools to give developers more control over store templates -- called themes -- in a move to attract enterprise customers. Some of those will want to try the more developer-centric headless commerce approach, which decouples the web store from content management.
Shopify also will soon release Hydrogen, a React framework on which developers can build custom storefronts as well as Oxygen, a platform to host them. Shopify also announced investments in infrastructure that will make sites run faster globally through what will be more than 100 server locations regions. Added to the infrastructure are rewritten checkout APIs that the company claims will enable any store owner to sell 300,000 items in eight minutes.
New customizations built into Shopify Liquid, the platform's underlying templating language, subdivide web and mobile app pages into sections. That customization is accessible to developers coding Shopify Liquid, or through no-code merchant editor tools and app extensions managers. Shopify, which launched in 2006, is calling the feature releases around Tuesday's Unite developer conference "Storefront 2.0."
"It does appear to be a pretty major change," said Jordan Jewell, an IDC analyst. Other e-commerce cloud website hosts such as Squarespace have relaunched their platforms to keep up with startups, he said. "It wasn't going to cut it to do an incremental update."
The pandemic pushed adoption of e-commerce platforms across the board, Jewell said, and the sector was experiencing growth prior to the spread of COVID-19. Shopify, one of the largest e-commerce platforms, was in position to capitalize on e-commerce's rapid 2020 expansion, as new clients came to the company and existing customers rapidly expanded their businesses. The one area Shopify probably needed to invest in was supporting enterprise customers, Jewell said, and this latest round of improvements addresses that.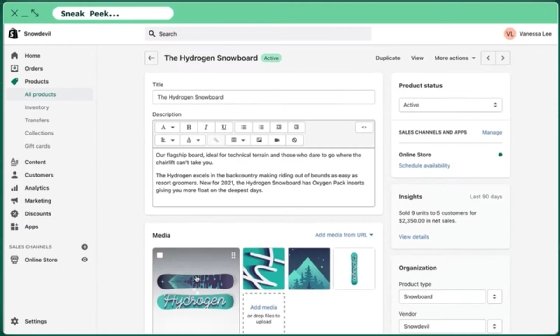 Developers move to the fore
In July, Shopify will launch developer tools including an integration with GitHub, where developers can build and test Shopify Liquid themes. In order to incentivize developers to build more apps and themes, Shopify also said as of Aug. 1 it will take zero percentage of the first million dollars in annual revenue developers earn on the Shopify App Store and the Shopify Theme Store; currently it takes 20%.
Moving forward, Shopify will take 15% of whatever developers make beyond $1 million from each store, independently. That means a developer could make $1 million at both, which resets annually, before revenue sharing kicks in.
Shopify also previewed Custom Content, a content management platform that will manage and publish content to online stores, Lee said, organized by the content of new "metafields" -- metadata fields -- built into the platform. While Shopify did not offer a release date, it did say it would be "coming soon."
The platform upgrades were in the works for some time in order to serve both merchants who rely on no-code ease and the developers who want hands-on customization, said Vanessa Lee, product group director, storefronts, at Shopify.
"You look at brands today like Allbirds and what they're doing with headless, it's very bespoke; the sneaker pages have full banners underneath that say 'Hey, this is our process to create sneakers,'" Lee said, referring to Allbirds' shoe manufacturing processes and materials sourcing to create less of a carbon footprint than its competitors.
We want to bring … rich storytelling to merchants, too.

Vanessa LeeProduct group director of marketplaces, Shopify
"We want to bring some of that rich storytelling to merchants, too," Lee said. "It's taken so long because it's the amalgamation of not just the online store, but a new data storage mechanism and Custom Content."
In his Unite keynote, Shopify founder and CEO Tobias Lütke described the varied users his company serves, from entrepreneurs to the developer-rich enterprises behind brands such as Allbirds and Netflix, which launched a Shopify store earlier this month to sell merch and event access related to its shows. Many web stores might look similar when they start out, but default templates can only take you so far, said Lütke, who wrote the original version of Shopify Liquid.
It takes developers to extend stores with custom code as they grow, Lütke said, and Shopify will continue to support them with more flexible tools to customize stores and the processes behind them.
"This company was started by developers, and it will always be part of our DNA," Lütke said.