Getty Images/iStockphoto
Shopify adds Audiences integrations for more segmentation
The e-commerce vendor builds on its customer segmentation capabilities by adding platform integrations with Snapchat, Criteo and TikTok for creating lists of target contacts.
Shopify on Monday added more platform integrations in Audiences, the vendor's target contact list generator. The e-commerce vendor's new platform integrations include social media platforms Snapchat and TikTok and advertising platform Criteo.
Except for TikTok, these integrations are now fully available to Shopify Plus merchants in the United States and Canada. Meanwhile, the TikTok integration will be rolled out in phases, according to Shopify. The integrations are free within the Shopify Plus package.
Adding to customer segmentation capabilities
Since launching about a year ago, Shopify Audiences has also offered integrations with Google, Meta and Pinterest to increase small to medium-sized business' avenues for targeted advertising.
"Shopify have typically positioned themselves for small to medium-sized enterprises, and the Audiences piece is perfect for those types of merchants," according to Gartner analyst Ant Duffin.
The Audiences platform is basically Shopify's version of a customer segmentation tool, he said.
Customer segmentation is a strategy in which brands discern traits of their ideal customers and then sort these customer into groups and create targeted ads for them based on these traits.
Customer segmentation tools have long been employed by big enterprise vendors such as SAP and Adobe, with which Shopify aims to compete, Duffin said.
But it is difficult to attract customers in the enterprise market because many likely already use customer segmentation tools from the larger vendors, IDC analyst Heather Hershey said.
"Enterprises have their own tools for this and don't need Shopify to act as the gatekeeper for retargeting and social media marketing," she said.
Nonetheless, the Audiences offering is well-suited to SMBs. "This is a mid-market play, which I applaud," Hershey said.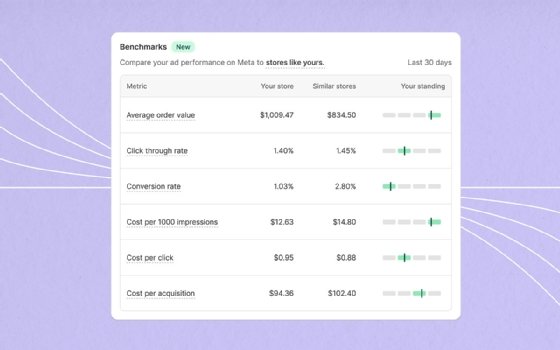 Maintaining control over customer data
CIOs should consider how Shopify will use their business' customer data. Shopify will likely use business' customer data in Audiences to refine its own data models and then hide these models from the businesses, Hershey said.
In this case, companies might not be keen to use the tool. "As businesses grow, they want more, not less, control over their customer data," she said.
Shopify is a multi-tenant SaaS product, and customers might not want to share the software on the same cloud with other companies. "They may not even want that data on a multi-tenant SaaS product at all," Hershey said. "Private cloud is a luxury."
Audiences is an optional, opt-in feature.
Measuring campaign efficacy
Shopify also released a capability called benchmarking that will let merchants see how effective their ad campaigns are performing compared with their direct competitors. This tool is useful for small, medium and large businesses, Duffin said.
"The benchmarking piece is valuable for all businesses of all scales, because it just provides a different data point to be able to compare -- to a certain extent – direct-to-customer performance," he said.
Mary Reines is a news writer covering customer experience and unified communications for TechTarget Editorial. Before TechTarget, Reines was arts editor at the Marblehead Reporter.