Definition
shoppable video
What is a shoppable video?
A shoppable video is a way for consumers to discover products and make a purchase through links within the video. Videos are becoming a popular conversion path for e-commerce businesses and enable interaction directly with potential customers.
These marketing videos contain interactive hotspots that let customers click directly on products they're interested in, allowing them make purchases without leaving the page. This marketing strategy and the use of supporting platforms reduces the number of steps required to purchase items -- potentially improving the customer experience. Shoppers can also browse products within the video, watch detailed product demonstrations and view related products with just one click. Shoppable videos can be attractive to online shoppers because they tend to offer an integrated buying experience with minimal effort from the consumer.
Before the use of these interactive links, videos typically included links to the products discussed in the video in the video's description, requiring additional steps for the consumer to learn more or find out where to buy it. This often forced those viewers to leave the video page, taking them away from the content they were consuming, resulting in them missing out on additional messaging within the video.
The use of shoppable videos is changing the way retailers engage with customers and improving the e-commerce experience. The demand for video content is increasing, with 54% of consumers saying they want to see more video content from the brands they support, according to a 2022 HubSpot report. By viewing interactive videos, shoppers can click directly on products they're interested in while engaging with content they may already be consuming.
This eliminates time-consuming steps such as searching through multiple websites or scrolling through lengthy product lists. Moreover, shoppable videos provide customers with an immersive experience complete with product demonstrations and related information. This lets customers to make informed decisions quickly, reducing shopper fatigue. It can also provide them with a more enjoyable shopping experience.
How do shoppable videos work?
Shoppable videos represent a relatively new technology intended to change the way consumers interact with e-commerce businesses. The more immersive viewing experience gives shoppers greater insight into a product before making a purchase -- especially if the video itself is engaging, informative and well-produced.
When it comes to implementation, companies can integrate shoppable videos on their website or other digital platforms, such as YouTube or Instagram. The interactive hotspots in shoppable videos direct customers to an external page. However, some tools offer pop-ups within the video, where users can complete their purchase. Businesses have the option of creating custom videos specifically designed for shopping and embedding them directly into their webpages, social media posts or wherever else they market content.
Benefits of shoppable videos
For businesses, the benefits of shoppable videos are plentiful, being an innovative take on the retail shopping experience by meeting their customers where they are: online and watching videos. There are several benefits for a brand that deploys shoppable videos within its marketing strategy, including the following:
Improved customer experience
With entire teams dedicated to improving the customer experience, any activity that makes it easy for a consumer to engage with products is one that teams should explore. Shoppable videos are an easy way to improve the customer experience with one-click shopping. This may also encourage repeat purchases because the experience is simple enough to incorporate in any video a brand produces.
Streamlined buying journey
Products can become instantly shoppable when embedded directly within a video. It takes only one click for that viewer to add an item to their shopping cart and continue with the video content. This system of see, click and buy reduces the number of steps and pages a consumer must go through to complete a purchase. This immediately closes the gap between product discovery and purchase.
Improved conversion rates
By streamlining the buying journey, conversion rates can also increase. When the path to purchase is lengthy and confusing, consumers tend to drop off and abandon their purchase. But shoppable videos remove those extra steps and decrease user effort. One study shows that shoppable videos have the potential to provide a 30% increase in conversion rates.
Increased engagement rates
With the demand for videos increasing and more than 244 million video watchers online, the use of video in marketing campaigns is also on the rise. Coupled with the ease of use from the consumer, the interactive hotspots can lead to increased customer engagement.
Increased revenue
Users may drop off during their buying journey, or not engage with links in a video's text description. Businesses can miss out on the potential revenue from their audience because the buyers are not engaged. The increased click-through and engagement from shoppable videos should lead to more sales and give a boost to revenue by capitalizing on what previously was a missed opportunity.
Ability to capitalize on brand loyalty
If a business is using well-produced and well-thought-out videos to engage an audience, it is already developing a following of loyal customers. This holds true for brands that regularly create content to showcase their products or educate consumers on new items with reviews, tutorials or other methods of using video to highlight products. By using shoppable videos, companies can take advantage of an already-engaged and returning audience by giving them a simple path to purchase the products being featured.
Valuable performance data and insight
All platforms that are used to create and distribute shoppable videos include analytics tracking. This valuable performance data can give marketing teams important insight into buying behaviors and demographics of the customers. This data will enable them to create more advanced strategies and campaigns in the future, as well as refine the use of shoppable videos in their overall marketing strategies.
Shoppable video platforms
While any video makes for good content on any online platform, shoppable videos must be distributed on specific sites that allow this type of interaction. Brands that create shoppable videos have the option to release this content on social media platforms, on-demand platforms, e-commerce websites and video streaming services, which are continuing to grow in popularity as well. Here are some locations that make for good shoppable video platforms.
Instagram
Released in 2010, Instagram was an early adopter of shoppable videos on its platform. The hosting feature is only for business accounts and limits the ability to tag up to five products per video. Being one of the most popular social media platforms, Instagram offers the potential to reach a large audience; however, there will also be a lot of competition for views on the platform. So, messaging should be succinct and unique in the video story to capture attention and drive conversions.
TikTok
TikTok lets businesses reach a wider audience that is captivated by the short, looping videos in their feeds. TikTok -- being solely a video social media platform -- was quick to allow brands to submit shoppable videos for simple click-to-cart functionality. TikTok and Instagram have partnered with e-commerce giant Shopify, making it easier for brands to create and distribute shoppable content tied to the purchase experience.
Amazon Live
The Amazon Live Creator app is free to Amazon Influencers, vendors and companies registered in the Amazon Brand Registry. The app enables brands to boost sales and increase their Amazon Live level, opening up the door to more functionality and product placements within live streams.
YouTube
YouTube is another video-only social site. Within the videos, users can browse product images below advertisements to drive traffic to product pages, but creators will need to sync to a Google Merchant Center to take advantage of shoppable videos on the platform.
Other emerging platforms
Other startups are building their own platforms specifically for shoppable videos, while the companies mentioned above have added that into their original strategy. More companies such as Buywith, NTWRK, Bambuser, Clicktivated, Verishop, Shoploop and Spin were created for either on-demand or live streaming shoppable videos. These companies often allow for creating, editing and distributing the content within their ecosystems.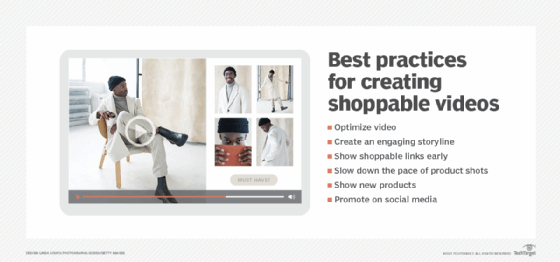 Best practices for creating shoppable videos
Creating shoppable videos requires planning, but when done correctly they can be effective in boosting sales while providing shoppers with a more enjoyable shopping experience. Here are some best practices that can help businesses set themselves up for success.
Optimize video
From a technical standpoint, it will be important to optimize created videos for playback speed, resolution and other metrics. Videos should be optimized for website performance to decrease page load times, and all videos should be compatible with all devices and browsers.
Create an engaging storyline
Good videos -- shoppable or not -- need an engaging storyline that emphasizes the value of the product in creative ways. Viewers will be making their purchase decisions based on the video, so it should be designed to elicit interest and encourage shoppers to click and buy.
Show shoppable links early
A shoppable link should be present within the first few segments of the video. Attention is captured early, so this is a prime opportunity to encourage click-to-buy when viewer interest is highest. If the interactive hotspot is too late in the video there is a risk the viewer has already dropped from the content. Earlier display of shoppable links encourages early interaction and a smoother path to purchase.
Slow down the pace of product shots
Fast pacing is a common cinematic process with marketing videos, but with shoppable videos it would be best to slow down product shots and linger on the screen so customers can get a better look. This will also give them time to see and engage with the link that pops up during the shot.
Showcase new products
Brands can use the release of new products as the opportunity to create a shoppable video with a product explainer or tutorial. There is also an opportunity during the video to focus on related products, but as a secondary feature to the new products that brought the watcher to the video. Balance between new and related products will need to be taken into consideration because too many options will confuse a viewer.
Promote on social media
Whether publishing to social media or using it to promote click-throughs to the videos, the use of social media has the potential to make the biggest impact on views and sales.
This was last updated in
February 2023
Continue Reading About shoppable video
Dig Deeper on Marketing and sales