tashatuvango - stock.adobe.com
Marketing to Gen Z takes new tech, channels, strategies
Gen Z consumers will change the world. Savvy, nimble brands know to give them digital platforms for sharing their values as corporate America catches up to their worldview.
The 15- to 25-year-olds of Generation Z have specific, uncompromising requirements of authenticity, inclusivity and environmental sustainability -- and on top of all that, they demand a good deal.
It follows that effective marketing to Gen Z must satisfy those demands -- and technology is key. This group of consumers was the first generation raised on touchscreens, smartphone apps and social media; these devices and platforms contain the channels where marketers can reach these well-heeled shoppers: Gen Z represents a $150 billion annual sales market that continues to gain purchasing power as the generation moves through the educational system and into the working world, according to eMarketer research.
"They truly are different than millennials, and different from any generation ever before," said Marcie Merriman, managing director of Americas cultural insights and consumer strategy at EY. Merriman was among a number of speakers at the recent ShopTalk conference who discussed novel methods retailers use to reach Gen Z.
Authenticity key to Gen Z marketing
"Authenticity," in the context of marketing, means standing up for values or principles and backing that up with actions, rather than pushing disposable slogans.
Gen Z "smells" authenticity, said Craig Brommers, chief marketing officer for American Eagle Outfitters. "They call B.S. very, very quickly."
Singer Rihanna's direct-to-consumer lingerie line Savage X Fenty resonates with Gen Z consumers because the brand fosters inclusivity, empowerment and confidence -- not typical values associated with lingerie, said Christiane Pendarvis, the company's co-president and chief merchant.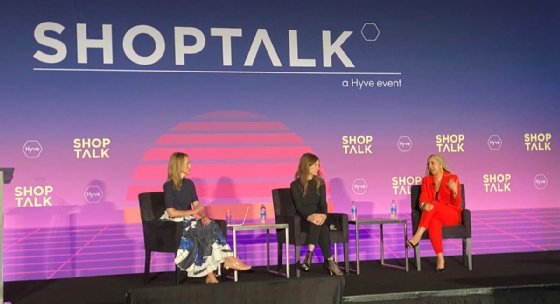 Savage X Fenty strives to let its customers define themselves on their own terms, Pendarvis said. To back up that notion, the company employs models and influencers who represent a wide range of body types. The brand, launched in May 2018, hit the billion-dollar valuation threshold in February 2021 during the pandemic, when many retail clothing operations suffered major setbacks. Savage X Fenty opened five retail stores last January.
You cannot build a brand story that is something that you made up in a boardroom with the marketing department.

Christiane PendarvisCo-president and chief merchant, Savage X Fenty
"Authenticity is table stakes; it is a requirement for this generation," Pendarvis said. "You cannot build a brand story that is something that you made up in a boardroom with the marketing department. It really has to stem from something that's real for your brand. ... If your product doesn't deliver on that ethos, then that's going to ring hollow for today's consumer."
The idea of authenticity can manifest itself in a number of ways. Peace Out Skincare founder and CEO Enrico Frezza launched the company in 2017 because his own acne made him self-conscious. He set out to build a community for those struggling with acne and hyperpigmentation. "Authenticity" to Peace Out means the company only partners with people who experience those issues -- as opposed to models with perfect skin. It also means being transparent about his company's product formulations.
TikTok is the main social media channel through which Peace Out connects with Gen Z. During the last two years, Gen Z consumers went from one-third of the company's users to one-half in part because of those efforts. The company's influencer partners' posts can get millions of views. One particularly successful TikTok post netted 17 million views and Peace Out sold 15,000 units of pore strips, a "pretty astronomical" number for a direct-to-consumer operation, Frezza said. Peace Out is also sold in Kohl's and Sephora stores.
"When TikTok first launched, we were one of the first skincare brands to jump on it as a way to more organically connect with Gen Z," Frezza said. "We didn't feel like there was any other platform out there that was able to connect with us in such an organic and authentic way as TikTok."
Influencer marketing, Gen Z style
Another way for marketers to connect with Gen Z consumers is to give them platforms to express their own values. PepsiCo's version of this was a 2020 Doritos campaign called Amplify Black Voices, a partnership with Black Lives Matter. The campaign began with donating outdoor advertising to Black artists in their local communities. That led into Change Makers, which provided funding for local leaders to "drive the change they want to see," said Bart LaCount, PepsiCo vice president of consumer insights.
"I think that helps bring a level of authenticity when we're letting [people] shape the agenda for what matters most to them," LaCount said, "but doing it in a way that's still tied to our purpose as a brand."
The clothier a.k.a. Brands has tested many different combinations of social media influencers for its marketing, said CEO Jill Ramsey. It has settled on a mix of 17,000 "micro-influencers," who have fewer followers than the biggest names on Instagram or TikTok. Each influencer is given a coupon code to track how many customers they bring to the brand. Those who aren't performing are removed from the program as a.k.a. constantly signs up more.
"We find that the smaller influencers, with smaller followings, actually are perceived as more authentic to the customer," Ramsey said. "They're more cost effective, they don't charge [what the] celebrity influencers charge, and also you have less reputational risk."
Brommers echoed that sentiment. Letting the youth lead their own movement is new to him; in his previous roles at Abercrombie & Fitch and Calvin Klein, the corporate office maintained a high degree of influence over branding matters. But in a leap of faith at American Eagle, the marketing department activated its 35,000 store associates -- mostly Gen Zs -- as local influencers. They create content, they organize events, and they get involved in causes on behalf of the company.
"With Gen Z, you've got to let go a little bit and be a little bit uncomfortable," Brommers said. "Yes, of course there's training, but the reality is that the Gen Z store associates are closer to our customer than I am in my ivory tower."
Dig Deeper on Marketing and sales