vit_mar - stock.adobe.com
It's coming: The wild world of metaverse shopping
Gap and PacSun lead the way in NFT experiments, as retailers and analysts ponder the revenue potential of selling virtual products in the metaverse.
LAS VEGAS -- The metaverse might be in its exploratory, developmental stages, but retailers are ready to pounce on the idea of selling virtual things in virtual worlds to real people for real money.
At the Shoptalk conference here this week, apparel companies Forever 21 and PacSun showed off their fledgling forays into metaverse shopping. Forever 21 partnered with social gaming platform Roblox to enable consumers to set up their own stores in a place called Shop City. It offers exclusive items created with popular influencers on the platform and sets up custom stores with other influencers. Consumers wear the brands' clothes as they interact with others on the platform
PacSun offers virtual clothing items for sale in the Roblox Avatar Marketplace, with logo merchandise. Some of the PacSun items mirror clothing that can be purchased in the physical world, others -- such as gold wings -- can be found in only the Roblox virtual environment.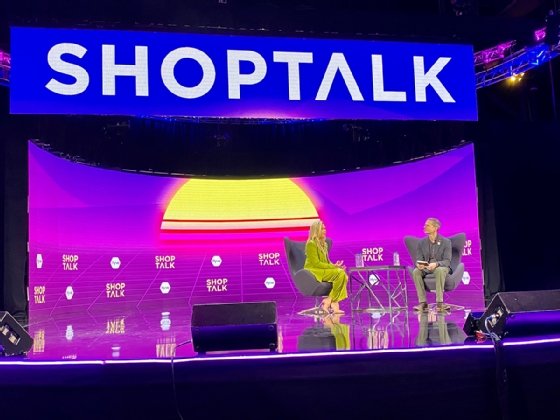 Gap bursts on to NFT market
Gap Inc. collaborated with digital artist Frank Ape to create non-fungible token (NFT) versions of Gap clothing called Gap Threads sold on Tezos, an open source blockchain that is more energy-efficient than Ethereum, which is notorious for its power consumption. Gap Threads was an experiment to market virtual merchandise, said John Strain, Gap Inc. chief digital and technology officer.
Consumer enthusiasm surprised the company when all three editions of the Gap Threads NFTs -- Common, Rare and Epic, each more expensive than the last -- quickly sold out last January. Strain said 40,000 Commons sold in 48 hours for the equivalent of about $8 each, the buyers of which were eligible to buy Rare editions. When the 1,000 Rare Gap NFTs dropped, they sold out in three minutes for the equivalent of about $25 each. The Epic edition, which came with physical, real-world version of a one-of-a-kind hoodie, sold out in 30 seconds to collectors who had purchased four Common and two Rare Gap Thread NFTs, for about $415 each.
"This was a mashup between the crypto community and the mainstream," Strain said. More importantly, he added, the lesson Gap learned was that NFTs are a viable way to find new customers. Shoppers opened 21,000 new crypto wallets to buy their NFTs.
Metaverse shopping still in its infancy
PacSun President Brieane Olson said her company's metaverse foray -- as well as its own Mall Rats NFT series, also released in January -- have served as a way to reach Gen Z consumers wary of traditional advertising. As such, it's been more of a customer engagement and brand-awareness strategy, and less of a profit-making venture for now.
"In the future it will be more revenue-plus-building community," Olson predicted. "Right now, we're really focused on authenticity, the importance of approach. Making sure it resonates with our community, and that everything we put out there has a purpose."
The metaverse is another virtual universe that follows a long series of abstract worlds we already know, said Forrester Research analyst Brendan Witcher. Radio, the audioverse, took listeners into its own universe a century ago, followed by videoverse of movies and television, and then the digitalverse of personal computers and laptops. Those were followed by the mobileverse, the world contained in the smartphones we carry, driven by apps in which we request rides, order food and connect on dating apps.
The metaverse, in time, will be another world we will get to know, Witcher said.
But right now, in the real world, most retailers have their hands full from digging out from the economic ramifications of the pandemic, and building out their digital experiences such as e-commerce and new means of online order fulfillment. The metaverse may eventually evolve into a retail landscape, but it's still years off. Even Roblox, Witcher said, is more video game than metaverse.
"The metaverse isn't a thing yet, because the next stage is another level of immersive life, where your avatar is going into the metaverse to have your meeting, to make your doctor's appointment, to attend a religious service," Witcher said. "We're not there yet. It's not a thing until people say, 'This is where I want to spend my time.' It relies on people going in, living their lives, and the physical space around them doesn't matter at all. We just haven't sold enough headsets yet."
Don Fluckinger covers enterprise content management, CRM, marketing automation, e-commerce, customer service and enabling technologies for TechTarget.