How data from APM tools helps businesses improve CX
Businesses have many options when it comes to analyzing customer experiences. APM tools can help contact center leaders improve agent experience, as well as CX.
Organizations have no shortage of options when they want to analyze CX. Companies gather voice of the customer data and monitor customer health scores. They also use tools such as natural language processing, sentiment analysis and predictive analytics. In fact, 89% of companies say analytics are key to business success.
But, beyond CX analytics tools, another type of data -- application performance monitoring (APM) -- can help contact center leaders improve agent experience, leading to overall improved CX.
These tools typically focus on the actual performance of real-time applications, delivering metrics such as uptime, jitter and latency.
How APM data helps to improve CX
Organizations have options on how they manage performance of their contact center platform and associated applications. They can use tools built into the platform, workforce optimization products or third-party tools specializing in real-time application performance. The third-party specialists include companies such as Empirix, IR, Martello, Nectar, Oracle, Unify Square and Voss.
When the contact center platforms and associated apps perform optimally, interactions between agents and customers stay on course. Choppy voice, video or screen sharing frustrates customers and can negate the purpose of conducting a live transaction.
When the contact center platforms and associated apps perform optimally, interactions between agents and customers stay on course.
But companies also can use APM tools to provide data on application use and correlate that with actual business metrics. Using the tools to manage contact centers -- as well as collaboration applications -- delivers benefits. For example, businesses can see how many agents are using video conferencing or team collaboration workspaces, which agents are using the technology and to what extent it helped them close a sale or solve a problem.
By using APM tools to correlate a variety of data points, including application use, customer satisfaction, problem resolution and upsell, CX leaders can determine whether investments in various technologies are worthwhile.
For example, a women's clothing company began a video trial. Website visitors received pop-ups from a virtual assistant asking if they need help, or the customer simply clicked on webchat proactively. A style consultant joined the chat when appropriate and suggested a video and screen-sharing call. During that time, the face-to-face conversation generated trust from the customer. The consultant could then show accessories to match clothing in the shopping cart or previously purchased apparel. In initial testing, the company found that the investment in the technology helped the consultants increase their sales figures, compared to voice-only or screen-share-only calls.
Using a single performance management tool to address both unified communications and contact center is attractive, especially considering many companies are integrating the two platforms.
Overall, 29.4% of companies use third-party tools to manage their real-time applications, including video conferencing, telephony, team collaboration and session border controllers. About 41% of those using performance management tools use them to manage contact centers.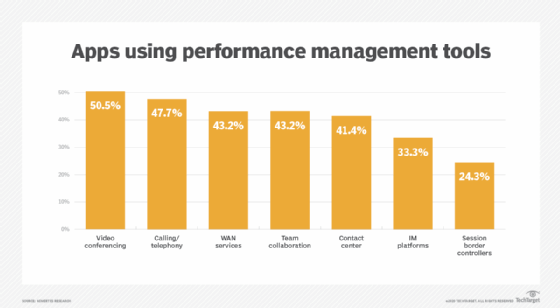 Spending on tools
On average, companies spend $29,768 annually on APM tools. Successful companies also use their performance management tools to manage more applications.
Businesses in a Nemertes Research success group spend $47,156 annually on APM tools. The success group includes companies that have measured business success in using AI and analytics for their CX initiatives. Those with the highest success in revenue increase, cost decrease and customer ratings improvement were placed in the success group.
APM tools alert organizations to problems, help isolate the issue for root cause analysis and resolution, and leave usage data for businesses to analyze to improve CX. So, when evaluating ROI, companies should be sure to review the cost of the tools against the value they bring in both actual performance management and application use tied to customer sales.