daniilvolkov - stock.adobe.com
How video chat improves customer service and engagement
As restrictions continue due to the COVID-19 crisis, many organizations adopt video chat capabilities to continue business operations and keep customers engaged.
As video chat continues to become a staple in both personal and business communications, customer service is no exception.
Following COVID-19 shelter-in-place orders, companies quickly adopted and accepted video conferencing for internal and external meetings. In some industries, customers and contact center agents were already using video for customer engagement, but the necessity for video grew.
Other organizations have since determined that video-enabled customer engagement can lead to demonstrable improvements in business outcomes, as well as deliver new revenue-generating services.
How organizations are using video
Customer experience leaders are finding several applications for video chat as they enable and expand it for both traditional customer service and customer support cases, as well as new customer-facing services. Use cases are most prevalent in healthcare, education, financial services and retail, though most industries are uncovering applications for video.
Here are some of the most common ways companies are improving customer service and customer experience using video chat:
Telehealth. Healthcare providers have been using telehealth for quite some time. For example, rural physicians would rely on video calls with remote experts when performing a procedure or speaking with a patient. But the COVID-19 pandemic facilitated rapid growth in video chat service offerings with physicians, nurses, pharmacists and other providers. And virtual agents are popping up in the form of healthcare experts who remotely diagnose issues through video calls. This will likely continue after the pandemic is over due to convenience, productivity and the ability to curb the spread of contagious illnesses.
Remote learning. All levels of educational institutions see video as their lifeline. Without it, they would be unable to provide any courses as they cancel in-person classes for fear of spreading COVID-19. Not only are video classes helping to educate students, they are also keeping athletes, musicians, clubs and faculty engaged and connected. Many said this will continue permanently beyond the pandemic because it enables students to have location flexibility and expands the ability of universities to reach new students.
Investment advice. Financial service providers, in both banking and investment advisory services, have embraced video contact centers to serve customers. As the markets tanked at the start of the pandemic, many investment advisers and their clients needed to meet to discuss strategies. They couldn't go into an office, so video offered a solid alternative.
Technical support. Those with challenges installing or assembling products can use video to get live customer support on the issue at hand by using their cellphones or webcams to share live video, enabling the customer support team to see what the customer is seeing. This video chat results in faster, more effective responses and increases customer satisfaction.
Insurance claims. Video applications enable customers to show live agents damage to their homes, cars or property. Customers are also able to create video recordings and upload it for later viewing, reducing the need for an in-person adjuster visit.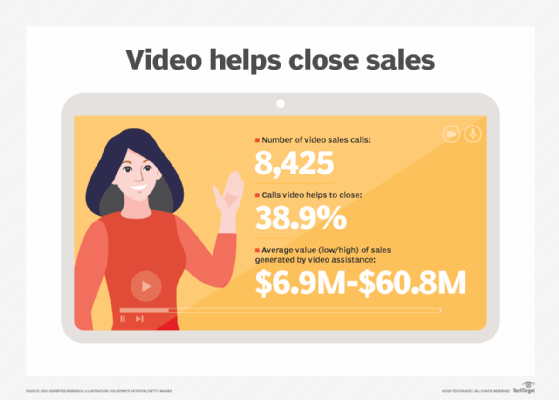 Benefits of video-enabled customer engagement
The growing use of video within businesses is driven by measurable success. Here are some benefits:
Customer experience leaders said video helps them close sales in 38.9% of their video calls, generating an average of $6.9 million to $60.8 million in new revenue.
Closing sales. The most significant area of success for video chat is its ability to help close sales. On average, companies use video in 8,425 sales calls per year. The range is 1,286 for small companies -- fewer than 250 employees -- to 14,409 for large companies -- more than 2,500 employees. Customer experience leaders said video helps them close sales in 38.9% of their video calls, generating an average of $6.9 million to $60.8 million in new revenue.
Hiring new employees. Businesses conduct an average of 705 video interviews a year -- ranging from 42 for small companies to 1,184 for large companies. Of those, 208 interviews would have required travel at an average per-trip cost of $1,428. Video also enables companies to reduce the time it takes to hire someone by 13 days, generating revenue from that employee that much more quickly.

Employees are a business's first customer. The ability to shorten the hiring time by conducting video calls -- especially during a pandemic when people are nervous about going out -- enables new employees to put trust in the company they will be working for and provide them with a good employee experience right out of the gate. This positive employee experience has a trickle-down effect into the customer experience.
Agent productivity. Within contact centers, video improves agent productivity in several use cases. If they can see what the customer is seeing, show them options and evaluate visual cues, they can resolve the customer's issue faster and move on to the next interaction. Organizations offering higher-end services -- such as wealth management or travel services -- can use video to enable a higher level of engagement and personalized experience to serve customer needs.
Expectations for video in 2021
Moving forward, video interactions are expected to grow, driven in part by the pandemic but mostly by the success companies see from its use.
The use of video correlates with success, according to Nemertes' "Intelligent Customer Engagement: 2019-20 Research Study." Those with the highest ROI for their contact center investments have increased revenue, improved customer ratings and reduced operational costs through the use of advanced customer experience technologies, such as video for customer engagement.
By the end of 2020, 84.2% of companies plan to have video available as a customer communication channel.