FotolEdhar - Fotolia
Video conferencing adoption a growing trend among businesses
B2B and B2C video conferencing is on the rise as businesses strive to provide exceptional CX to customers. Nemertes shares some of its research results.
Video conferencing adoption is an increasing trend in both personal and professional lives.
And as people grow more comfortable with video calls, they'll expect the same "face-to-face" conversations when calling a company's contact center.
At work, easy-to-use and high-performance video services -- such as LogMeIn, Cisco Webex and Zoom -- are becoming the de facto way to communicate. Outside of work, consumer mobile video apps -- such as FaceTime, Google Duo and Facebook Messenger -- are the communications medium of choice for parents talking to their far-flung college students or friends talking to one another while traveling.
Businesses see measurable results through the use of video in the following ways, according to Nemertes' Workplace Collaboration: 2019-20 Research Study -- Technology Trends. Some of those findings include:
21% of businesses found measured productivity improvements through travel reductions, shorter meetings and faster decisions;
6% tracked a reduction in meetings;
5% measured cost savings through travel reductions and the elimination of or reduction in audio conferencing services; and
7% measured revenue improvements through faster decision-making.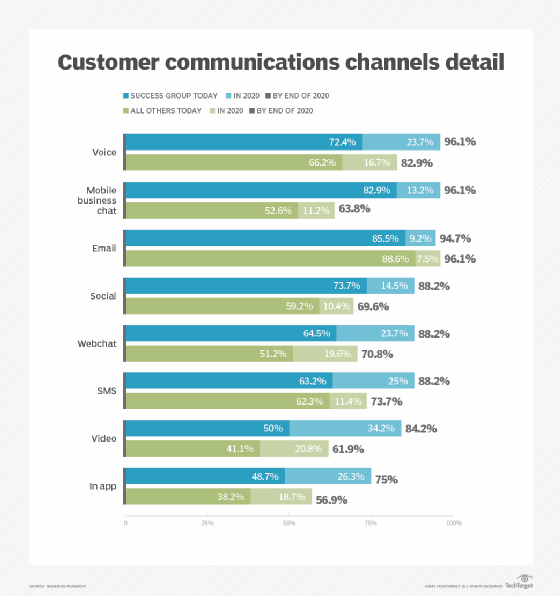 CX carryover expectations
Customer experience leaders are already expanding the channels on which they offer customer interaction. In the past, contact centers were limited to voice and email. Now, it's common to connect via webchat, social media, SMS and video.
As of 2019, 42.6% of organizations surveyed used video to communicate with their customers.
As of 2019, 42.6% of organizations surveyed used video to communicate with their customers. Video conferencing adoption is expected to increase to 65.7% by the end of 2020, according to Nemertes' Intelligent Customer Engagement: 2019-20 Research Study.
In fact, adding video to CX channels correlates with success. In this study, Nemertes segmented a "success group," which included companies that have the highest success in increased revenue, decreased costs and improved customer ratings when using advanced CX technologies. Within that group, 84.2% plan to implement video by the end of 2020, up from 50% in 2019. Video will see the largest growth of any CX channel in 2020.
Today, CX video interactions typically happen to solve a problem that requires an expert to see something. For example, on the B2B side, one defense manufacturer relies on video to troubleshoot assembly issues in remote plants. The design engineer can jump on a video conference with factory floor workers, visualize the problem and determine a solution. Previously, the engineer had to fly out to the assembly plant, pay for travel and cause delays in the assembly.
On the consumer side, an appliance manufacturer offers video communications to customers who are installing a new dishwasher, range, refrigerator, etc. Contact center agents can troubleshoot problems as the customer shows the issue using FaceTime and a mobile device. If the problem is too complex, agents can connect specialists to the video to solve the issue.
In some cases today, financial services firms speak with high net worth clients using video services, such as Zoom. At times, they may want to screen share specific investment charts with the client. But what's consistent is that the client simply wants to look at the person giving sensitive investment advice. Organizations will likely see more of this type of communication in the future -- not to solve a targeted problem, but simply to see the person or people on the other end of the call.
CX leaders who want to stay ahead of the curve should establish a strategy to adopt video conferencing as soon as possible. By the end of 2020, more than half of companies surveyed plan to offer it to improve the overall customer experience.