Fotolia
Ten tips for implementing virtual agent chatbots
Think you're ready to turn over some of your customer service responsibilities to virtual agents? An expert offers 10 tips for implementing chatbots.
It's hard being the only kid on the block without the coolest new toy. You want that chatbot, and you want it bad....
Continue Reading This Article
Enjoy this article as well as all of our content, including E-Guides, news, tips and more.
But wait: Do you want your bot on Facebook Messenger, WeChat or your company website? Will it use natural language processing, natural language generation software or just scripted text? What about AI and machine learning?
Like your employees, every virtual agent chatbot is different. Some can handle only the most basic tasks by reading a script you prepare for them. Others can learn and get better on the job.
"Everyone should be asking what is the underlying technology on which [a bot] is built," said Mikhail Naumov, co-founder and chief strategy officer at DigitalGenius, and author of the recently released book AI is My Friend: A Practical Guide for Contact Centers. "The term chatbot is overused because there are many different types."
So, before you leap, consider his 10 tips to make CRM virtual agent chatbot rollouts go more smoothly -- and ultimately give them better odds for succeeding.
1. Define your need. Your bot must be well-defined and relevant to your business. If you run an airline, do you want users to be able to change a seat assignment, book a trip around the world, plan side excursions, rent a car and order dinner? You -- and your customers -- should know what to expect.
If nobody sees any benefit from the chatbot at the end of a conversation, or if it went down a rabbit hole of adventures, that's a red flag that you don't need the bot, said David Nelson, senior product manager for bots at HubSpot.
2. Consider the platforms. Do the research and build your bot on the platform that suits your audience. Facebook Messenger is geared toward entertainment. Slack is aimed at business communication. KIK has teen users. Then there's WeChat, WhatsApp or Skype.
If you're using your own website, there's no app to download, so users stay right where they are and shop, talk to a customer service rep, play games or order a pizza. And there's no waiting on hold.
3. Evaluate the setup. Get a demo to see how well a virtual agent performs with your existing software. Decide if you want a CRM chatbot vendor that provides the software development kit and can make a bot with a template or from scratch. If you're interested in a bot with AI or machine learning capabilities, you can hire a firm to build a custom bot. Or you can opt for a SaaS solution for CRM, sales, marketing or other industry segments.
Other early considerations include knowing how long it will take to set up and implement your bot -- hours, days, weeks -- and who will handle maintenance -- updating scripts and training the AI -- and review the payment options. Vendors may charge a flat fee or fees based on licenses or a percentage of the savings the user company realizes.
4. Consider the benefits. A chatbot can help in several ways, according to Joe Lobo, botmaster at Inbenta. It can reduce the staff needed to deal with routine inquiries -- seasonal hiring might be an exception.
CRM chatbots are available 24/7 and can handle more inquiries at once. Customer satisfaction improves when queries are handled faster. When simple requests are handled by bots, humans can manage complex issues that improve job satisfaction. Increased motivation can lead to greater job commitment and improved performance, leading to increased revenue for the company.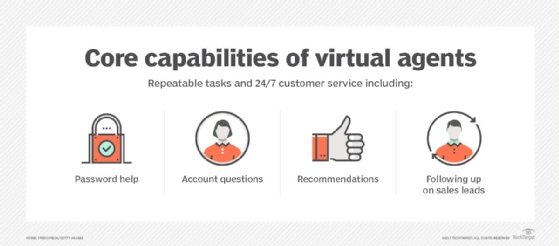 5. Anticipate the risks. If you don't get it right, you'll waste money, lose customers and risk brand loyalty.
"It's not often that you have a product that's so on the front lines of a business," Nelson said. "A bot is an important first impression."
Another risk is managing expectations, Naumov said. You have a responsibility to your team and your customers to deliver what you promise.
6. Understand what makes good natural language processing (NLP). Basic virtual agent chatbots use scripts with if-then scenarios that have to be updated if calls can't be resolved by a bot, new questions come in or customers are frustrated.
A CRM chatbot with NLP, however, will understand the intent of questions because it recognizes context and words that have different meanings. It can also make educated guesses based on chat histories. For example, if you ask about your last purchase, the bot will guess you want to return or reorder the same item.
7. Understand what AI and deep learning can and can't do. AI feeds on data, and CRM is all about data. Feed your bot and let it learn. A bot with AI and machine learning, coupled with ongoing human training, can learn over time. The more often a human agent helps train the AI by affirming or correcting the outcome, the more AI -- and its algorithms -- will learn and make confident decisions on its own.
8. Know what goals you want to measure. Figure out the cost per ticket or message. Then measure how many instances you see in which a bot handles a question that would have gone to a human. Consider the impact on handling time: An AI that automates processes can reduce handling times by 10% to 20%.
Nelson suggested monitoring a popular article or resource on your website. If you see a high percentage of people calling or submitting a support ticket on the same topic even after reading that article, have a bot offer a distilled version. Then measure issue resolution.
9. Be honest about your bot -- or maybe not. Decide whether to tell users if your bot is a bot. Some people don't like to be surprised.
Conversica, however, typically sees and recommends its clients use a female name for their AI assistants. Picking names that were popular 20-25 years ago tends to increase the likelihood of engagement, said Gary Gerber, head of product marketing at the company. Personalization on all levels improves outcomes, Gerber said, referring to Conversica's new "Sales Effectiveness Report." For instance, ending an email from an address associated with an individual rather than a company increased the click-through rate by 31%.
10. Let it do its job. If you employ a bot as a virtual agent, accept it and let it do its job, Lobo said. Encourage your employees to allow self-service to take hold by letting go of mundane tasks. That's not easy if employees fear that a robot will take their jobs.
If you employ a bot as a virtual agent, accept it and let it do its job.
Finally, don't expect to say goodbye to humans. At least, not yet -- and probably never. The technology doesn't exist, the investment would be huge, and the CRM segment especially demands humans with a conscience, empathy and the ability to negotiate.
"When you explain to people about chatbots and AI, they think of Her -- the movie where Joaquin Phoenix falls in love with a robot," Lobo said. "But we're not there; no, not there. We can't do that yet."