Zerto is a storage software vendor that specializes in enterprise-class business continuity and disaster recovery (BC/DR) in virtual and cloud environments. The vendor has dual headquarters located in Tel Aviv, Israel, and Boston.
The company was founded in 2010 by storage industry veterans Oded Kedem and Ziv Kedem. Zerto CEO Ziv Kedem previously co-founded Kashya, which EMC acquired in 2006 for its RecoverPoint data replication and protection software. Oded Kedem, chief architect at Zerto, led the storage group and software development at Kashya prior to EMC's acquisition.
Zerto Virtual Replication, first released in 2011, is the vendor's primary product. Like all of Zerto's products, Virtual Replication is hypervisor- and storage-agnostic, so it can be used across platforms.
Current Zerto investors include venture capital firms 83North, Battery Ventures, CRV, Harmony Partners, RTP Ventures, U.S. Venture Partners (USVP) and Institutional Venture Partners (IVP).
Major products
Zerto offers specialized BC/DR products, with customers in industries such as financial service, law and healthcare.
Zerto DR uses Virtual Replication software to automate DR implementation, testing and management. Replication is done at the hypervisor level, enabling more flexibility, control and cost savings over traditional storage and logical unit number (LUN)-based storage systems.
Zerto Virtual Replication is available for VMware vSphere and Microsoft Hyper-V environments. Features include one-to-many replication and automated recovery, failback and failover. Virtual Replication also enables automatic conversion from VMware virtual machines to Hyper-V VMs and vice versa.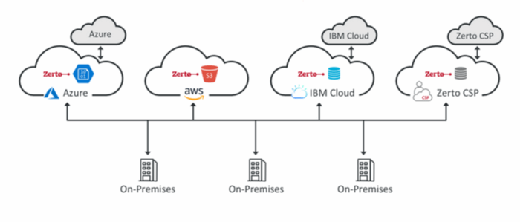 Zerto Virtual Replication is also available with public, private and hybrid clouds. With disaster recovery as a service (DRaaS), Zerto allows for pay-as-you-go replication from on-premises storage to any of its more than 300 Zerto cloud service providers. Alternatively, Zerto DRaaS can protect existing cloud workloads by replicating them to different cloud locations.
Virtual Replication can be used in an on-premises private cloud or with Amazon, Azure and IBM public clouds. Zerto cloud storage is multisite, multi-tenant, technology-agnostic and centrally managed.
Zerto Cloud Continuity Platform, which is based on Virtual Replication, zeroes in on continuity among on premises, public and hybrid cloud environments. It works as an extension of Virtual Replication and is designed to support current and future virtualization infrastructures.
Zerto's competitors
As a replication software vendor, Zerto has a wide range of competitors that either sell stand-alone applications or build replication into broader data protection products. Among these are Actifio, Cohesity, DataCore, Dell EMC, FalconStor, Rubrik and Veeam Software.
Veeam and Rubrik may be the most similar to Zerto when it comes to virtual backup and DR. Veeam Backup & Replication and the Rubrik Cloud Data Management platform offer comparable features to Zerto Virtual Replication and have similar use cases.
Veeam Backup & Replication works with VMware vSphere and Microsoft Hyper-V and can be used for physical and virtual environments. The product is managed from a single console and uses storage snapshots for backups.
Rubrik Cloud Data Management provides automated backup, recovery and replication in the cloud. Rubrik provides a single platform to manage all cloud and on-premises data. Rubrik Cloud Data Management provides features such as copy data management (CDM) and instant recovery, which can simplify DR and maintain BC with little downtime.
News and future trends
Zerto released Virtual Replication 6.0 in early 2018. The updated version added multi-cloud protection and the ability to perform inter- and intracloud data movement with Amazon, Microsoft Azure and IBM clouds.
IBM's Resiliency Orchestration DRaaS has enlisted Zerto Virtual Replication as the driving force behind its virtual and physical data protection. IBM Resiliency Orchestration with Zerto is marketed as a complete DR product aimed at enterprises with large physical and virtual workloads.
Zerto has also taken stock of current data protection and DR concerns, such as Europe's looming General Data Protection Regulation (GDPR) and the rising threat of ransomware. Both issues are due to be discussed in 2018 sessions at ZertoCON, the vendor's annual conference in Boston. Other major topics include the hybrid cloud and IT resilience.
This was last updated in
April 2018
Continue Reading About Zerto
Dig Deeper on Disaster recovery planning and management