Definition
vCIO (virtual CIO)
What is a vCIO?
A vCIO, or virtual CIO, is a contractor or company that serves as an organization's chief information officer.
The vCIO collaborates with and advises clients' IT departments and performs the same functions as a conventional CIO. Those duties include formulating strategic IT goals, planning the IT budget, analyzing and reworking business processes and facilitating technology changes.
The vCIO helps customers maintain and secure their existing IT infrastructure. They also provide forward-looking services, such as developing long-term strategic IT goals and identifying opportunities to drive innovation, as well as business success and revenue.
If an organization lacks an internal IT department or has a limited IT staff, it can give the vCIO more decision-making authority and technology deployment responsibilities. The main difference between a vCIO and other technical advisory services is the vCIO takes a broader view, focusing on business and IT alignment. More conventional third-party IT advisory services, such as managed service providers (MSP), typically focus on technology service delivery.
Small to medium-sized businesses (SMBs) that don't have the in-house staff or resources for large-scale IT projects, such as a digital transformation, can make use of vCIOs. Virtual CIOs offer the efficiency, flexibility and expertise businesses need to improve long-term IT strategy at a more manageable price point, compared to hiring a traditional CIO. Like in-house CIOs, vCIOs must have a broad understanding of technology and the soft skills to sufficiently navigate everchanging corporate environments.
What qualities to look for in a vCIO
When evaluating vCIOs, enterprises should consider the following capabilities:
Ability to tie IT strategy to business goals. Virtual CIOs should provide the technological expertise an organization needs to meet its business objectives. To do this, they must be able to established an effective line of communication with decision-makers in the organization.
Knowledge of technology trends. These CIOs should be versed in new technologies, understand how they fit into a technology portfolio and be able to explain how, or if, emerging technologies can better serve an organization. Skilled vCIOs routinely meet with their customers to understand how business needs are changing and opportunities for technology to address new demands.
A firm grasp of IT project planning and management. VCIOs should proactively plan for new business projects based on business needs and budget.
Experience in the IT budgeting process. A vCIO must be able to guide an organization in IT budget planning and cost optimization strategies. Here, the CIO should understand how to track the return on investment for existing and prospective technologies.
Strong interpersonal skills. IT leaders must be able to adapt to an organization's culture, work style and business needs. VCIOs should be transparent about their availability, response time, the kind of guidance they will provide and what would be out of scope for them. They also should demonstrate an ability and willingness to work with an organization's IT staff.
Flexibility regarding changing business goals. Although vCIOs are generally proactive planners, they should understand how business goals are changing and be able to adapt plans accordingly.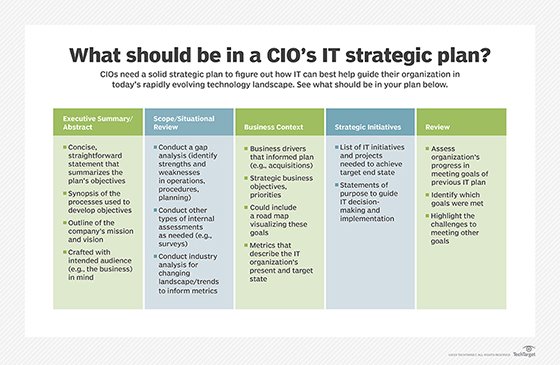 CIO vs. vCIO: What's the difference?
There are several differences between how a CIO and a vCIO operate. The main ones include the following:
Employment contract. The main difference between CIOs and vCIOs is that virtual CIOs are not employed by organizations as staff members. They are contractors and, depending on their agreement, may have multiple clients.
Responsibilities. Virtual CIOs handle the same basic responsibilities and tasks as CIOs, but they may approach them differently. For instance, an in-house CIO will likely have a nuanced understanding of an organization's internal structure, leadership dynamics and decision-making processes, which some businesses might consider an essential skill for the role. A vCIO might not have the same level of understanding of internal politics, but they can bring a fresh perspective and diverse experience.
Recruitment. A conventional CIO is typically recruited through traditional hiring channels. A vCIO is contracted through a third-party provider, such as an MSP or IT consulting firm. In addition, resellers or solution providers may informally market themselves as virtual CIOs to their small-business customers, although the companies don't necessarily identify that service as an official line of business.
Cost. Another notable difference is the cost of a vCIO versus an in-house IT leader. The traditional CIO is typically a salaried position with benefits, while a vCIO is usually a contract position where the customer and vendor negotiate pricing. CIOs are generally well-compensated. Pricing structures vary for virtual CIOs, but they usually charge either an hourly rate or a flat fee without any additional benefits. A vCIO may have multiple clients, so the cost of services is shared and may be less expensive.

The flat fee works like a subscription, with the customer paying for the vCIO's services on a monthly basis or another frequency. The flat-fee approach resembles the MSP model, and some MSPs do offer vCIO services.

A virtual CIO service offered on an hourly-rate basis becomes an on-demand capability and a variable cost. The client organization brings in the vCIO as needed to consult on technology decisions. This approach is often less expensive than paying for a full-time CIO's salary and benefits.
Advantages of a vCIO: 4 reasons why to use one
While cost avoidance is one benefit of a virtual CIO, customers can find other advantages as well:
Simpler onboarding. On the human resources side, the business avoids the time-consuming and often expensive process of hiring a CIO.
Availability. The availability of 24/7 support is another plus for working with a vCIO. Vendors often make multiple consultants available to provide support.
Objectivity. A vCIO may also provide greater objectivity, because he or she may be less subject to an organization's internal politics. They will also bring a fresh perspective and ideas to legacy technology problems the business might not have had the resources to handle.
SMB-friendly. Virtual CIOs can provide a higher level of IT expertise to SMBs at a lower cost than an on-staff CIO. Many SMBs have staff with some level of expertise with the organization's IT systems, but they don't have the depth, breadth of knowledge that a CIO has.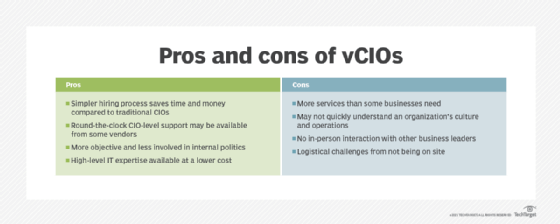 Disadvantages of a vCIO: 3 reasons why not to use one
Despite the advantages of a vCIO, there are also potential challenges with hiring one:
Can be overkill. Virtual CIOs are suited to businesses that are looking to build a long-term technology strategy and manage growth. If this isn't the organization's goal, then a vCIO might not be the right choice. If all the business needs is someone to keep existing systems running, a more traditional MSP might be a better choice.
Less aware of the business's needs. It will take time for the vCIO to adjust to a business's cultural environment, and the vCIO needs time to generally understand the flow of business operations at the company. Being an outsider means that a vCIO likely won't be as tuned into the business owners' priorities and activities; the customer may have to work harder to set expectations and communicate preferences.
No on-site presence. Although vCIOs maintain a high degree of availability and responsiveness, some companies benefit from or even require face-to-face interaction, especially among senior leadership. An off-site vCIO can cause logistical issues, particularly if they are in a different time zone or cannot be available on short notice for unexpected meetings or other needs.
VCIO vs. outsourced CIO vs. fractional CIO
A virtual CIO is the same as an outsourced CIO. However, an outsourced CIO can also refer to outsourced chief investment officers. Businesses should exercise caution when searching for the intended service.
A vCIO may also be referred to as a fractional CIO, who provides services on a part-time basis and at a lower cost than a full-time CIO. Under all three terms, the CIO is often a part-time function rather than a full-time position.
Whether we're talking vCIOs, outsourced CIOs or fractional CIOs, they all have similar responsibilities and goals. Learn more about CIOs and their job responsibilities and get strategic planning templates geared toward the CIO job.
This was last updated in
August 2021
Continue Reading About vCIO (virtual CIO)