ltstudiooo - Fotolia
5 ERP trends the C-suite should keep an eye on
ERP has been around for decades, but technology development is not stagnant. Here are some of the biggest ERP trends taking shape in 2019.
The sweeping modernization of the enterprise is taking ERP with it. This year, smaller vendors are expected to turn up the heat, two-tier ERP will gain ground and companies are poised to demand more agility with ERP implementations.
This forecast is based on "The 2019 Digital Transformation, HCM, and ERP Report," a unique study that is part market analysis, part enterprise project analysis and part expected ERP trends. The focus of the report is shedding light on the "root causes driving the data," said Eric Kimberling, CEO and co-founder of Third Stage Consulting Group.
Here's a closer look at some of the ERP trends Kimberling believes any C-suite getting ready to tackle a digital transformation project should keep in mind. For the record, Kimberling defines digital transformation as transforming the enterprise with new, innovative technology to improve the business.
The ERP market won't be static
Nontraditional vendors, specifically Workday Inc. and Salesforce, have careened past the tipping point to make them competitive forces for bigger ERP vendors, according to Kimberling. Both relative newcomers to the market, they have successfully tackled a single aspect of ERP -- CRM for Salesforce and human capital management (HCM) for Workday. They are now integrating third-party products to bring, say, financial functionality into their core platforms, upping their ERP game.
"There's no one singular event that's triggering this," Kimberling said. "There's just enough critical mass in the Salesforce ecosystem and enough critical mass in what Workdays has done to develop functionality outside of HCM to where I think they're reaching that point of disruption."
Two-tier ERP will gain ground
Kimberling suspects that, increasingly, ERP implementations won't be done with one software product -- or even one vendor. Instead, companies will opt for a two-tiered approach where an ERP product in the back office is tightly integrated with another in the front office. This could help companies, especially multinational companies, bring standardization to core back-office processes while offering front-office processes more flexibility.
But Kimberling warns business leaders to approach such implementations judiciously. They'll have to determine whether those arguing for two-tier ERP have business goals in mind or if the argument is rooted in a resistance to change, which Kimberling said "could be a hard thing to ascertain."
Because two-tier ERP brings added complexity to the enterprise, Kimberling believes more companies will take the time to establish a business blueprint before pulling the trigger on an implementation. Companies will lay out what the future of the business -- from the processes to the operating model -- will look like. The tool will also give ERP system integrators and others a clear roadmap of how to accomplish the company's goals.
Even ERP will get Agile
According to Kimberling, CIOs will soon demand Agile rather than waterfall executions for ERP implementations, and this will become the norm. Rather than taking three to five years to get off the ground, an ERP implementation can be served up in bite-size chunks, with the first few pieces available in six to nine months.
Another ERP trend taking shape, and one that executives are likely not demanding, is cloud ERP, which Kimberling believes will overshadow on-premises ERP this year. The biggest players in this market, including SAP, Oracle, Microsoft and Infor, are all doubling down on their cloud strategies, pushing a style of products that investors love due to their steady, high-margin revenue, Kimberling said.
"If you want something on premises, it's actually pretty difficult to get," he said. "You're fighting an uphill battle." He sees it as the swing of a pendulum, one that will inevitably come back to on-premises ERP for customers that want control, security and flexibility.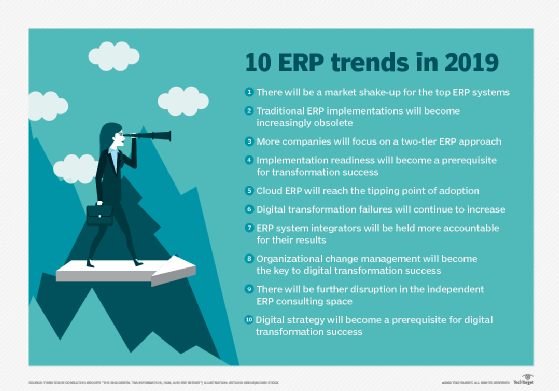 System integrators will be held accountable
Corporate leaders are getting wise to the failures of ERP system integrators, as news of digital transformation challenges, disasters and even failures continue to make headlines.
"There are a lot of things they don't do well, and executives are starting to realize that," Kimberling said.
He believes executives will increasingly take on a more active role in planning or thinking through what resources are necessary for success. They're even hiring independent third parties to manage ERP system integrators, according to the report.
Digital transformation won't get easier
Digital transformation, an overused term to describe the sweeping modernization of enterprise technology, will continue to be a slog. Kimberling predicts an uptick in ERP failures this year as vendors push cloud over on-premises offerings and companies focus too much on technology.
The changes digital transformation brings need to be met organizationally, which is often a more difficult undertaking than the technology itself. While system integrators are great at tying technology together, they fall flat when it comes to developing useful training materials for employees.
But there's good news here, as Kimberling believes "more and more companies are recognizing that the change in people is the hardest part of these types of transformations." In 2019, he expects they will invest accordingly.
Next Steps
These five ERP trends will take shape in 2019
Five ERP trends to watch in 2019