AI and data analytics trailblazers: Accenture, DXC and Wipro
Accenture, DXC and Wipro are among the AI and data analytics services providers highlighted in Gartner's Magic Quadrant. Learn about their market visions and business challenges.
The Holy Grail for companies is the ability to gain insight into customers to improve their experiences, as well as enhance their own organizational efficiencies. Thanks to the growth of data and analytics platforms, many fortified with AI, service providers say they are helping make that a reality.
Gartner recently released its Magic Quadrant (MQ) for data analytics services providers, naming 18 that it deemed significant in this space. Here is a look at three of those firms and their vision for data and analytics services offerings.
Accenture: MQ 'Leader' among data analytics services providers
Global management consulting and professional services firm Accenture launched its Applied Intelligence practice in 2017. The firm has been building an analytics business for the past 20 years and institutionalizing AI during the past three years, but upgraded the business to focus on AI and data analytics, said Gayle Sirard, North America lead for Applied Intelligence.
"At the heart of this was making sure we could bring deeper insights to ... our clients and leverage efficiencies around both," Sirard explained. AI and data analytics are embedded in everything Accenture offers in its practice, from strategies to operations, she added.
Talent is core to Accenture's strategy. Of the company's more than 19,500 employees, 6,000 are focused on AI and data science, she said. But apart from talent, the firm has been investing in its foundational cloud platform on which it builds vertical applications to help clients solve business issues, she said.
For example, Accenture built the Accenture Intelligent Patient (AIP) offering for use in healthcare. The platform contains "prebuilt and configuration data models that support commercial or clinic elements within that industry, that bring in structured and unstructured data sets for analytics and insights," Sirard said.
Accenture also offers a healthcare app for monitoring drug safety issues. "So if there is a blog or something on a website that is negative about a product, we suck in all different forms of content, bring it into the AIP, translate it, and make the data and insight available in a chatbot." Then a customer service agent handling an inquiry can consume the information and interpret the meaning. "That adds a whole level of insights and analytics that didn't previously exist," she said, adding that they offer vertical apps across a broad array of industries.
Previously, people working in pharmacovigilance had to manually go through emails and mine for information about drug safety issues. "One of the challenges [companies] have is whether there's inefficiencies or inconsistencies with humans looking at this [information] and making a determination," Sirard said. Now an employee can receive information that automatically highlights all the configured insight mined by the system, such as text and images that have been tagged and flagged. "We characterize whether it's an event or not. [The system] drives efficiency and consistency in the overall process, and we've seen a maximum amount of efficiencies and a reduction in errors."
Sirard said Accenture differentiates itself by taking an "end-to-end approach." "We're relentlessly focused on value and outcome" and making sure Accenture's data scientists look for untracked value in an organization, using analytics and insights at the beginning of a client engagement to identify potential sources of value and use throughout the program.
Other data and analytics services work includes a "laser focus" on automating and providing intelligence in customer care in call centers. The firm is working to optimize its customers' processes to be predictive as to why their end customers are contacting a call center and to create a better experience for them, she said. Additionally, Accenture has worked with several major mobile telecom providers to help them reduce the cost of running those call center operations, Sirard added.
Among the firm's biggest challenges while growing its data and analytics services practice has been finding and retaining talent, she noted. "My biggest challenge every day is competitors trying to steal away talent, and also creating a culture that [incentivizes] ... data scientists to thrive in the environment they're in."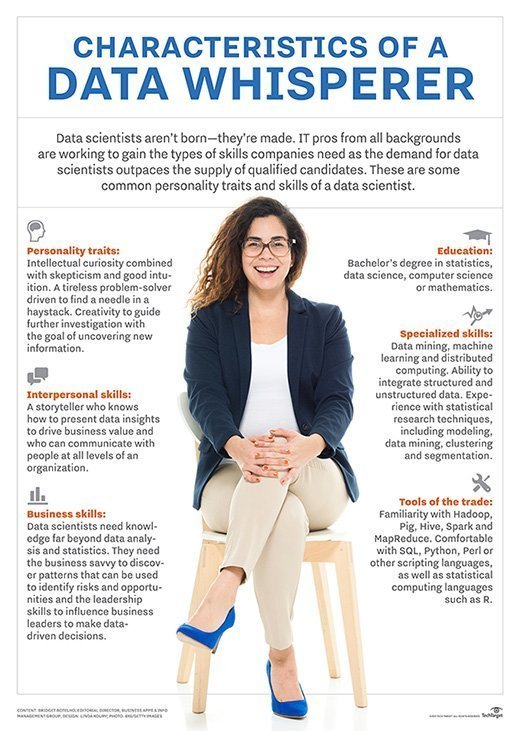 DXC Technology: An MQ 'Challenger'
When it comes to helping clients at the intersection of AI and data analytics challenges, there are three areas that global systems integrator DXC Technology focuses on: improving customer experience, increasing business efficiencies and developing new business models, said Martin Risau, senior vice president and general manager of analytics.
DXC, which developed from the merger of CSC and the enterprise services business of Hewlett Packard Enterprise (HPE), recently celebrated its one-year anniversary.
"Analytics is one of the fastest growing areas within DXC based on how analytics and AI can drive customers' business better," Risau said. He noted that AI and data analytics are also at the forefront of customers' digital transformation initiatives.
DXC helps organizations "leverage the right data and make it available at the right time to the right people with insights," added Ashim Bose, worldwide leader for analytics and AI products at DXC. Like Sirard, Bose also cited an organization's call center as an example of where a rep needs to be able to access the right data and insights to help customers.
"We build data pipelines for our clients so that they derive insights from their data repeatedly using our analytics and AI platform," Risau said. DXC also offers its analytics and AI platform as a service so clients can gain insights from their data rapidly, he said. DXC strives to increase what he called customers' "analytics IQ." While everyone wants to do analytics, he explained, "no one is happy with the IQ they have ... so we're helping them increase their IQ and locate where we believe [they] are in the maturity of AI and analytics and how fast they can move" in deploying initiatives.
Some of DXC's customers "want to take big steps forward in a short period of time. And then there are customers who want to go more sequentially" and home in on "industrializing" AI and data analytics in one area of their business first, Risau explained.
Information governance is a big part of their analytics practice and another business differentiator, he said. While DXC works to tailor data analytics products to customers' needs, they are also focused on privacy, especially now with the General Data Protection Regulation in effect.
"Adhering to rules is getting more important and ... making sure analytics algorithms are not biased," he said.
DXC takes a "customer 360 view," Risau said, by integrating different data sources from a customer so they can be viewed more easily.
Among the customer challenges DXC works on is helping companies with pricing optimization and examining what their competitors offer. DXC's platforms also look at patterns within customer interactions to make predictions on what they are likely to buy next, Bose said.
Risau said keeping up with rapidly evolving technology and "the next-generation skill set" is what keeps him up at night. DXC copes with this by training employees to keep their skills fresh, being a good employer to attract people to the company and partnering with other companies.
Wipro's AI and analytics services earn MQ 'Challenger' status
The strategy that Indian IT services firm Wipro Limited uses for AI and data analytics includes proprietary offerings such as Wipro Holmes, a cognitive computing system. Wipro's strategy also involves investing in partnerships with companies like crowdsourcing firm Topcoder, which has a strong AI community, said Alex Soejarto, head of strategy for Wipro's data, analytics and AI service line.
"We see a bright future where software enables automation and augmentation through intelligent IT systems," he said.
Wipro has adopted an AI-first approach to data and analytics, he said. "This is enabled through an innovative framework of sense, think, respond and learn, which helps us build and nurture enterprise brains for our customers." Wipro differentiates itself with its data, analytics and AI services through people, capabilities and solutions, he said.
Topcoder, which Wipro gained in its acquisition of Appirio, provides Wipro with an access to experts in various sought-after technology domains, Soejarto said.
The firm focuses on bringing intelligence into enterprise systems at scale to help chief experience officers address their business challenges and derive business value.
We see a bright future where software enables automation and augmentation through intelligent IT systems.

Alex Soejartohead of strategy, Wipro
Like Sirard and Risau, Soejarto noted that finding talent is a big challenge. "When you work on the cutting edge of technology like [data and analytics] and AI, the biggest challenge is finding and nurturing the best talent to manage such a vast innovation ecosystem."
Wipro has a program geared at recruiting college graduates, and also offers employees continuous learning and development programs.
Among the AI and data analytics work the firm has been involved with is helping a global food services company establish pricing "through complex mashups of structured and unstructured data sets by utilizing machine learning algorithms on Wipro's Data Discovery Platform,'' he said.
Wipro also worked with a leading aerospace company to create the "nervous system and brain" for supplier relationships, which involved connecting unstructured data, structured data and entity relationships to develop predictive inferences about suppliers, Soejarto said.