sommai - Fotolia
Microsoft Teams platform emerges as training, governance opportunity
Microsoft Teams governance, training and other services are emerging as business opportunities for channel partners working with Microsoft's collaboration platform.
Microsoft Teams and its market momentum were often cited at the Microsoft Inspire 2019 conference. The cloud-based calling and collaboration product is fairly simple to deploy, so the main opportunities for channel partners may be in helping customers who are using Microsoft Teams.
Microsoft CEO Satya Nadella, during his Inspire keynote address, declared Teams is in the midst of a "breakout year." Gavriella Schuster, corporate vice president, One Commercial Partner at Microsoft, also speaking at Inspire, described Teams as having a faster growth path than SharePoint's rapid ascent a decade ago. She identified Teams as one of the Microsoft fiscal 2020 growth opportunities for partners. Microsoft Inspire, the company's annual partner meetup, ran July 14 through July 18 in Las Vegas.
Just a few days before Inspire, Microsoft shed some light on Teams adoption: The software company reported 13 million people use Teams every day, while 19 million people use it at least weekly.
Customers can access Teams through Office 365 subscriptions, so service providers may well find clients already using Microsoft Teams. The role for channel companies becomes providing Microsoft Teams training, governance, change management and other forms of support.
Microsoft Teams training and change management
Vitalyst, a technology change management and software training firm based in Bala Cynwyd, Pa., began using Teams in-house in 2017 and soon began offering services to external customers. The company began rolling out Vitalyst Digital Adoption Solutions for Teams that year and followed that offering in 2019 with Continuous Learning for Microsoft Teams. That service is geared toward customers using Microsoft Teams and looking for advice and training on the product.
Change management is central to getting Teams productively embedded in an organization.
Keith Carvalho, vice president of alliances at Vitalyst, said his company helps customers navigate change management challenges. Shadow IT is one such challenge -- an organization may have multiple departments all using their own collaboration tools and lack an overarching strategy. Another issue is lack of a common philosophy around collaboration.
Different lines of business may have different visions on how collaboration should work, Carvalho said. Vitalyst's task is to understand where those visions differ and, more importantly, discover where they intersect within the enterprise, he added.
The task of facilitating consensus on collaboration varies from organization to organization. Carvalho said the change management process involves determining which groups should be initially prioritized as pilots and champions and which will follow, identifying the stakeholders within those groups, and finding a way to bring them together. Stakeholders may include CIOs, CTOs, CHROs, chief data officers, CMOs, chief learning officers as well as their direct reports, he added. Other participants include technical resources responsible for deployment, project management and change management.
Carvalho said Vitalyst acts as a "systems integrator for the human side of the business."
Mark Sami, vice president of delivery management at digital transformation agency SPR, based in Chicago, said Teams is undergoing the same explosive growth as SharePoint did in the 2009-2010 timeframe. SPR has been in the SharePoint space since 2001. With Team, Sami said he sees opportunities to help IT departments with Teams governance, noting that Teams is simple to switch on and adoption is becoming widespread. "The product is getting huge momentum," Sami said.
Building applications that can be integrated into Teams is another service that could be offered in conjunction with the collaboration platform, he added.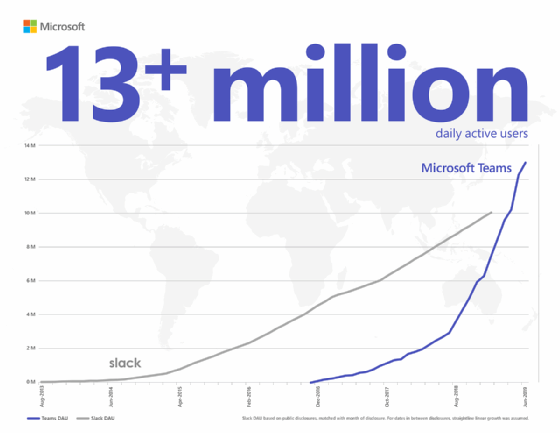 Getting the word out
Carvalho cited end-user support and communication as additional services Vitalyst can provide for companies using Microsoft Teams. He said a comprehensive plan for such services stems from the common collaboration vision, which the company helps document and standardize for the customer.
A communication program becomes important for keeping users up to speed on Teams' changes. Steve Johnston, channel marketing and programs lead at Vitalyst, said maintaining user-level awareness can prove challenging as Microsoft pushes out new Teams functions, features and capabilities.
Carvalho said communication begins with ensuring users know Teams is available and how it can help their particular use cases. From there, the program directs users to the appropriate training and support resources. Vitalyst can provide all or part of an organization's Teams communication needs, he said.
"We have some customers that we provide our full suite of communications services including execution," Carvalho said. "For others, we will just provide support in terms of creating communication plans and assets based on our knowledge of the product, historical data and established best practices."