vali_111 - Fotolia
Cloud-based storage options open channel opportunities
Industry giants such as Amazon Web Services and startup solutions such as Qumulo QF2 are taking file storage to the cloud. Partners can advise clients on platform adoption.
Increasing data volumes, in general, and the growth of unstructured data, in particular, are sparking interest among enterprises in cloud-based storage options.
The trend has also opened opportunities for consultants and managed service providers (MSPs) that can advise clients on emerging storage technologies, such as cloud-based file storage. The new storage platforms can take on a variety of roles, from backup and archival storage to primary storage. The task for partners is to help customers pick the storage option that suits their applications.
"Businesses need help gauging data storage product lifecycles, optimizing system resources for different workloads, and selecting the best platforms for their applications," explained Jonathan LaCour, CTO at Reliam, a Los Angeles-based consulting firm and MSP that focuses on Amazon Web Services (AWS) solutions.
Cloud storage market drivers
The sheer growth in data helps fuel demand. Consider these numbers: Data volumes are expected to increase from 4.4 zettabytes (4.4 trillion gigabytes) in 2013 to 44 zettabytes in 2020, according to market research firm IDC.
"The amount of storage needed by companies continues to increase; companies simply have more data about their own users and customers," said Jeff Aden, executive vice president at 2nd Watch, a consulting and MSP firm based in Seattle with customers in 196 countries.
Another factor: changing data types. Legacy storage systems were designed to store structured data, such as a customer record. Such information typically resided in a database management system. Increasingly, businesses are deploying applications that generate unstructured data -- big data, artificial intelligence, and the internet of things, for example. Unstructured data is stored in text, image or audio files as opposed to database records.
Traditionally, data was housed in on-premises storage systems: "With data volume increasing, on-premise storage costs have been rising," LaCour said. Enterprises worked with storage appliances that offered low density, carried high licensing fees and featured little to no automation.
Dealing with data: Cloud-based storage options
Consequently, cloud-based storage options have become more attractive.
"Oftentimes companies have a requirement to store data efficiently and cost effectively, and only the public cloud provides that option today," Aden said.
In response, vendors such as AWS, Dell, Google, Hitachi Ltd., IBM, Microsoft, Qumulo, Red Hat, Scality and SoftNAS have built new storage solutions that are based on open source tools, designed to handle unstructured data, and able to manage data housed on premises or in the cloud.
The shift is opening up new opportunities for channel partners. Underscoring its growing complexity and importance, storage represents about half of P1 Technologies' revenue, according to Aaron Cardenas, CEO and co-founder of the firm. In business since 2009, the company is a boutique systems integrator based in Manhattan Beach, Calif. P1 Technologies has about 20 employees and 190 clients, with many media and entertainment businesses as well as enterprises ranging from Qualcomm to SpaceX.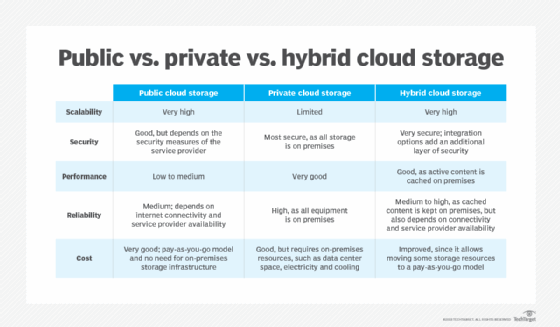 About three years ago, the channel partner searched for a storage solution to handle unstructured data. P1 Technologies opted to partner with Qumulo, which provides a file storage system, Qumulo QF2, that operates in the public cloud or data center.
Oftentimes companies have a requirement to store data efficiently and cost effectively, and only the public cloud provides that option today.

Jeff Adenexecutive vice president, 2nd Watch
"The Qumulo QF2 system intrigued us because it did not rely on RAID coding, which creates scaling problems with large volumes of unstructured data," Cardenas noted.
Qumulo QF2 supports a range of compute-intensive workloads such as data analytics, genomic sequencing and VPX rendering. As evidence of the potential growth or unstructured storage, Qumulo raised $93 million in Series D funding from companies such as BlackRock Private Equity Partners, Goldman Sachs and Western Digital.
Data formatting challenges multiply
While the file storage market has potential, it also presents partners with challenges. Moving information among legacy and cloud-based storage options is difficult because they have antithetical designs. Standards are missing, so often data formatting becomes an ad hoc integration process, which is never finished because businesses constantly update their applications.
In sum, companies want to use information for competitive advantage. In many cases, information is stored in a hodgepodge of incompatible systems.
"As the level of complexity increases, so does the level of risk," 2nd Watch's Aden noted.
Customers are turning to partners to mitigate that risk.
Additional reporting by John Moore.