Datto partners swell in numbers amid global expansion
Datto is planning updates to Autotask Endpoint Management and Autotask PSA in the coming months, as it continues to integrate its product lines; other news from the week.
Datto, a data protection and managed services tool vendor, is targeting international markets as a growth opportunity and readying new releases of Autotask products for Datto partners.
The Norwalk, Conn., company last week provided an update on its 2017 performance and outlined future plans. Datto in late 2017 merged its operations with Autotask -- a move that added remote monitoring and management, professional services automation and enterprise file sync-and-share products to its traditional lineup of data backup and recovery offerings.
The combination of the companies' partner bases -- and growth within those bases -- has expanded Datto's ecosystem of managed service provider (MSP) partners to more than 13,000 companies, according to Datto. Those Datto partners work with more than 500,000 small and medium-sized businesses in 125 countries.
International opportunity
Matt Richards, interim chief marketing officer at Datto, said the company has not seen more growth over the last year outside the U.S. than in the domestic market. But he said the opportunity in international markets is somewhat larger than in the U.S. The upside in other countries is greater because, in general, customers in international markets have yet to embrace managed services to the same degree customers have in the U.S.
Richards said every country is different, but, collectively, overseas markets are "a little bit behind" the level of market maturity in the U.S.
"The opportunity internationally is larger," he noted.
Richards said Datto founder and CEO Austin McChord recently spent a week in Europe meeting with MSP partners in cities such as Amsterdam, London, Milan and Munich. "We are looking to expand," he said, calling international markets "such a big lever for us."
That expansion is already underway. According to Datto, it added 638 new reseller partners in the EMEA region over the course of 2017. The company also added 372 new Datto partners in Australia and New Zealand during that year.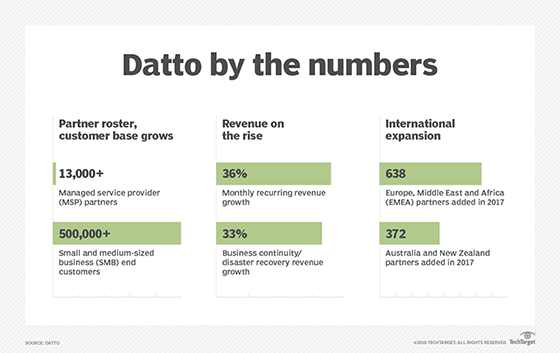 Autotask developments
The opportunity internationally is larger.

Matt Richardsinterim CMO at Datto
On the product side, Datto is readying new releases of its Autotask MSP tools. An update of its Autotask Endpoint Management product is currently scheduled for availability in May. The update, which Datto calls the Reporting Release, will include a new report scheduler, support for multiple languages and improvements to how MSPs create client reports.
The reporting function is important because MSPs need to demonstrate to customers the value of the services they provide for a monthly fee, Richards said. The updated product can support MSPs as they conduct weekly, monthly or quarterly reviews with customers, he added.
The upcoming release of Autotask Endpoint Management also provides additional integration with Autotask PSA for improved ticket creation; Richards said right-clicking on Autotask Endpoint Management's system tray will send a ticket straight to the PSA product.
Datto is also moving toward a new release of Autotask PSA, which is slated for the second quarter. That release will let MSPs with multiple sites deploy Autotask PSA as a single, multi-tenant instance that can span different offices. The release will also include a new task UI and updated integration between Datto and Autotask PSA.
Additional updates
Datto disclosed other company developments last week:
The company has rolled out a Datto referral program in which Datto partners can refer new partners to the company and receive a $1,000 bonus if their referral purchases a Datto product within six months of submission.
Datto said revenue from its business continuity and disaster recovery solutions grew 33% in 2017.
The vendor plans to hire more than 100 new employees in 2018 in both North America and the United Kingdom. Datto said it is seeking software and product engineers, among other personnel.
Other news
The proposed merger of DXC Technology's U.S. Public Sector Business with Vencore Holding Corp. and KeyPoint Government Solutions would form a new company, dubbed Perspecta, according the businesses. The new Perspecta company, an IT services and solution provider targeting the government contracting space, is expected to debut in May 2018.
Hewlett Packard Enterprise added Commvault to HPE Complete, its program for providing HPE and third-party branded products. HPE partners can now sell Commvault's data protection software

through the program

.
Mitel, a business communications vendor, said it will launch an integrated partner program in April 2018. The new Global Partner Program will build upon the previous Mitel and ShoreTel programs. Mitel completed its acquisition of ShoreTel in September 2017.
Data management startup Immuta unveiled a global partner program. The program offers access to deal registration, lead and market development fund matching, training, and membership in a partner council. The program launched with 10 partners, including Klarrio, Xpertex, Anexinet, SILA, Sage and Yash Solutions, Immuta said.
Synechron, a consulting and technology firm, has entered a blockchain partnership with SEI, a provider of investment processing, management and operations offerings. In the alliance, Synechron will support SEI in its efforts to deploy blockchain technology in the financial services sector. Synechron will also help SEI establish a blockchain center of excellence. Synechron and Accenture are among the consulting firms pursuing blockchain business.
Netsurion, a managed network connectivity and security provider, unveiled an SD-WAN offering for distributed enterprises and internet-of-things environments. The service, Netsurion Connect, targets multilocation businesses, such as retailers, pharmacies, convenience storage, hotels and financial services firms, as well as mobile business such as pop-up stores and kiosks, according to the company. Also in the SD-WAN space, Aryaka said SK Holdings, an IT services firm, will provide Aryaka's SD-WAN products to enterprises with offices in South Korea.
The Hershey Co. has tapped Accenture to deploy SAP S/4HANA as part of an initiative to simplify business processes.
Service providers and systems integrators are in "prime position" to help their enterprise customers in their cloud transformation journeys, according to a recently released report from 451 Research. The report discussed the cloud consumption cycle, which the market researcher said includes migration and implementation, cost savings and cost increases, governance and optimization, and transformative value.
ConnectWise is inviting developers to submit proof-of-concept ideas for integrating its software products, which target managed service providers. The contest, called Tech Tank, is open to ConnectWise partners, prospective partners, vendors, and professional or citizen developers. Developers must use ConnectWise open APIs and software development kits in their integration proposals. The winning entries will be announced at the Automation Nation 2018 conference in June in Orlando, Fla. The first-place entry will receive up to $100,000 to create a working integration.
Coretek Services, a systems integrator and IT consulting firm in Farmington Hills, Mich., plans to use a new workspace analytics offering to support end user computing environments. The workplace analytics solution combines IGEL's Thin Client assessment tool and Lakeside Software's SysTrack Workplace Analytics product.
Security company Soliton Cyber & Analytics launched NetAttest LAP One, which it said lets managed services providers offer network access control. The company said MSPs can request a 14-day free trial of the product.
Networking vendor Coriant appointed Sandra Krief as its managing director for North America. In her new role, Krief will oversee the company's North American sales operations, business development, channel strategy and customer support.
Arrow Electronics said it will let its channel customers in the Nordic region offer digital transformation software from Tata Consultancy Services' Digital Software and Solutions Group.
Market Share is a news roundup published every Friday.