Blockchain consulting project news: Accenture, Synechron in pilots
The blockchain portion of the IT consulting market appears to be gaining momentum amid prototype and pilot projects from Accenture and Synechron; other news from the week.
Blockchain consulting project gigs continue to pop up in the IT services field, with recent examples coming from Accenture and Synechron.
Accenture has created a prototype system that the company said uses blockchain and biometrics technology to boost national border security while also giving international travelers control over how they share their information. The prototype, dubbed the Known Traveller Digital Identity system, debuted in January 2018 at the World Economic Forum Annual Meeting in Davos, Switzerland.
For Accenture, the travel use case is in keeping with the company's plans for blockchain technology. The company has previously identified air travel security, in particular the area of protecting the privacy of passenger records, as a blockchain application. And in 2017, Accenture cited blockchain's potential in border and customs services.
"This project, exploring how new technologies could ... provide a more seamless journey and [increase] security of international borders, felt very natural to us," said Liselotte de Maar, managing director in Accenture's travel practice.
Meanwhile, Synechron, a digital and business consulting firm based in New York, has a blockchain consulting project with a custodian bank, using the technology to protect data on customer balances. The proof-of-concept project seeks to address the objectives of Sheltered Harbor, a financial services industry initiative to shore up consumer account information.
Such regulatory technology, or RegTech, projects are making a greater contribution to Synechron's blockchain consulting project work, said Sandeep Kumar, the company's managing director.
This project, exploring how new technologies could ... provide a more seamless journey and [increase] security of international borders, felt very natural to us.

Liselotte de Maarmanaging director, Accenture's travel practice
"RegTech projects are a growing part of our blockchain initiatives and broader innovation projects leveraging other technologies like data analytics and AI," he said.
According to Synechron, the custodian bank project aims to protect customer data via online platforms called vaults, which the company said only the depositor and the intended custodian can access. The company selected the Ethereum blockchain platform, hosting the pilot on Microsoft Azure. The front end of the blockchain-enabled plot uses HTML, CSS and AngularJS.
"Azure is well-suited for blockchain applications, and Microsoft Azure has put together a council of partners, including Synechron, to work together for blockchain applications on Azure to promote innovation in blockchain," Kumar said.
Such blockchain consulting project examples are becoming more common in the IT consulting market. Channel partners are finding opportunities in fields ranging from financial services to supply chain management. Interest in expanding into blockchain helped fuel one partner acquisition earlier this month: Fusion Agiletech Partners Inc., based in Toronto, acquired Quisitive, with the transaction designed to grow the latter company's business in blockchain consulting. Quisitive already has proof-of-concept blockchain projects underway in the financial services and oil and gas industries. Those initiatives use Microsoft Azure-enabled blockchain services.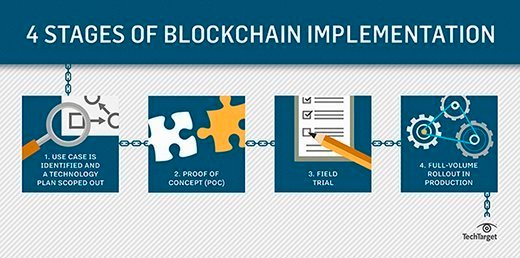 BeyondTrust launches PowerBroker for Networks
Cybersecurity vendor BeyondTrust said its new privilege management offering presents a clear channel play for partners with existing security deals.
The company this week launched PowerBroker for Networks, a privilege management product for network, IoT, industrial control system, and supervisory control and data acquisition devices. PowerBroker for Networks is BeyondTrust's latest tool that integrates with its central PowerBroker console, which aims to provide a single policy, management and reporting interface, the company said.
"Our strategy has always been around privileged access management and [applying] what we have learned about delegating privileges correctly on operating systems and applications. And now we can do it to any network device," said Morey Haber, CTO at BeyondTrust.
The vendor's vice president of strategic alliances, Joe Schramm, said PowerBroker for Networks creates an opportunity for partner firms with existing deals around security products from Palo Alto, Blue Coat, Checkpoint, Juniper and other vendors. Partners can offer PowerBroker for Networks to customers as an additional layer of security "specifically for those kinds of devices," he said.
Haber noted that a differentiating feature of PowerBroker for Networks is that it is platform-based, integrating with the BeyondTrust privilege access management portfolio.
Although BeyondTrust partners have yet to begin selling PowerBroker for Networks, Schramm said he expects strong uptake on the new release. BeyondTrust is currently developing training material to launch on BeyondTrust University, the vendor's training program, he said.
Additionally, Schramm said BeyondTrust is working on a program tailored for distributor Westcon-Comstor, with which the vendor has a global distribution agreement. The program is slated to launch in the second quarter.
Cloud services firms acquired
Premier BPO has acquired DinCloud, linking together a business process outsourcing firm with a cloud services provider. Premier BPO, based in Clarksville, Tenn., handles back-office operations such as claims processing. Based in Los Angeles, DinCloud offers hosted virtual desktop and cloud infrastructure services and also focuses on robotic process automation.
Mark Briggs, CEO of Premier BPO, is now CEO of DinCloud, as well. Briggs has a background in the IT channel, having previously been the CFO at distributor Ingram Micro. The channel has been part of DinCloud's business mix: The company partners with value-added resellers, managed service providers and distributors, including Ingram Micro.
In another deal in the cloud segment of the IT consulting market, Unitas Global, a hybrid cloud solution provider based in Los Angeles, acquired Solinea Inc., a company that offers cloud adoption and migration services. In addition to cloud services, Solinea provides Unitas Global with new services such as container and Kubernetes enablement and DevOps as a service.
Other news
Infosys, an international technology services and consulting firm based in India, has been designated a global Solution Partner in SUSE's partner program. According to SUSE, Infosys is the first company to have that status in the top tier of its channel program.
CompTIA launched a new version of its CompTIA Cloud+ certification, which the organization said reflects the skills IT professionals need to deploy cloud services.
Cloud distributor Pax8 added Symantec Cloud Workload Protection to its security portfolio. The software-as-a-service offering is designed to safeguard public and hybrid cloud workloads against advanced threats, Pax8 said.
Intermedia, a cloud business applications provider, unveiled its unified communications as a service (UCaaS) platform, Intermedia Unite. Targeting the small and medium-sized business segment, Unite provides a phone system, integrated screen sharing, video collaboration, and backup and file sharing with 24x7 support, the company said. The platform release also incorporates technology acquired from AnyMeeting, a web conferencing and webinar vendor that Intermedia purchased in September 2017. Intermedia said partners that sell Unite will have access to a new partner quoting system, self-service ordering, and a new web portal for making system and endpoint changes.
Hitachi Vantara has appointed Kimberly King to lead the company's global partner strategy and programs. King previously had channel management positions at Progress Software, Compuware, Tideway Systems and Softek Storage Solutions.
Ingram Micro expanded its e-commerce platform, Cloud Marketplace, to Malaysia. Cloud Marketplace Malaysia provides Microsoft Office 365, Windows 10, Azure and BitTitan among other cloud products, with additional offerings rolling out on the platform in the upcoming weeks, the distributor said. Ingram Micro noted that Cloud Marketplace is now available in 45 countries.
Market Share is a news roundup published every Friday.