Dell EMC partner strategy sees range of success for FY18
Dell EMC said its fourth-quarter results showed channel business growth in servers but a slump in storage; other news from the week.
The Dell EMC partner strategy appears to be paying off, with the vendor this week reporting healthy growth in various channel business areas.
Dell EMC, which completed its fiscal year in February, placed a large bet on a channel strategy that emphasized cross-selling from the post-merger portfolio. Besides having to come to grips with the broad Dell EMC portfolio, partners were tasked with digesting the unified program that launched in February 2017. In a recent partner broadcast, Dell EMC partner executives revealed that the company doesn't plan to make any changes to Dell EMC Partner Program's framework, instead focusing on making refinements to various elements such as the program's rebate structure.
"We continue to be delighted with the overall momentum, performance and velocity in the business, particularly when you consider just how new everything was [and] the education involved in the change for everybody," said Cheryl Cook, senior vice president of global channel marketing at Dell EMC.
Reviewing Dell EMC's fourth-quarter results, Cook said the vendor saw share gains in the PC market and "strong double-digit growth" in its PowerEdge and cloud server business. She also noted that Dell EMC continued to hold "the No. 1 market position" in all-flash array technology.
Specific to Dell EMC partners, Cook said the vendor's indirect sales revenue was up 19% in the fourth quarter and up 12% for the full fiscal year. Channel revenue in the client and PC business increased 21% in the fourth quarter and 15% for the fiscal year, while the server business rose 28% in the fourth quarter and 23% for the year.
Storage channel business grew more sluggishly. Dell EMC saw 3% growth in the fourth quarter and a decline for the overall year. Dell EMC dedicated energy in the past six or so months to spurring storage business sales, especially around midrange storage, but this storage focus seems to have yet to take root.
"We are very much focused on returning that business to growth," Cook said of Dell EMC's storage revenue.
Cook said that in the past year partners have been receptive to the breadth of the Dell EMC portfolio. Forty-six percent of partners in the program's Gold, Platinum and Titanium tiers are growing their Dell EMC businesses and expanding their lines of business, she said. The vendor will continue to push partners to capitalize on the cross-selling potential.
Dell EMC will also continue incentivizing partners to acquire net-new customers and augment their lines of business in existing customer accounts. Partners delivered about 14,000 net-new and reactivated customers to Dell EMC in the fourth quarter and about 54,000 customers over the entire year.
Cook also highlighted growth in Dell EMC's distribution business, a partner segment that she described as "probably the fastest growing for us." Distribution business grew 35% in the fourth quarter and 15% for the overall year.
The vendor next month will kick off its first Dell Technologies World, held April 30 through May 3 in Las Vegas, with the Dell EMC Global Partner Summit held during the conference.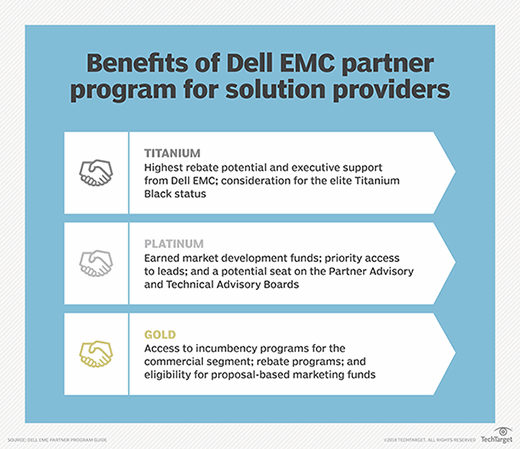 Pivot3 targets DR in the cloud
Pivot3, a hyper-converged infrastructure (HCI) vendor, extended its HCI software platform to Amazon Web Services' public cloud. The move could help the company's partners prepare their customers for cloud adoption.
The company's Pivot3 Cloud Edition on AWS lets customers use the public cloud for backup and disaster recovery. Pivot3's automated resource orchestration technologies manage replication tasks based on service-level priorities and data protection policies, according to the company. The AWS cloud product is part of a broader Pivot3 initiative to bring together on-premises and public cloud infrastructures.
Shane Scott, director of cloud services at Sequel Data Systems Inc., an IT infrastructure and consulting firm in Austin, Texas, said Pivot3 Cloud Edition for AWS offers customers with on-premises infrastructure investment a clearer path to the cloud. Such customers, he said, generally have a harder path when it comes to adopting public cloud offerings. Sequel Data is a Pivot3 partner.
"Products like this allow companies that have existing infrastructure ... to engage with some of the cloud services like AWS, in this case, without having to retrain or dramatically shift their operations," he noted. "We have a set of customers who are pretty enamored of the Pivot3 product line and the ability to get them into a situation where they are able to engage AWS and not have to relearn interfaces is pretty substantial."
Scott said he anticipates customers will use Pivot3's cloud capabilities to take on such tasks as backup and disaster recovery. He said Pivot3's cloud edition will "allow us to replicate on-premises infrastructure into AWS, cleanly and with the same interface. I would say that is going to end up being the most common situation for it."
Other hyper-converged vendors have also announced hybrid offerings designed to help channel partners and their customers bridge on-premises and cloud environments. Last year, Scale Computing unveiled a hybrid cloud product that lets users move applications between their on-premises infrastructure and the Google Cloud Platform. Hyper-converged vendor Nutanix and Google inked a similar deal in 2017 as well.
Blue Prism: AI extension could help partners
Blue Prism's recent move to augment its robotic process automation platform with AI capabilities will open more opportunities for Blue Prism's channel partners.
The company last week said its newly released API integrations with AWS, Google, IBM and Microsoft will "enable AI at scale." The cloud integrations, according to Blue Prism, will permit joint customers to access natural language processing, translation and visual recognition tools embedded in public clouds. Those tools include Microsoft Azure's Text Analytics API, Google Cloud Platform's Cloud Vision API, IBM Watson's Language Translator API and AWS' Rekognition service.
Colin Redbond, head of technology strategy and architecture at Blue Prism, said some of the company's partners have already built a few cloud AI integrations, noting that Blue Prism offers partners opportunities to explore additional, more complex integrations.
Other news
Verizon's Partner Program is set to launch several updates, including a new U.S. master agent model that aims to "provide extended support to a large number of subagents representing Verizon," the company said. Other updates include flexible channel engagement models, simplified and competitive fees for U.S. agents based on total billed revenue, and expansion of the global resale model, according to the company. Verizon last year integrated its partner program with XO Communications' channel initiative. Verizon acquired XO in February 2017.
Security vendor SonicWall launched a managed security service provider (MSSP) program for its SecureFirst channel program's Silver-, Gold- and Platinum-level partners. The MSSP program offers options for monthly billing through SonicWall's security-as-a-service pricing model, multi-tenant capabilities and go-to-market branding opportunities, SonicWall said. MSSP partners can also access training, tools and support for delivering SonicWall-based managed service offerings.
Silobreaker, a London-based provider of cloud-based security intelligence tools, debuted a global channel partner program for value-added resellers and service providers. The program features three tiers -- Registered, Enhanced and Premier-- as well as market development funds, support and training, and deal registration.
Syntel Inc., an integrated IT and knowledge process services provider, said it has been certified as a Google Cloud Services Partner.
Ubersmith, a subscription business management software vendor, unveiled a referral program open to the company's existing customers and partners. The program offers payments for 10% of the subscription fee for up to a period of three years, according to the company.
Trilio, a vendor of data protection and recovery solutions for OpenStack, has inked a distribution pact with The Empire Inc., an IT services provider based in Japan. The partnership lets The Empire deliver TrilioVault to OpenStack customers throughout Asia.
Green House Data, a managed IT infrastructure provider, unveiled a managed cloud services offering to support the hybrid cloud environments built on the Microsoft Azure platform.
Market Share is a news roundup published every Friday.